Use a rotating repro hardware bin on your dining table to keep all of your condiments, napkins, candles, and more organized.
Disclosure: I received this Repro Hardware Bin from Create-ologie and it's fabulous.
I've been on a mission to organize and decorate each room in our house. It's a long, slow process as I try to find the perfect items to use, this week I'm tackling the dining room.
As soon as I saw this Repro Hardware Bin I knew I had to have it, and I knew exactly what I needed it for.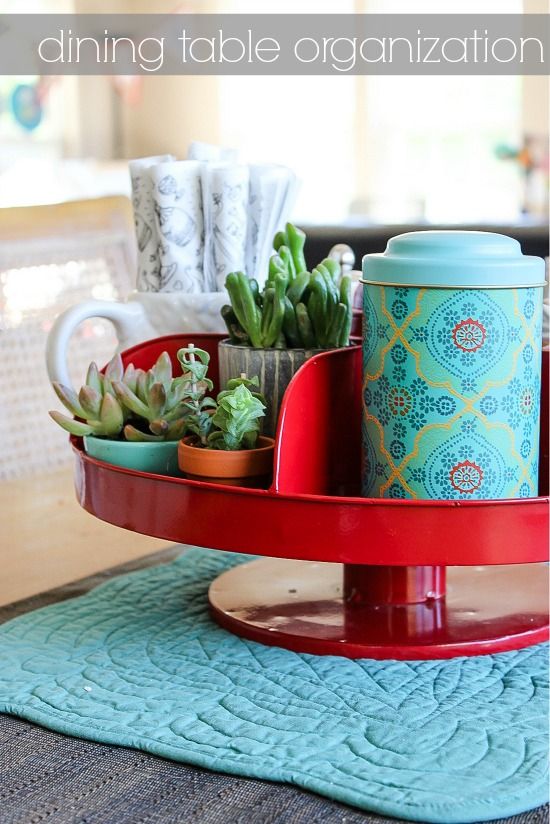 We decorate our dining table for holidays and when entertaining for special occasions, but when it comes to everyday family meals I've been torn between having fresh flowers, candles, a plant, condiments (that we use often), and napkins on the table. All of those things on the table look like a big cluttered mess previously. So, each night I put the condiments away, and bring them out again the next day. One of us has to grab napkins halfway through a meal because I never remember to actually put them out.
Now though, I feel like everything is organized and exactly how it should be.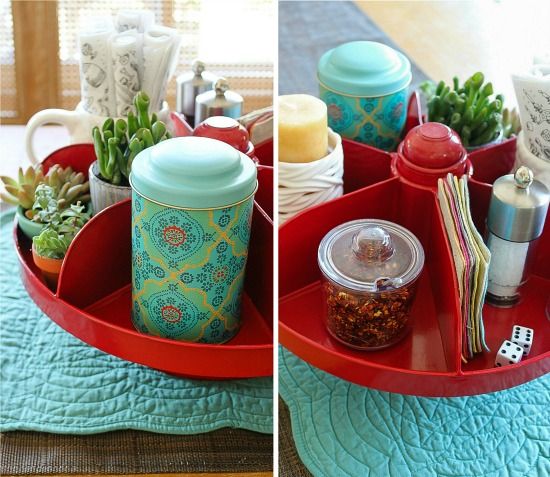 Organizing a repro hardware bin
Tea container
The pretty blue tea container is filled with little packets of sweetener, agave nectar, and sugar.
Condiments
There is a small tub filled with red pepper flakes, along with salt and pepper mills.
Dice
You may be wondering why there are dice. I found this tip on Real Simple a while ago. When kids start telling you they are full, or don't want to eat their dinner, you have them roll the dice to determine how many mouthfuls they need to eat. My rule is they have to eat at least half of their dinner before they are allowed to roll, but it has really helped with mealtime. They see an end in sight and hope for a small number, but go along with whatever number is rolled.
Decor
In the other sections I also have drink coasters, a candle, succulents, and a lovely owl cup filled with napkins.
This fabulous Repro Hardware Bin is from Create-ologie. What would you do with one? I think I'd love to have another one on the bathroom counter, and a third for outdoor dining too.
Please pin this post for later: