These DIY LEGO storage containers are perfect for road trips, airplane flights, and make great party favors too.
Remember a couple of days ago when I showed you the LEGO necklace and I said I had another party favor to show you? Well, here it is.
A DIY LEGO Travel Box.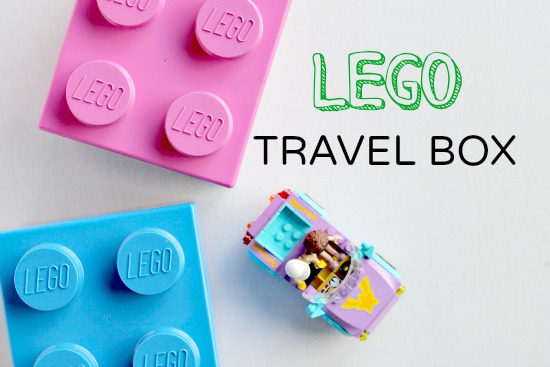 I was inspired by a post on Finley and Oliver to make a DIY LEGO travel box. After all, we do love to travel and go on road trips, and we have two little LEGO lovers in our house.
I decided to pop into Legoland during the week and came across fabulous LEGO storage boxes. I opened one up and was instantly inspired.
I immediately knew what I wanted to do. I would cut up a couple of base plates and attach them inside the lid. This would be perfect because it wasn't too deep, yet with their being sides all the way around the LEGO would be less likely to fall off and end up on the ground, plus they could still keep all of their pieces inside the main compartment of the box.
One standard square base plate will make 4 LEGO travel boxes (if you use this type of square box).
Measure the box, then using regular scissors, cut the base plate to fit inside the lid.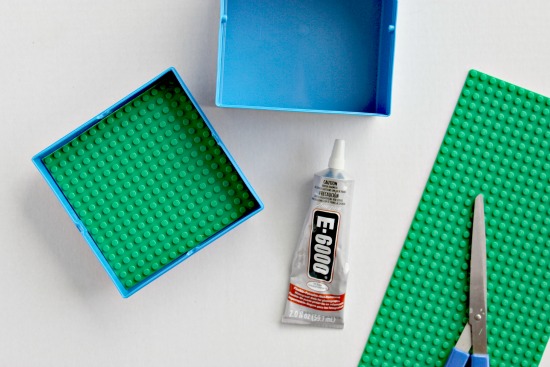 I used my favorite E-6000 glue for this project.
The kids are having a Halloween themed LEGO birthday this weekend so I picked up a few packs of fun LEGO Halloween kits, which fit perfectly inside each box.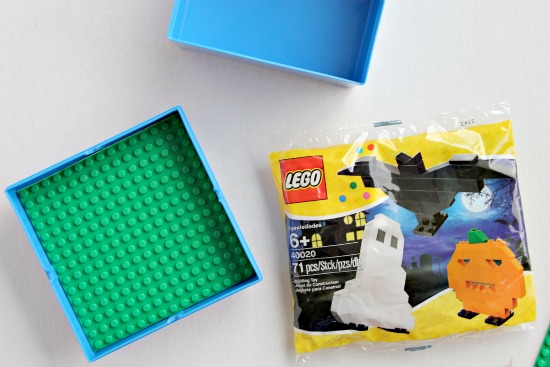 The kids are really looking forward to using these for an upcoming flight. I'll be interested to see how well they do on the airplane with lots of bits and pieces.
These would also be perfect for road trips too. Something to keep those little fingers busy, yet all of the parts contained.
But for now, they make a great party favor too.
Please pin this post for later: