Make this fun pull-string Boots the monkey pinata filled with gold treasure 'treats' inspired by the movie Dora and the Lost City of Gold.
Disclosure: This post is sponsored by Paramount Pictures.
Dora and the Lost City of Gold hits theatres on August 9. Have you seen the preview yet? It looks like such a fun movie. Flynn and I first saw it in the movie theater a couple of weeks ago (I'm sharing it down below if you haven't seen it). If you're thinking it's probably just for little kids, it's not. If you think you know Dora, think again! Dora is actually a little bit older so this will appeal to older kids too as Dora navigates things like high school after having spent most of her life exploring the jungle with her parents.
I've got a really fun project for you to make before taking your family to see it – a 'Boots' pull-string piñata. The kids will love pulling the string to get to their gold 'treats'.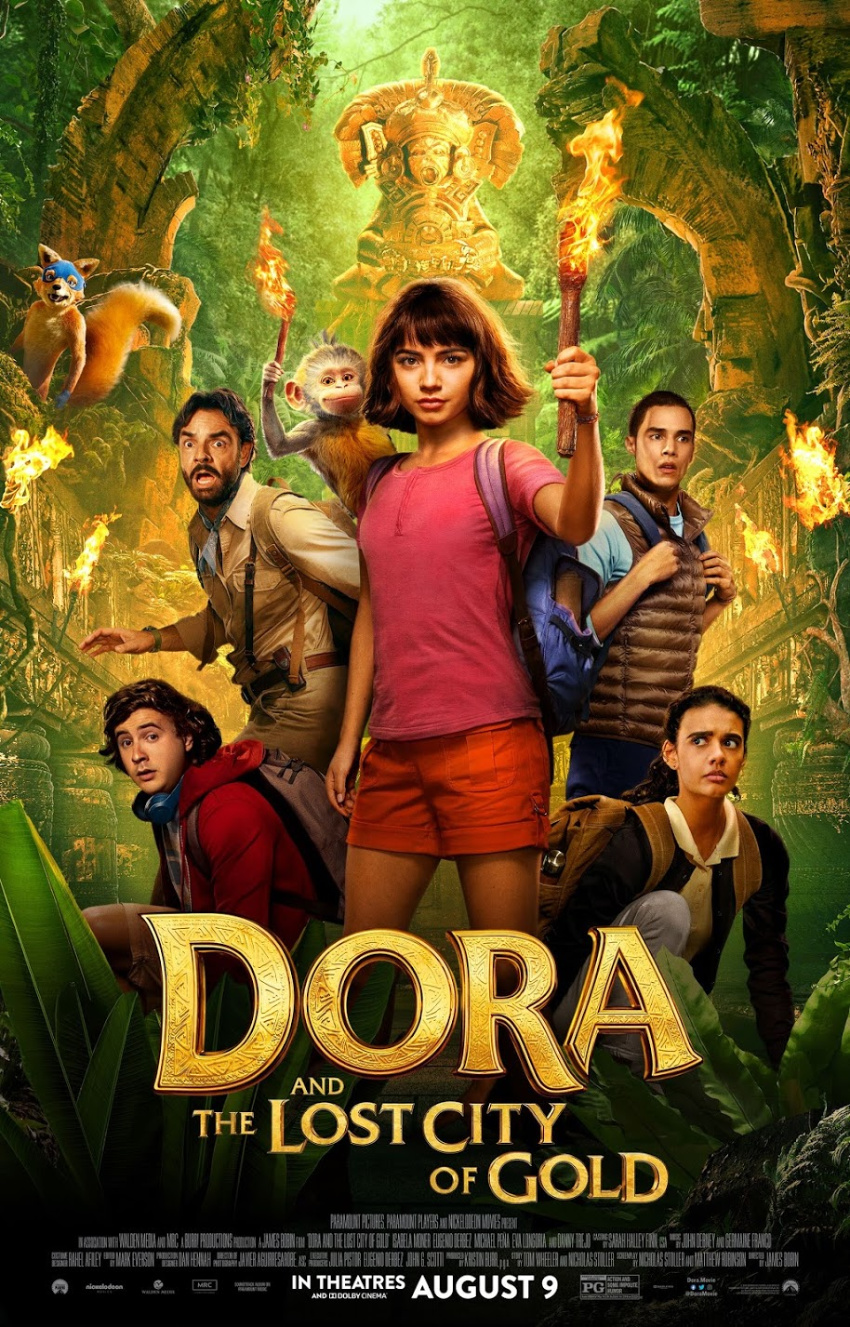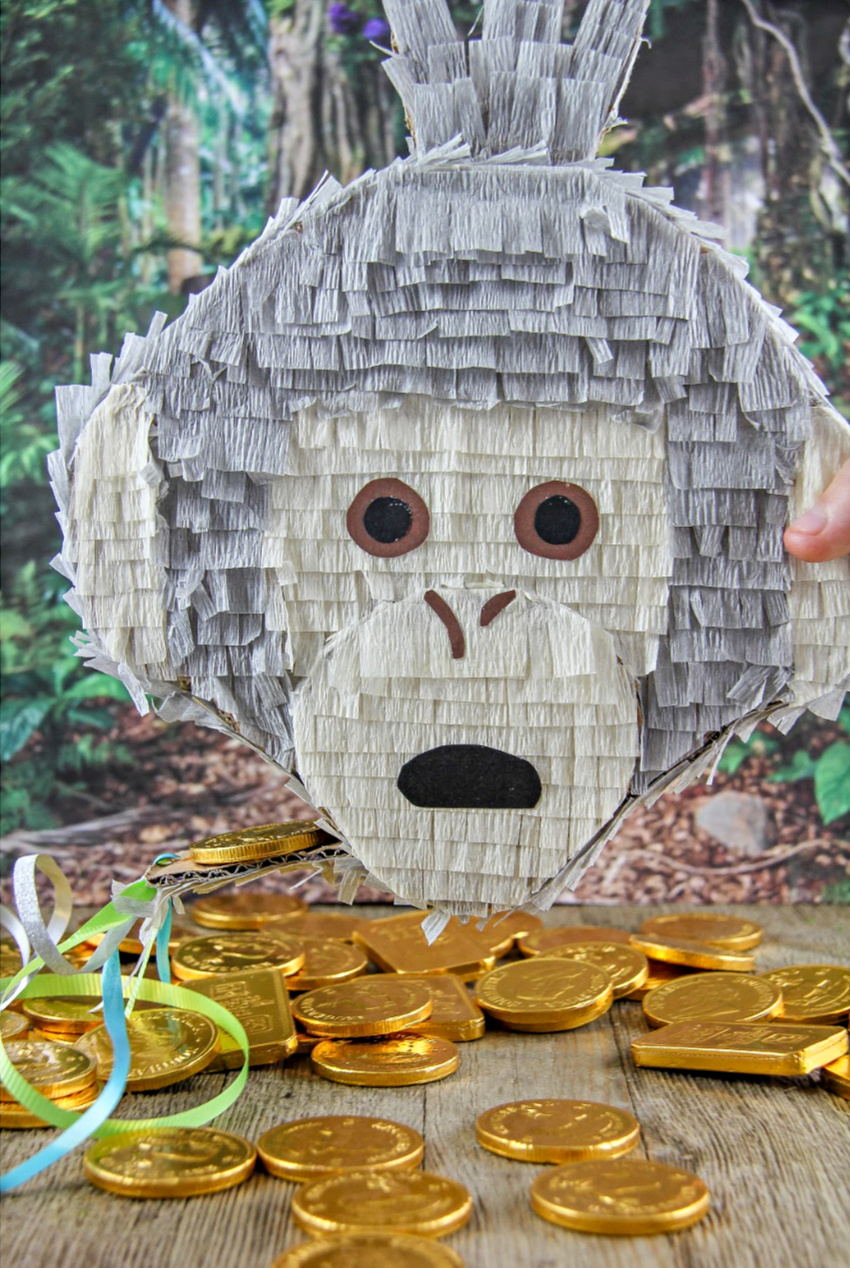 I've made it easy for you and included a template of Boots head which you can download and print here.
This pull-string piñata is so easy to make, requires very few items, and the kids will love refilling it with treasures.
What You Need To Make A Boots Pinata
cardboard – an old box is fine
crepe paper streamers – gold and beige (cream or a soft pink or peach work just fine too)
scrapbook paper or card stock – brown and black
glue stick
scissors
box cutter
packing tape
gold coins or bars
If you haven't printed the template of Boots head, do it now. Cut it out, lay it on a piece of cardboard and trace around it. You'll need two head pieces, one for the front of the piñata and one for the back.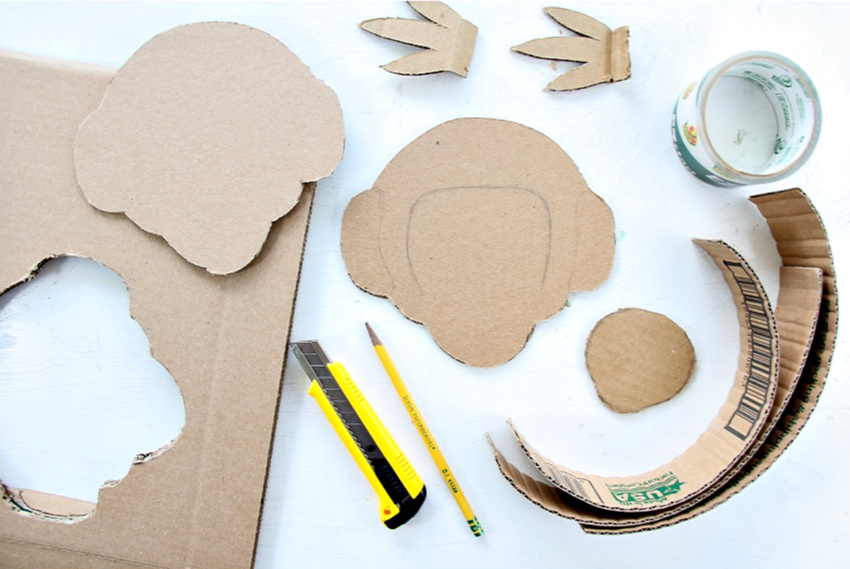 You will also need to cut out a circle for his face, two sections that look a little like claws for his tuft of hair that sticks up, and some strips of cardboard approximately 2.5″ wide.
Next, you need to build your piñata. Using small strips of packing tape, attach the strips of cardboard to the inside of the head pieces.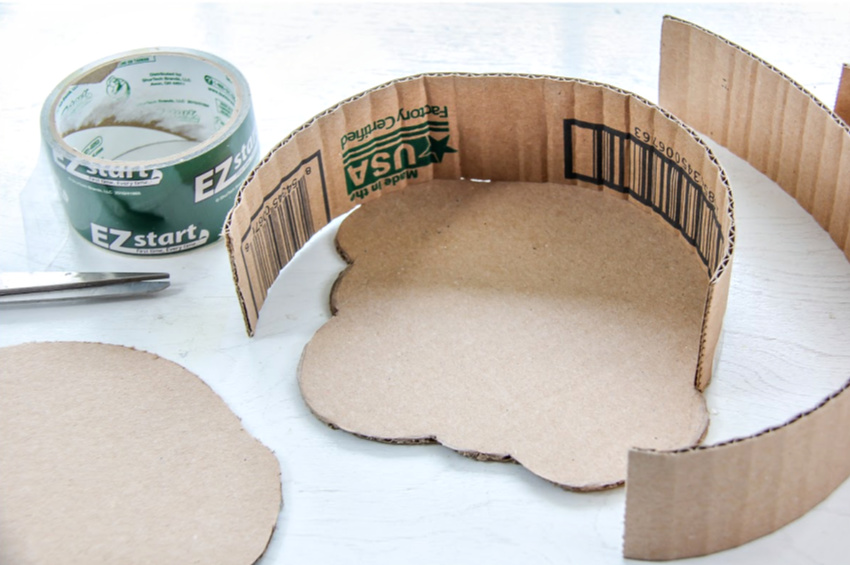 Continue doing this until both the front and back are attached.
Now, glue the circle onto the face, and then attach the tufts of hair to the top of the head. I used glue to attach the two pieces together, made a crease in the bottom and then taped that into place to keep it secure.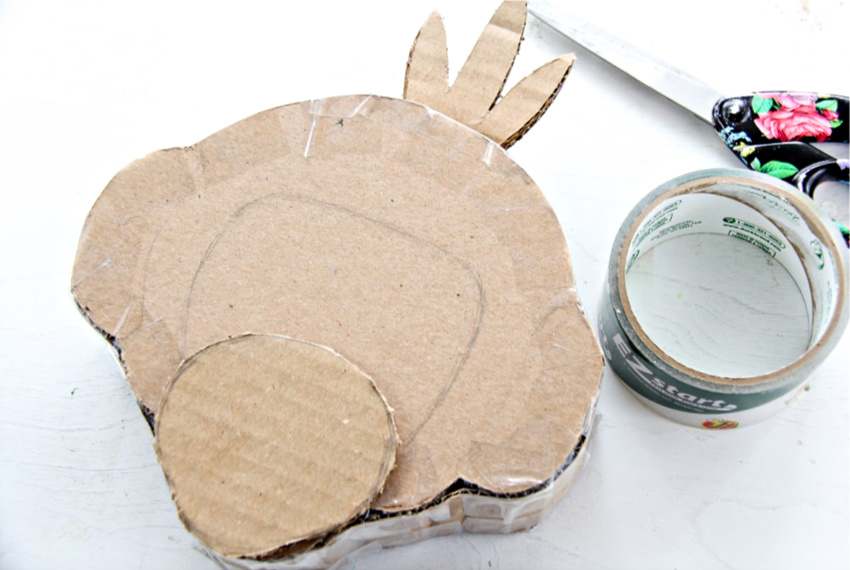 Flynn told me it was starting to look like a monkey, so I believed him.
Before you start attaching the crepe paper to make it look like a piñata, you need to cut a small flap into the bottom of it for the candy to fall out. We'll be attaching strings to this as the last step.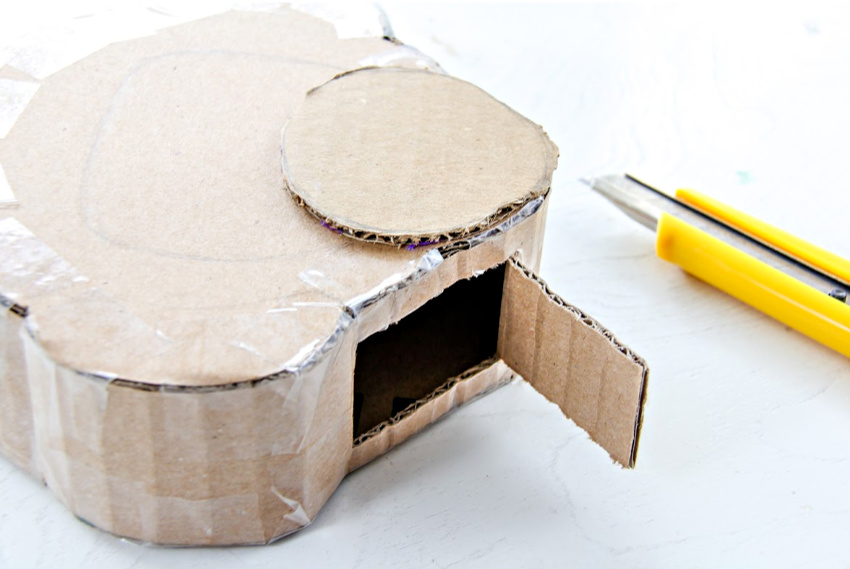 Starting with the back and working your way around to the front, cut strips of crepe paper streamers, cut a fringe into each piece, and attach them overlaying one another around the piñata.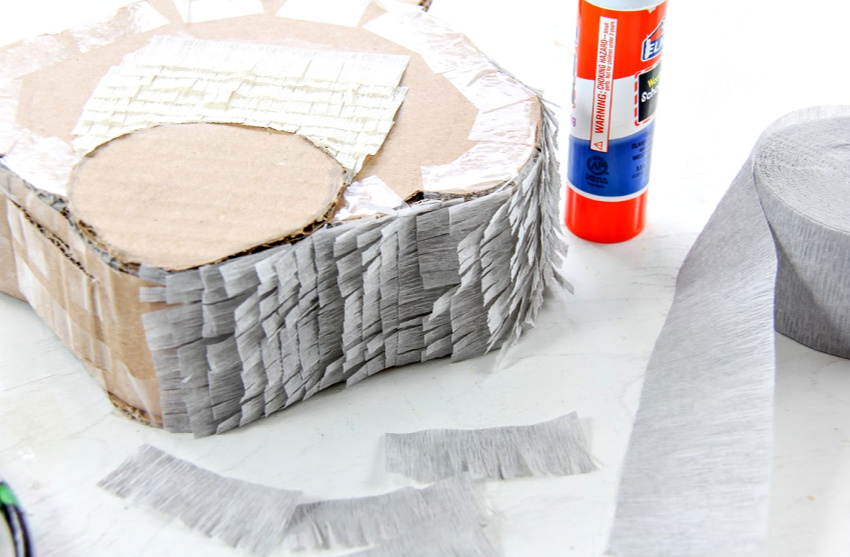 Once you've attached all of your crepe paper, it should look like this: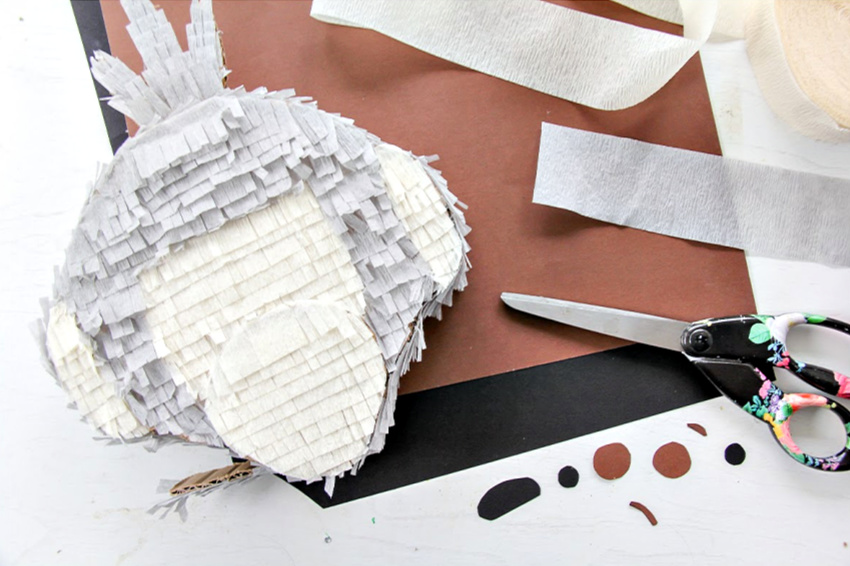 You can see Boots forming now, especially with that little tuft of hair on top.
Now it's time (as you can see above) to cut out the nose, eyes, and mouth from the black and brown cardboard. Attach those in place with glue.
The final step is to attach strings to the flap so that the kids can pull it open to release their treasure. I found it easiest to poke a hole with a needle, and then shove a pencil through that hole to make it larger. Tie the strings in place, fill the piñata with gold, and close the flap.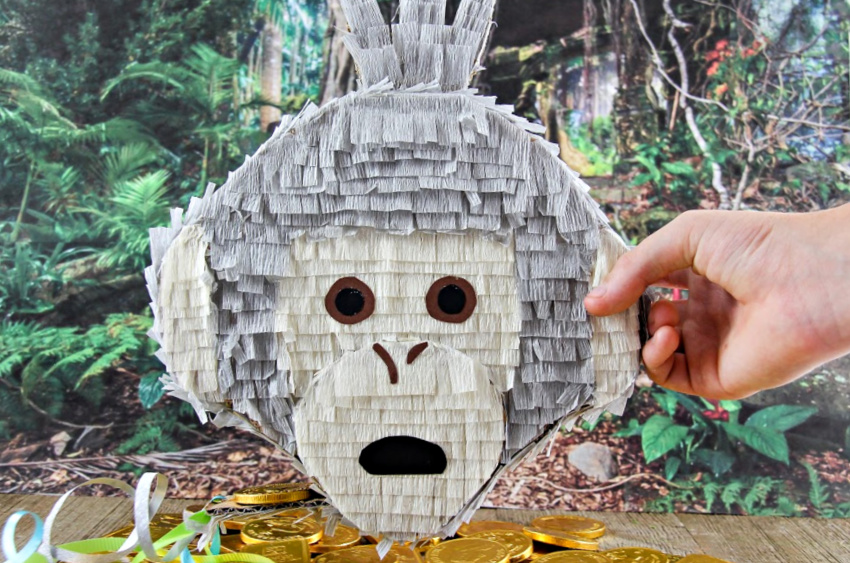 Don't forget to check out the trailer below, and watch Dora and the Lost City of Gold in theaters on August 9.
Please pin this post for later: