Chocolate Crackles are a typical party treat in Australia.   I have tried to make them once since I moved to the states, but they just didn't taste the same. Normally they are made with copha, which is difficult to find here and the substitute I tried at the time just didn't cut it.
Then after some research I found another product I could use instead; coconut oil.  I couldn't wait to try them (being a huge fan of anything coconut, and coconut flakes are an ingredient in these already).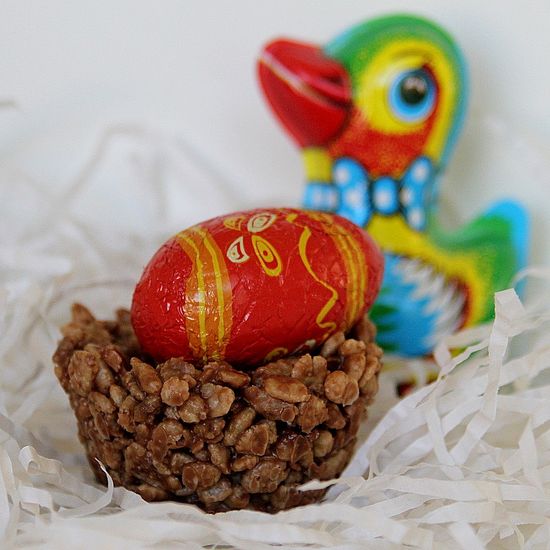 A traditional chocolate crackle is mixed together the same way I will outline below, but the mixture is spooned into a muffin or cupcake paper or foil baking cup (patty pan for the Aussies) and left full, instead of hollowing out an area to make a nest shape.  This is a great recipe to have the kids help out with as it's primarily measuring and mixing – adults should take care of the coconut oil portion of the recipe though.
Ingredients:
3 cups Rice Krispies
1/3 cup cocoa powder
1 cup confectioners sugar (sifted)
1/2 cup flaked coconut
1 1/4 cups coconut oil
Place the coconut oil into a small saucepan and stir over low heat until melted.
Combine the rice krispies, cocoa powder, confectioners sugar and flaked coconut in large mixing bowl. 
Gently pour the coconut oil over the dry ingredients and combine with a wooden spoon.
Spoon mixture into baking cups.  Using a small spoon, make a well in the center of the chocolate crackle to form a nest shape.  Place baking cups in the refrigerator until set.  Approximately 1 hour.
These will make a great treat for a Easter or school party, or for kids to give to their friends.  Just pop each one into a small clear gift bag or a small treat box and tie with a ribbon.
Note:  You could also add raisins or chocolate chips into this recipe.