This penguin bento lunch box for kids is inspired by the book Tony Baloney School Rules. It's sure to be a hit with kids.
Disclosure: This post has been sponsored by Scholastic.
Do you have something special planned for the first day of school? Are your kids starting preschool or kindergarten this year?
The twins head into 2nd grade next week and Jay will be a senior. I'm still in shock. 
We have first-day outfits and backpacks ready to go, and now I'm planning lunch ideas for the little ones.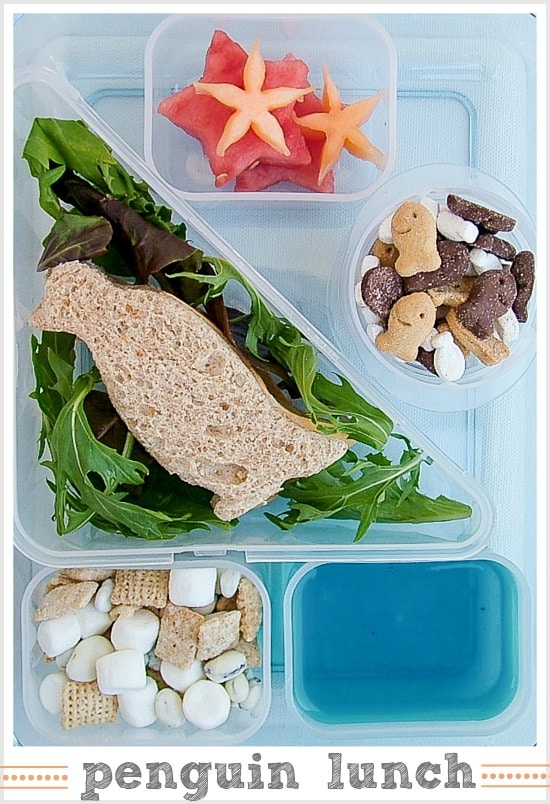 Starfish melon
Use a small cookie or fondant cutter to make starfish out of fruit. The cantaloupe starfish was made using a flower fondant cutter.
Fish
Goldfish crackers are perfect for this. I used the S'mores Goldfish for this lunch, but rainbow or regular Goldfish would look just as cute.
Penguin sandwich
All you need is a penguin-shaped cookie cutter and your child's favorite sandwich filling to make these fun sandwiches. Surround with lettuce 'seaweed'.
Snow trail mix
This snowy trail mix is made from Vanilla Chex, yogurt covered raisins and mini marshmallows.
Blue jelly water
Make jelly the night before, pour directly into a container, and refrigerate. To keep it set in the lunchbox while kids are at school, make sure to use an ice pack and an insulated lunch bag. I gave this a trial run, leaving it out on the counter for 4 hours which is how long it would be out at school and it was still completely set. I even opened the container and took out a snack just like they'd do at morning recess. 
This fun back to school lunch was inspired by the book Tony Baloney: School Rules, which is the perfect book for little ones who might be going through first-day jitters.
Even though my kids aren't starting their first year of school, Miss M is still very nervous about starting 2nd grade. She's my shy one, and is worried about being away from me and is concerned her best friend from last year might not be in her class this year.
About Tony Baloney: School Rules
Tony Baloney is finally free from the tyranny of his many sisters only to face a new challenge–SCHOOL RULES! How will Tony ever follow them all? True to his resilient spirit, he discovers a first day of school filled with new friends, good fun, a few foibles, and some fantastic surprises!
Hilarious sibling dynamics make this book a hit with young readers who can relate to the "Bossy Big Sister Baloney," "Mischievous Middle" Tony Baloney, or the "Bothersome Baby Baloneys." Tony Baloney is poised to become a classic, character-driven series in the vein of Arthur, Fly Guy, and Frog and Toad.
From award-winning team Pam Muñoz Ryan, author of The Dreamers and Esperanza Rising, and Edwin Fotheringham, illustrator of What to Do About Alice?
Please pin this post for later: