These beef and bacon party pies are traditional Aussie food for parties and watching football. You can make them pot pie size too.
Disclosure: This is a sponsored post written by me on behalf of the Pepperidge Farm Puff Pastry.
Last week I had the opportunity to attend an event with friends hosted by Pepperidge Farm. We learned some of the simple ways you can serve quick and easy food for your game day celebrations using Pepperidge Farm Puff Pastry.
In Australia, traditional football food (for Aussie Rules football) is meat pies. Unlike pot pies in the U.S. which contain chicken or turkey, meat pies are filled with ground beef. They've become more gourmet over the years, but the football tradition is still the standard meat pie.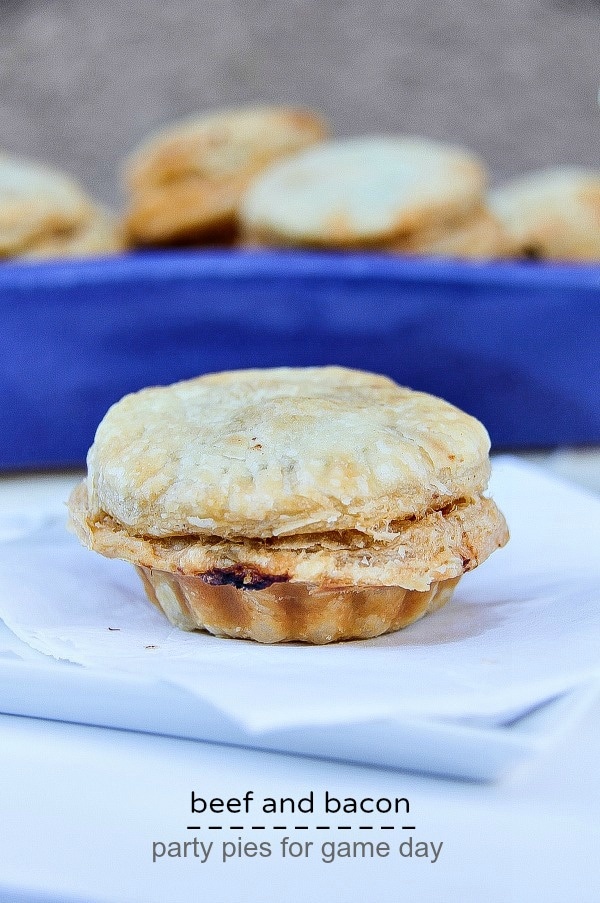 Traditional meat pies are about the size of a pot pie. For parties, however, we like to serve party-sized pies (or party pies as we call them). Party pies are much smaller and served as an appetizer or finger food. They are always served with tomato sauce (or ketchup). If you are a true Aussie you peel the top layer of puff pastry off the pie, add the sauce to the filling, and then eat them separately.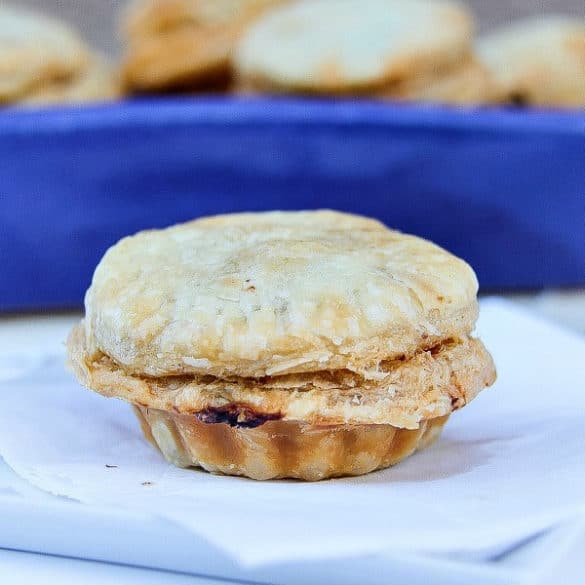 Ingredients
4 sheets Pepperidge Farm Puff Pastry
500g ground beef
1 onion (chopped)
4 rashes of bacon (uncooked and chopped)
1 cup beef stock + 1-2 tbs extra
1 8oz can tomato sauce
1 tsp dried rosemary
1 tbs Worcestershire sauce
1 tbs cornstarch
1 tbs olive oil
1 tbs milk
1 tbs butter - melted
1/4 cup flour
pinch of salt & pepper
Instructions
Preheat the oven to 350F.
Unwrap the Pepperidge Farm Puff Pastry sheets and lay them flat on lightly floured cutting boards to thaw.
Heat the oil in a pan and add the onion and bacon. Cook until the onion is translucent and the bacon is mostly cooked, but not crispy.
Add the ground beef and continue cooking over high heat until brown.
Add in the tomato sauce, Worcestershire sauce, 1 cup of beef stock, rosemary, salt, and pepper. Stir and continue cooking until liquid is heated through. Reduce the heat to a simmer.
Combine the cornstarch and extra beef stock in a small bowl until thick and carefully add it to your meat, stir until the sauce thickens. Set your meat sauce aside to cool a little, it will continue thickening as it's cooling.
Grease your pie pans with the melted butter and flour. Shake off the excess flour.
You will need two sizes of puff pastry circles cut. I used a standard canning jar for the smaller size (top) and a larger glass for the larger size (base). Cut out your circles.
Press the larger circle into the base of the pie pan. Prick the center with a fork as this will help to stop it from rising in the middle while cooking.
Add your slightly cooled filling to each of the pie bases. Brush a little milk around the edges of the pastry and add the top, pressing the edges together.
Bake for approximately 22-25 minutes until the top is browned slightly and flaky.
Serve with tomato sauce (or ketchup).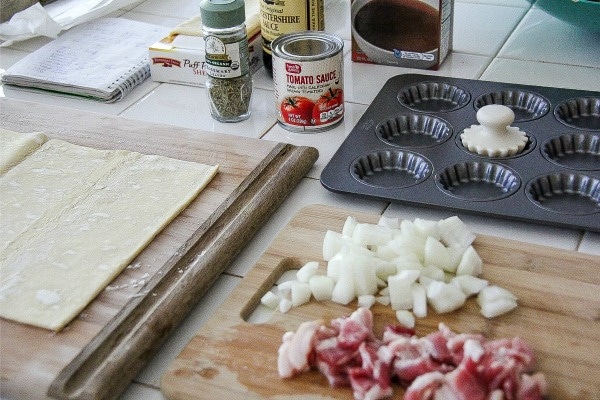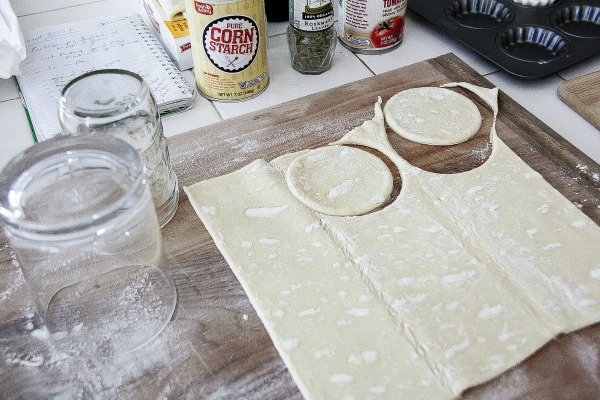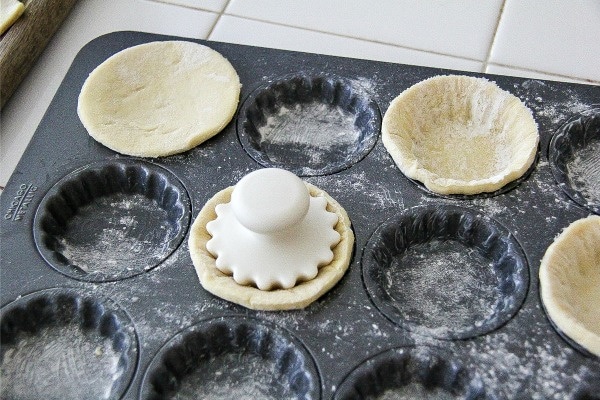 If you don't want to make 24 party pies you can do what I did which was make 12 party pies and then freeze the extra filling. This beef filling makes a great addition to pasta for a quick and easy dinner.
Puff pastry party food ideas
Here are the puff pastry dishes served at the event I attend. They were all delicious.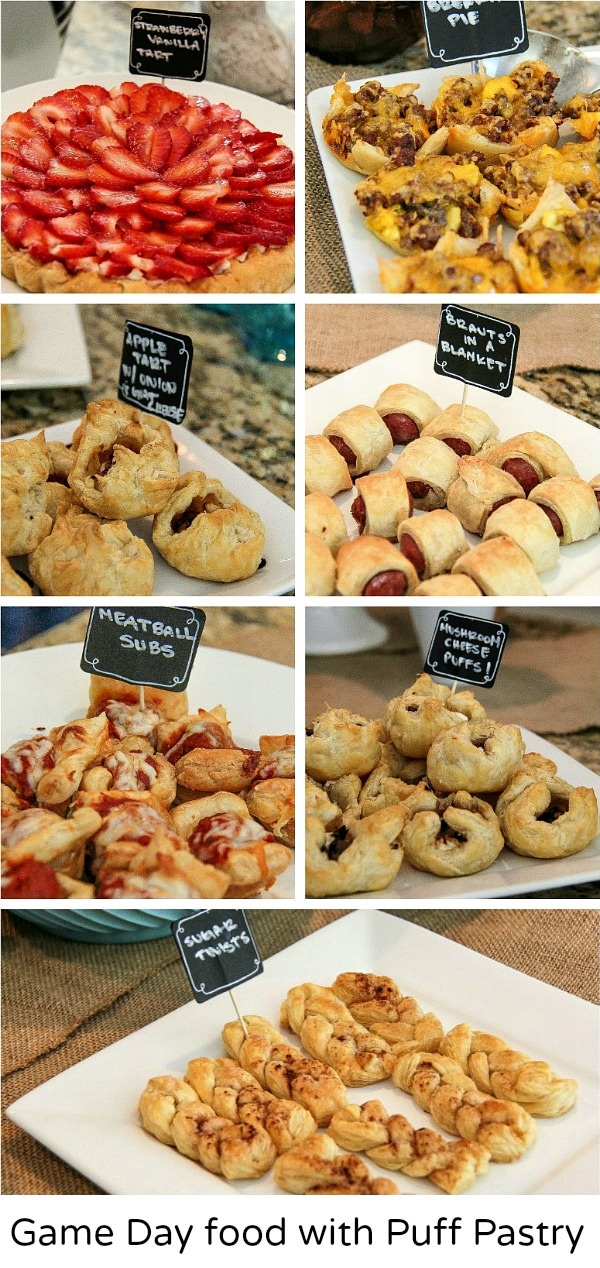 Pepperidge Farm Puff Pastry takes home entertaining from ordinary to extraordinary. The delicious, flaky layers give you a wide range of versatility to make delicious appetizers, desserts, and main dishes. They offer a simple way to upgrade entertaining with the perfect blank canvas to help you bring to life your own unique, impressive dishes that guests will love!
Please pin this post for later: