The ultimate gift guide for the man in your life.
Disclosure: I received product and compensation from Fellowes, Inc. and The Motherhood as part of my participation in this program.
I don't know about you, but the men in my life are IMPOSSIBLE to buy for. They never want anything, they never seem to need anything, they couldn't put together a list of items they wanted even if I paid them to do it. 
So if you are struggling coming up with ideas for the men in your life this holiday season, I've put together a few practical items that they might not even realize they need, or want until they have them. Prices range from under $15 to over $200 so there is quite a variety here.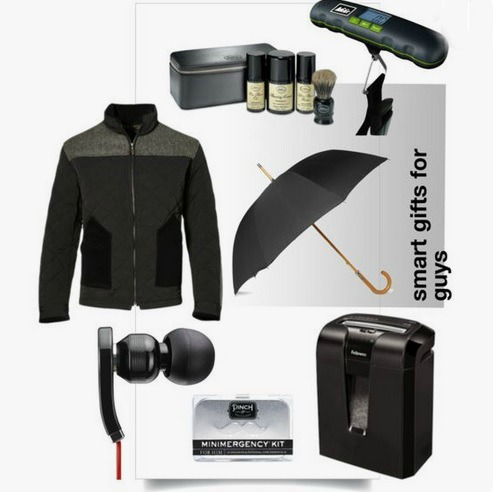 Beats by Dr Dre tech accessory / The Art of Shaving / London Undercover Vintage Map-Lined Umbrella / REI Digital Luggage Scale Small / Minimergency Kit for Him / Outerwear / Powershred 63Cb Cross-Cut Shredder
Beats by Dre: These were the number one item on our teenager's wishlist last year and they aren't exactly cheap, and my husband couldn't understand what the big deal was. However, one day on a long car ride home and realizing he had forgotten his headphones he tried them. He went directly to the store and purchased himself a pair of the ear buds.
The Art of Shaving: These products are more luxurious than what your man probably uses right now, so why not give his face a special treat.
Umbrella:  I love a really good umbrella, and this vintage map-lined umbrella is the perfect gift for your man.
Digital Luggage Scale: How often does your man travel (or you travel as a family) and you are worried your bags are going to be over the weight limit?  Happens to us all the time.
Minimergency Kit: This kit containing 13 grooming and personal care essentials is perfect for keeping in the car, briefcase, office, at home, or in a travel bag.
Outerwear:  When I shop for myself I am quite happy buying a $5 fleece from Old Navy, I tend to change my look and my wardrobe often and whether the item is cheap or expensive as long as I like it I'm happy. My husband shops so infrequently for clothes though that when he does we tend to purchase pricier items that will last through many seasons and years (I'm still evicting hawaiian shirts from his closet). Outerwear in particular is one of those things that we look for a great quality product that will last forever, because it could be years before he purchases another.
Powershred 63Cb Cross-Cut Shredder: We have had our credit card number stolen, along with checks in the past. The last thing I would want to happen is having one of our identities stolen as well, especially with identity theft on the rise. If you are the type of family who will purchase gifts for one another that are practical and more for the household, then this is a gift you will want to give.
This gift guide has been sponsored by Fellowes. Here are a few facts about the Fellowes Powershred 63Cb Cross-Cut Shredder, which we were given to review, and which is absolutely fantastic, I'm going to be shredding everything in sight in the new year as I clean out my filing cabinet and my wallet.
Jam BlockerTM technology features an electronic sensor that measures paper and prevents overfeeding, stopping jams in their tracks.
Proprietary Energy Savings System functions whether the machine is in use or not
Cross-Cut blades destroy a single sheet of paper into 399 particles, making it nearly impossible to piece back together.
Easily shreds credit cards, paper clips and staples for added convenience
SafeSense® technology automatically disables the shredder when hands touch the paper opening through an advanced electronic safety sensor (aka kid safe!).
The 63Cb is available at www.Amazon.com, www.OfficeDepot.com and www.OfficeMax.com for a suggested retail price of $149.99.
To learn more visit these links:
Fellowes Facebook: www.Facebook.com/Fellowes
Fellowes Twitter: @FellowesInc and follow the #smartgiftsforguys hashtag
My Smart Gifts for Guys Pinterest board where I will be adding new items.
Want to WIN a Powershred 63Cb Cross-Cut Shredder?