These Oreo reindeer cookies are perfect for all of your holiday parties and are a delicious treat for the kids to make too.
'Tis the season for decorating cookies, and in our house decorating sugar cookies and gingerbread just isn't nearly enough, this year we decorated Oreo's too.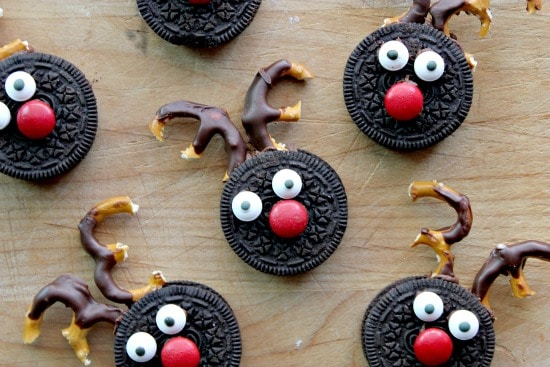 UPDATE: This fun project was initially created for the Kidzui website, however that website is now offline.
Oreo reindeer cookies
Ingredients
Oreo cookies (we used red crème Winter Oreo's)
M&M's (red)
Candy eyes
Pretzels
Chocolate chips
Instructions
Very carefully break the pretzels. I tried using a sharp knife but found it cracked the side of the pretzel, so breaking small pieces off them by hand worked much better.
Next, melt the chocolate chips in a microwave safe bowl (check the package for directions on how to do this).
Dip one side of the pretzel into the chocolate and place on a sheet of wax paper. Place into the freezer for about 10 minutes.
Use small amounts of the melted chocolate to attach the red M&M nose and the candy eyes to the Oreo to make the reindeer face.
Remove the pretzels from the freezer and dip the bottom into the chocolate. Place it very carefully into the top of the Oreo cookie. Repeat with the other pretzel antler. Stand the cookie up in a narrow dish (you could use a mini muffin tin, egg cup, or dish) until the pretzel antlers are set.
More Christmas cookies
Are you looking for more fun Christmas cookie ideas? You need to take a look at these:
Please pin this post for later: