Whether you are stuck indoors or enjoying the snow this winter, kids are going to love these snowflake crafts, books, and activities.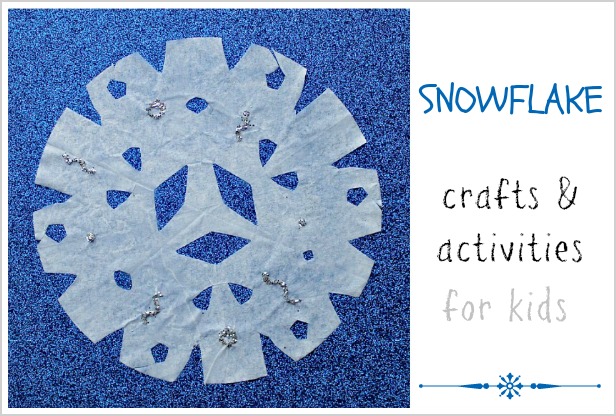 Note: I originally wrote this post for the website Rusty and Rosy, however, that website is now offline.
Snowflake crafts
Snowflake craft book: Want to make snowflakes for every holiday and season? Then you need a copy of Snowflakes for All Seasons by Cindy Higham. The book contains 64 patterns for snowflakes.
Snowflake gift wrap: Cut out paper snowflakes and glue them to plain gift wrap. Add a touch of glitter glue and you have a festive gift to give to a loved one.
Pipe Cleaner Snowflakes: Make pipe cleaner snowflakes to hang from your ceiling or windows with fishing line or invisible thread, or to use as decorations on your dining table. 
Coffee Filter Snowflakes: Coffee Filter (or paper baking cup liner) snowflakes are the perfect size to attach to plain cards.  Make them the same way as regular paper snowflakes. Give one to your teacher and school friends this holiday season.
Make a Snowflake Picture: Draw a winter scene on card stock or paper. Have your kids practice their scissor skills by cutting out snowflakes. Attach them to the picture you've colored to make a snowy scene.
Snowflake drink stirrers: We made these snowflake drink stirrers and used them for both a winter movie night and a hot cocoa bar.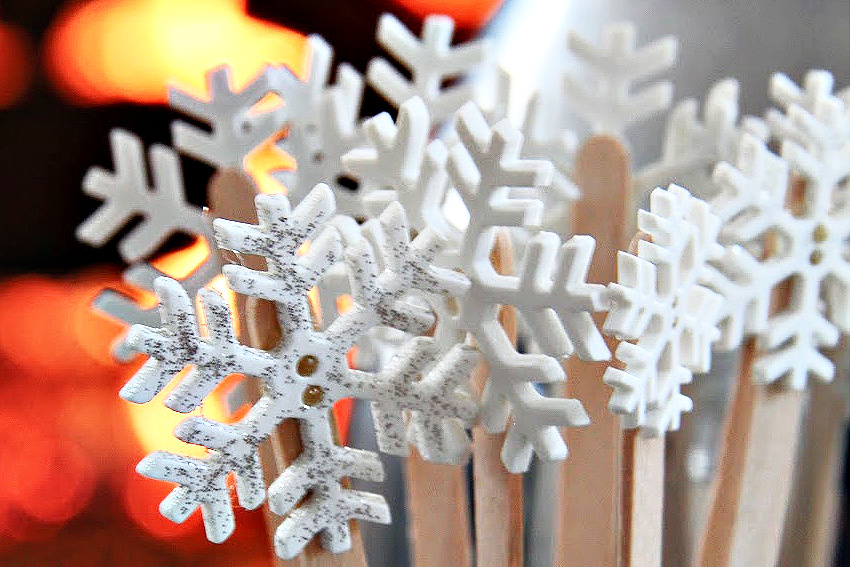 Snowflake activities
Sugar Cookies: Make a batch of sugar cookie dough. Roll it out and cut each with a snowflake-shaped cookie cutter. Bake in the oven, and then decorate with white icing, edible glitter, and silver dragees.
Catch a Snowflake: You will need black card stock and a magnifying glass. The kids and I will be trying this out on an upcoming trip to the snow.
Snowflake Bento: Make a fun lunch for kids including a snowflake sandwich, which is made by cutting bread with a snowflake-shaped cookie cutter. Fill with your child's favorite sandwich filling. In a container, place fresh fruit such as grapes and blueberries, sprinkle coconut flakes over the top. Make a snowman out of three marshmallows, and then using a food writer pen draw on his face, scarf, and buttons.
Sing Snowflake Songs: Learn fun snowflake songs to sing with the kids while make crafts or watching the snow fall.
Snowflake books
Winter Wonderland (National Geographic Kids) by Jill Esbaum
Snowflake Bently by Jacqueline Briggs Martin
The Story of Snow: The Science of Winter's Wonder by Mark Cassino
Snowflakes – a Pop-Up Book by Jennifer Preston Chushcoff
The Snowflake – a Water Cycle Story by Neil Waldman
A Snowflake Fell – Poems About Winter by Laura Whipple
Fletcher and the Snowflake Christmas by Julia Rawlinson
No Two Alike by Keith Baker
Millions of Snowflakes by Mary McKenna Siddals
Stella Queen of the Snow by Marie-Louise Gay
Please pin this post for later: