Oh how we love to grill.  We do so year-round, but more so when the weather is warm out, especially now and throughout the summer months.  We have also decided to take the kids camping over the summer this year.  It will be a new experience for them.  I am more of a hotel with room service person, but also believe in giving my children as many experiences as possible.  We have decided that we need to start purchasing a few items over the next month or two in preparation, so last week when I was presented with the opportunity to purchase a new grill I jumped at the chance. 
I shopped on-line at Sears, not just because I was asked to, but I normally shop at Sears when looking for outdoor entertaining items.  In fact our outdoor setting was purchased at Sears, our backyard grill at Kmart and more recently, my new oven and stove top for the kitchen were purchased at Sears.  I'm always happy with the outdoor items I have purchased from there previously.  You can view my shopping experience, including items I chose, and those I covet on my Google+ story. So, once my grill, new backpack chairs, grill tools, and picnic ware were purchased, and had been tested out at home, we went shopping for some much needed food, then I scouted a location for our beachside cookout.  I drove down to Fiesta Island in the morning which I had heard was the spot for fire pits.  I picked out a spot for us that would have a lovely view of the sunset and the boats out on the bay then drove home to pack up all of our goodies, and the kids.  Luckily our spot was still there when we returned and in no time at all we were all set up for the afternoon and evening.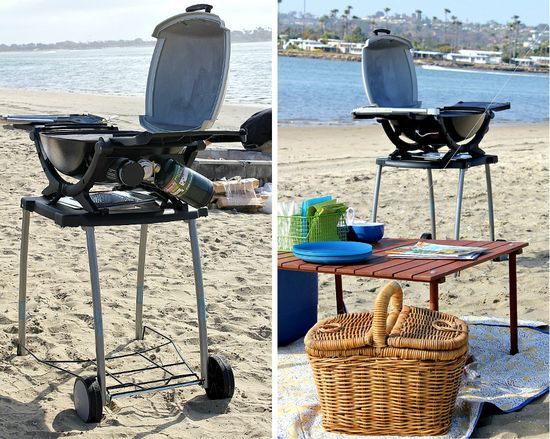 Note the portable propane so there is no need to carry your regular backyard grill propane tank with you which is very heavy.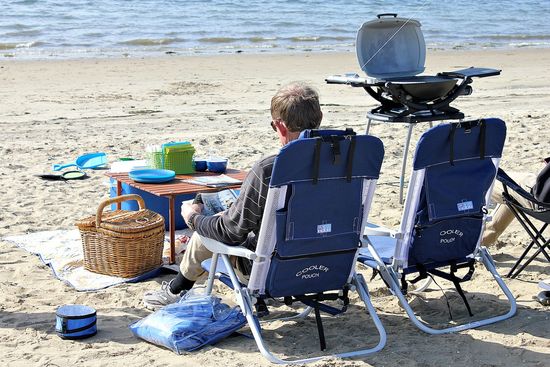 I just love our new chairs (pictured above).  They were from Sears as well.  They are backpack chairs, with a cooler in the back and a headrest.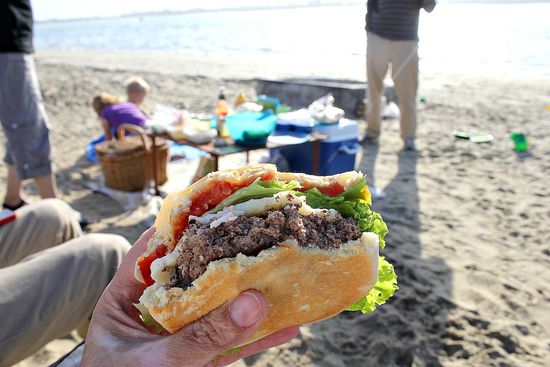 The kids and dog had a wonderful time at the beach.  Even though we arrived later in the afternoon, both Flynn and the puppy were more than happy to head into the water.  Sand castles were built, toys were played with, rocks were skipped, and kites were flown.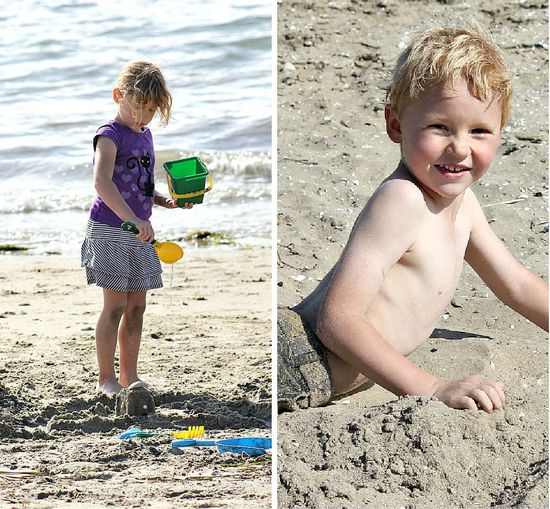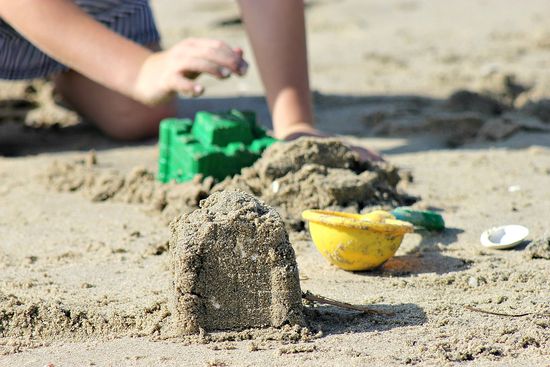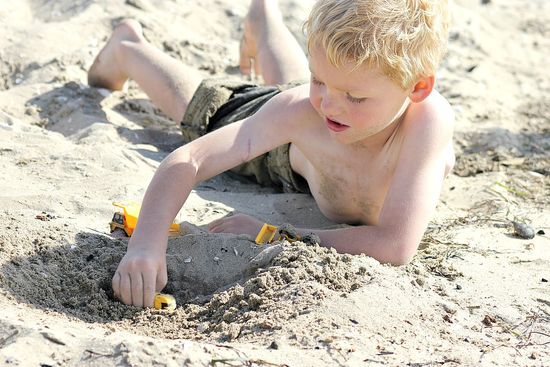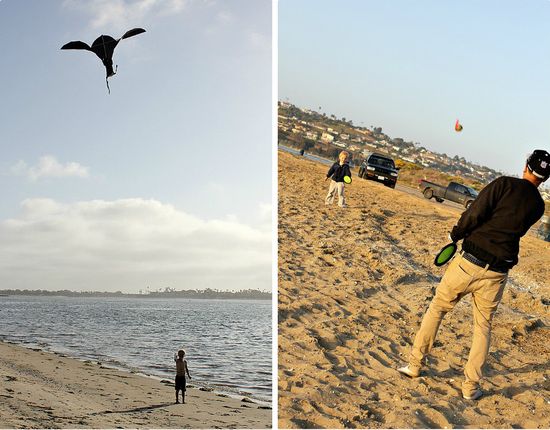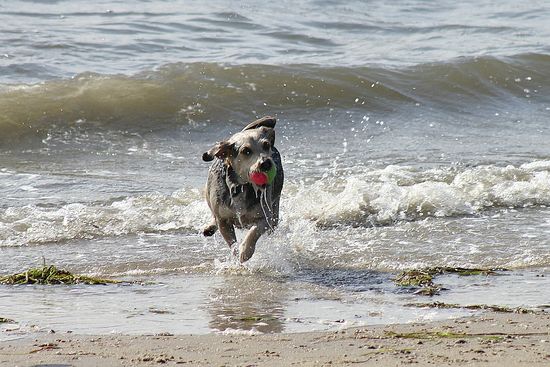 One of the reasons I wanted to go to Fiesta Island is that it's an off-leash dog area.  Sparky was beside himself.  He's not used to being off-lead.  He took full advantage.
I'm still unsure whether he was trying to bury the ball or me in the photograph below .  When he realized that though that his hole was getting bigger and nothing was getting buried he eventually gave up.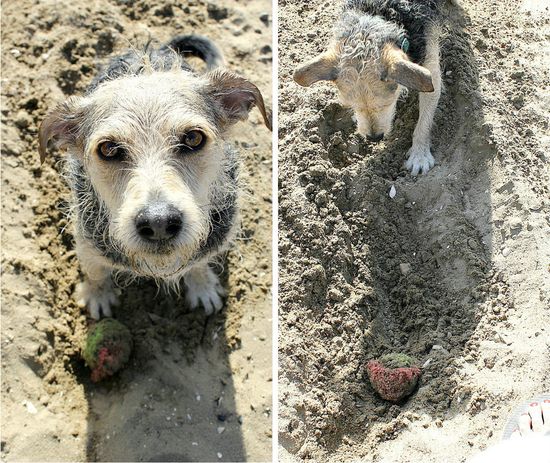 So that we didn't need to fill the cooler with ice, I popped in a few ice packs, then froze lemonade in canning jars and popped those into the cooler too.  This way we had more room for food, and we had cold beverages too.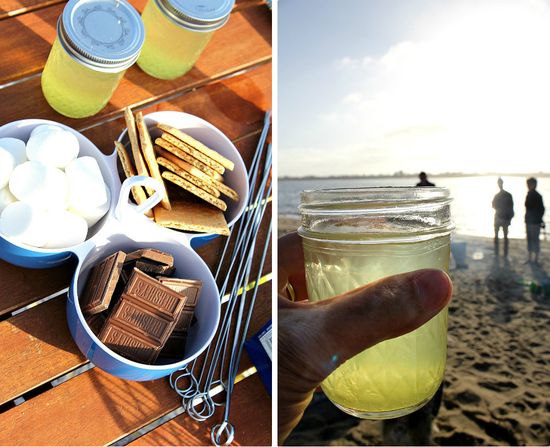 After grilling dinner, enjoying a few salads, and playing for a while, we started a small fire in the fire pit to make s'mores for dessert.  This was something I had been looking forward to introducing my parents to.  S'mores are not made in Australia and the first time I tried them was after I moved to the U.S.  I just love the new bowl that I picked up at Sears in the outdoor entertaining/beach section, it was perfect for holding our s'mores ingredients.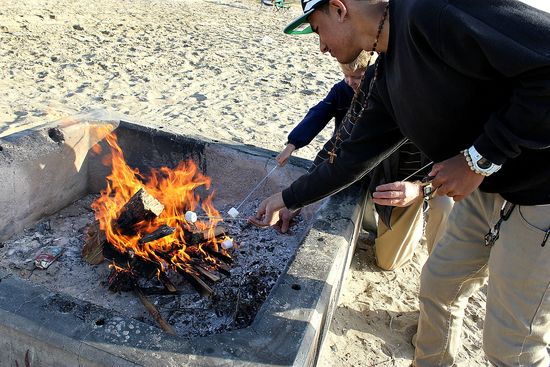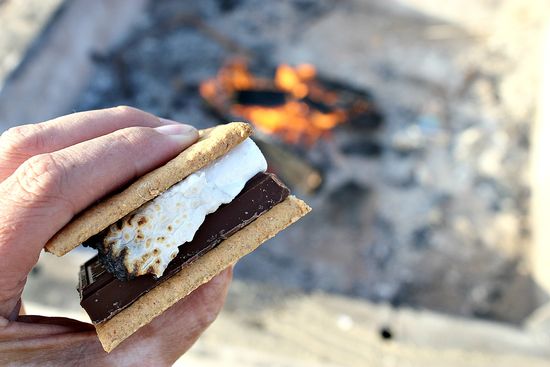 After we were full, and the kids were done playing we watched the sun set before heading home.  It was such a beautiful sunset that night.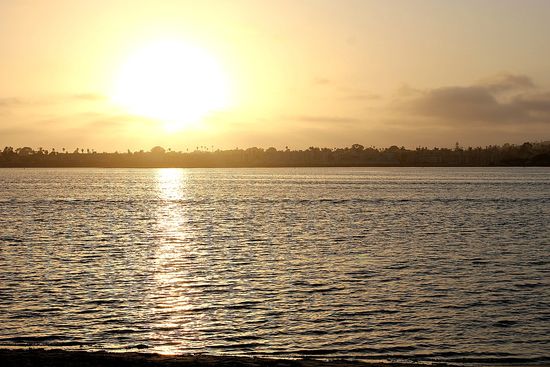 What I am hoping to show you here is that grilling away from home does not need to be stressful when you have the right equipment that is made for being portable.  I just love that the stand for this grill folds down and the base comes out as a handle so you can wheel it to your destination.  You can purchase portable propane for it that are small (you can see one in the photographs above attached to our grill) and you can wrap those and the grilling tools up in a hand towel or put them inside a grilling glove and pop them under the hood of the grill for easy transportation.  A picnic basket, chairs, roll-up table, and entertainment for the kids is all else you will need.  Aside from food of course.  Also, it might just be me but the grills that they have at parks make me a little squeamish.  They are dirty, rarely clean, and who knows what was put on there before we arrived.
If you are in need of more tips for grilling for Mother's Day, Memorial Day, or just want to enjoy a stress free meal with your family take a look at these. 
The Sears Simply Outdoors catalog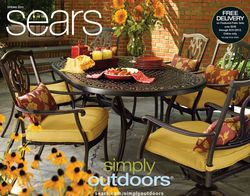 Sears Grilling is Happiness website which includes lots of grilling tips, a blog with delicious recipes, and a grill finder tool to help you find the perfect grill to meet your needs.
Follow @Sears and @GrillHappiness on Twitter and like Sears on Facebook.  You can also follow the conversation on Twitter by using the hashtag #GrillingIsHappiness.
Shopping on-line is very easy, and with the added convenience of being able to use the grill finder to get recommendations on the perfect grill for your needs, checking which stores close by have the grill in stock, and picking it up in-store means you will be grilling in no time at all.
There are some great deals at Sears for grilling and outdoors right now, you will find them in the Sunday (6/5) circular.
FREE in-store assembly on all gas grills
Save $100 on Kenmore 4-burner Gas Grill. Now $399.99!
Save an extra 10% off Patio & Grills
Shop Your Way Rewards members save more each and every season and for every $1 you spend you get 10 points
Lock in today's low prices for all of your upcoming events with Sears Layaway!
Disclosure: I am a member of the Collective Bias™ Social Fabric® Community.  This shop has been compensated as part of a social shopper insights study for Collective Bias™. #CBias #SocialFabric