These monster eyeball cakes are the perfect addition to any Halloween party, and they are so simple to make.
I have quite a thing for adorable monsters this Halloween.
I made these two cakes for the bake sale and cake walk at the twins Halloween school carnival.  I made cake pops too and will share those shortly.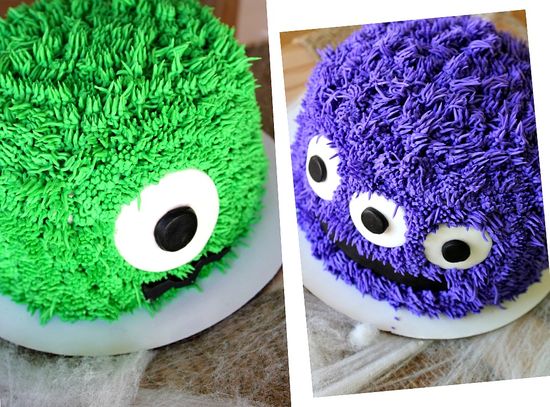 These cakes are very simple.  Anyone can make them, as long as you have patience and a DVR'd program (or two) to watch.
Instructions to make one of these fun monster cakes:
Bake 2 6×2" round cakes (or any size you want if you want larger cakes) – I made chocolate fudge cakes.
Once cooled, put icing in between them and stack them on top of each other.
Cover the entire cake with icing, it doesn't matter if you get crumbs in the icing because it will be covered up by the 'fur' anyway.
Using black and white fondant, cut out the eyes and mouth and put them straight onto the icing.  Tip: if you mix just a teeny bit of fondant with water, it will make a 'glue' to attach the pupil to the white of the eye.
Mix some Wilton dye into plain white icing to make the color of your choice for your monster.  Then using the grass piping tip (which has multiple openings), pipe 'fur' onto your monsters.