With our vacation nearly upon us, I thought today I should start getting a few things in order.
First on my list was getting my hair done, which you just read about.  Next on my list was to clean out the pantry and refrigerator so we don't return to weird odors and scientific experiments in our kitchen.  I received some wonderful bunches of herbs from the organic farm that we get our fruit and vegetables from over the weekend and decided that with not much time to cook this week that I would have to preserve them somehow because I couldn't stand the thought of throwing them out.  I did a little research on the internet and most websites suggested hanging the herbs upside down in a paper bag with holes punched in it for a week or 2 but seeing as we'll be gone for a month this wasn't going to work for us so this is what I did:
BASIL
I trimmed all of the leaves, washed them, patted them dry and then laid them out on a clean tea towel while we ran errands to make sure there was no moisture left so they would be easier to chop.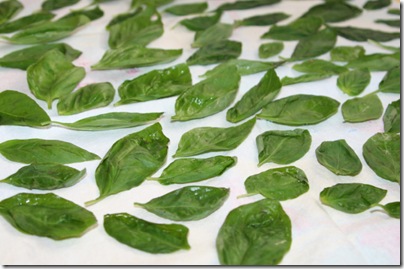 Once we arrived home they were completely dry.  I chopped them into small pieces and then filled each ice-cube space with 1/3 basil and 2/3 filtered watered and popped them into the freezer.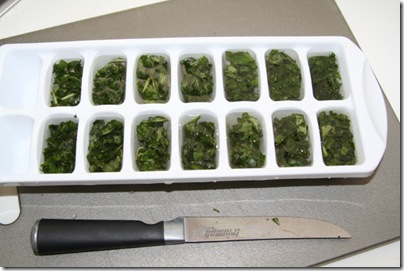 I left them for a few hours to freeze and then popped each out and put them into a zip-lock freezer bag.  Don't they look just divine once frozen!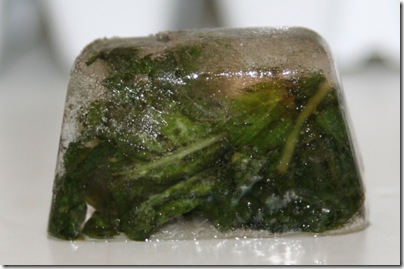 THYME
Thyme is by far my favorite herb.  It is the ingredient that I have always used to make my spaghetti bolognese what Randy and Jay have dubbed 'world famous'.  It's not, but it's nice that they enjoy it and Jay would ask for that hands down over McDonalds any day.
I warmed the oven to 200F, washed the thyme and lay it out on a cookie sheet covered in baking paper.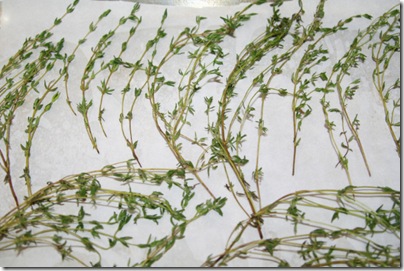 I left the oven door open about 1/4 of the way and kept a close eye on them checking them every few minutes until they crumbled in my fingers.  The smell coming from the oven was wonderful.  I had to do 4 trays because I had so much but once you crumble the leaves off the stalks it actually doesn't amount to very much at all.  I had enough to fill one small spice jar (or in my case one of the babies old formula containers).
I can't wait to use them the next time I make my spaghetti bolognese.  Yum.