Upcycling items from Goodwill not only creates jobs but gives you beautiful new Christmas decor to display in your home. Get a few ideas right here.
Disclosure: This post has been sponsored by Goodwill®
The holiday's can be stressful and costly, between the gifts, the celebrations, and the decorating. We all want to give our children the best, and make the season as festive and fun as we possibly can, but it's hard. I'm a single mother of three, and my budget each month is so tight it squeaks, so I find this time of year particularly difficult.
Thankfully I do have an amazing man in my life who helps out to no end with the 'fun' things. And my kids adore him. Just last weekend we met him in Nashville so we could spend time with his family and celebrate Christmas (albeit a little early). We took the kids to Gaylord Opryland one evening to see all of the festive decorations and go on a boat road, and the following day we took my kids back to ICE, which is an amazing exhibit of ice sculptures (Snoopy themed) that you walk through. It's only 9 degrees inside, but they give you big coats to wear, and the kids loved going down a slide made entirely of ice.
If everyone can get over their head colds we'll be heading to the Christmas tree farm to cut down our own Christmas tree later this week. This is one of the highlights of the holiday season for me. I've found having traditions makes the holiday's that much more special. My daughter picks out a tree, and her brother cuts it down. We load it up on top of the car, bring it home, turn on Christmas movies, make hot chocolate, and put out a few festive treats while the kids decorate the tree.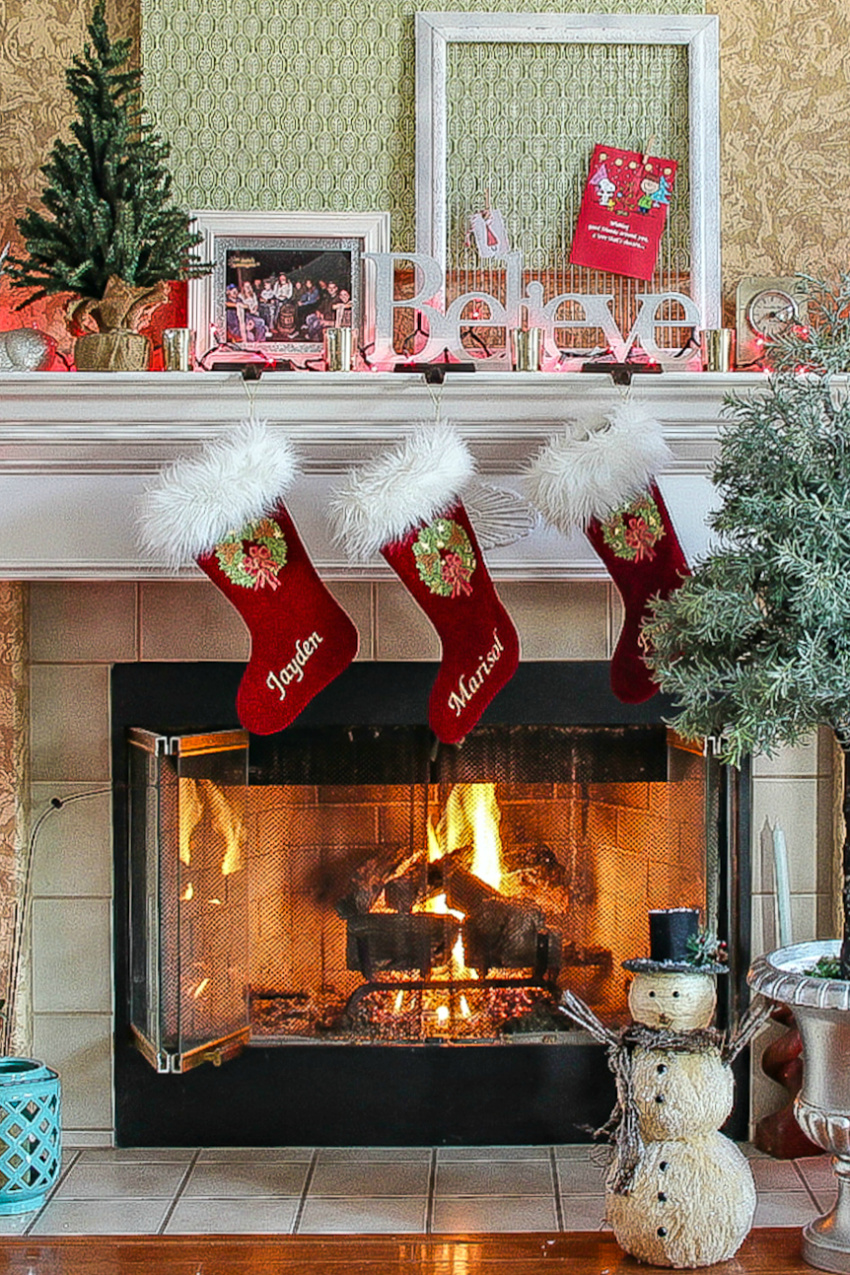 Each year we've built on our Christmas decoration collection. We pick out a couple of new things before decorating and then a couple more at the sales after Christmas. Or sometimes we just make our own decorations. This year things are a little tighter than normal so we are relying on a lot of DIY.
I see a lot of people impulse buying at big name stores, but did you know that stores such as Goodwill have a lot of options at this time of year too? There are so many treasures that can be crafted from Goodwill finds and I'm going to share a couple with you that I did this week for decorating the mantel above our fireplace.
At my local Goodwill store I found this frame and 'believe' metal sign. But, I had a vision.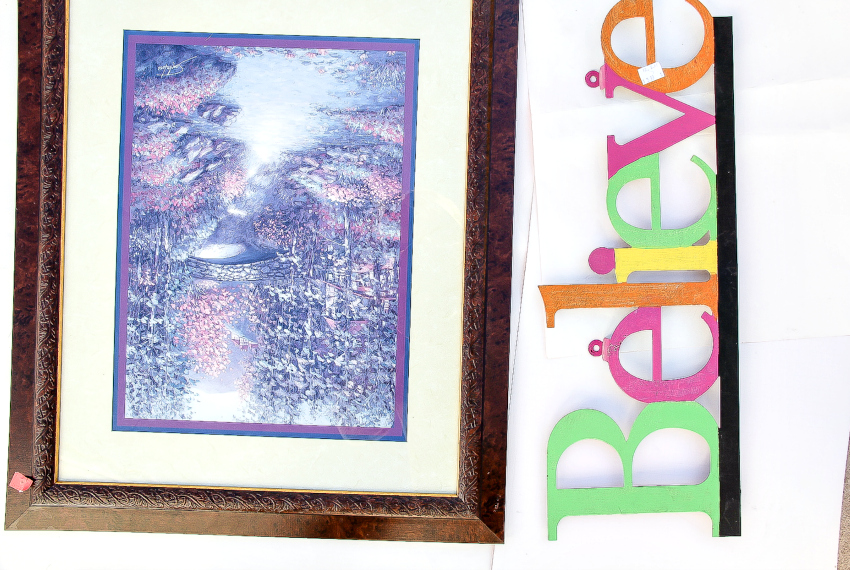 I really loved the idea of putting the word 'believe' above the fireplace, just not in these bright colors, and it was only $3.99. All I needed was some spray paint, which I already had at home.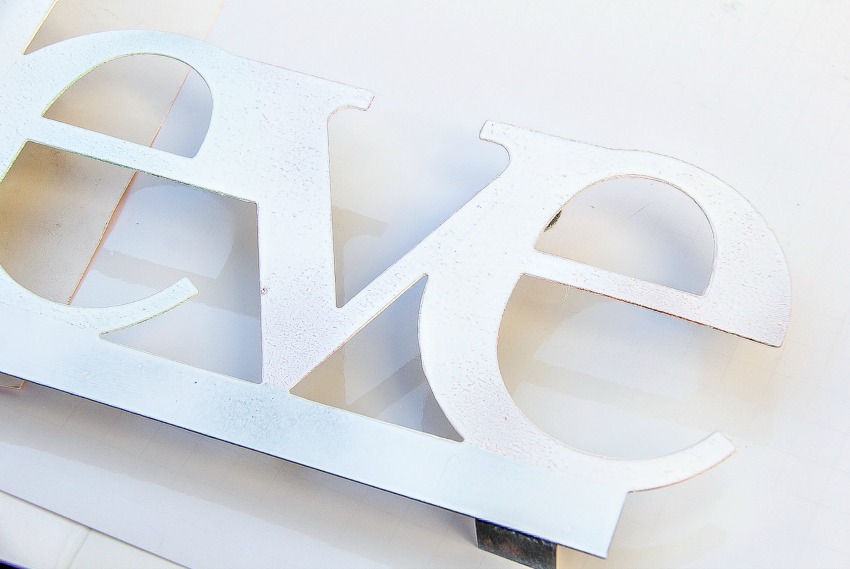 Over a couple of days I sprayed and sprayed. I did three coats of white spray paint, then lay a strip of painter's tape down, and sprayed the sign again with silver glitter spray paint.
Doesn't this look much more festive now?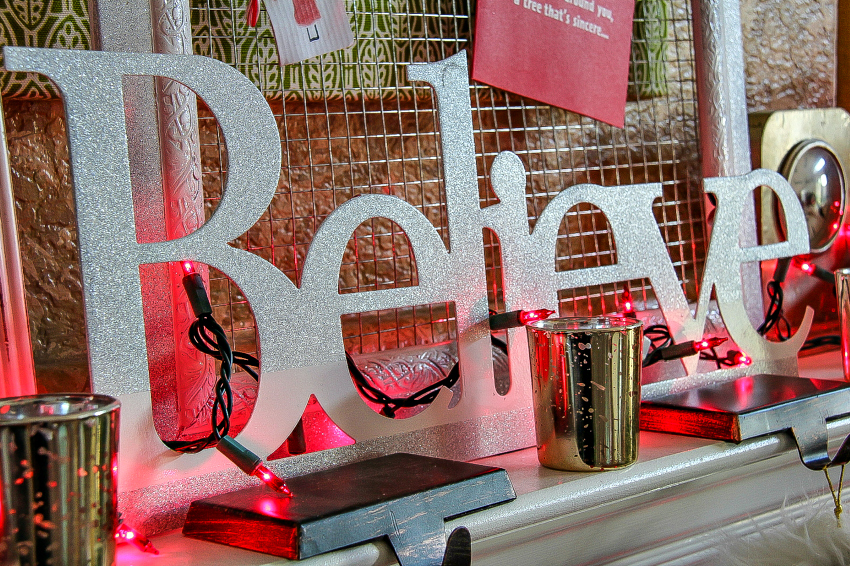 The next item I found was the large frame. I loved the wood, and the detail on it, and thought it would be perfect to turn into a card or photo holder, plus $5.99 was a pretty good price considering it was in excellent condition. We'll be putting Christmas cards on it, but you can also add holiday photos of your family to it too.
I used the same white and silver glitter spray paint on the frame as the 'believe' sign, right after removing the glass, picture, and staples, and then sanding the back side of the frame.
I gave the white section a slightly weathered lookin by pulling tape off the paint as it was almost dry, and then lay painter's tape over the decorative section so I could paint the surround with the silver glitter paint.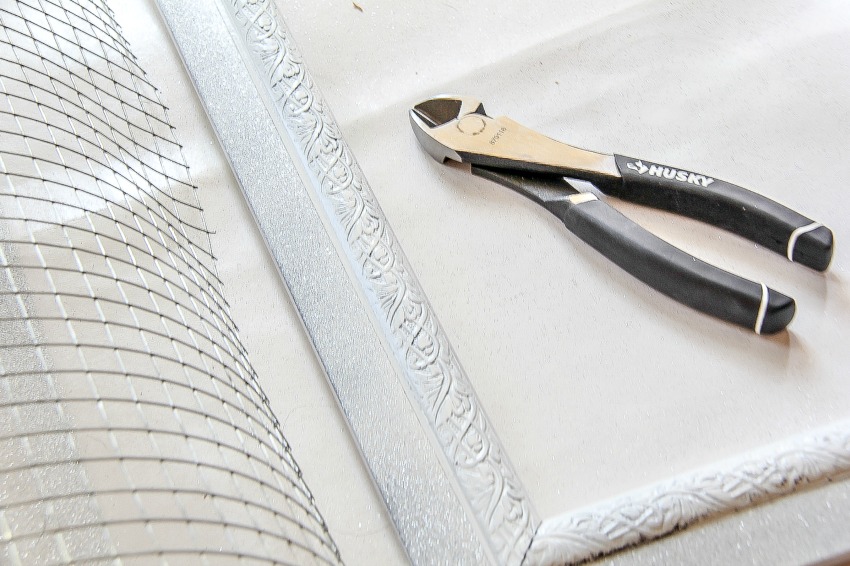 Then, it was time to add wire to the frame. I found a small roll of wire at the local hardware store, and used wire cutters to cut it to size, then a staple gun to attach it to the back of the frame.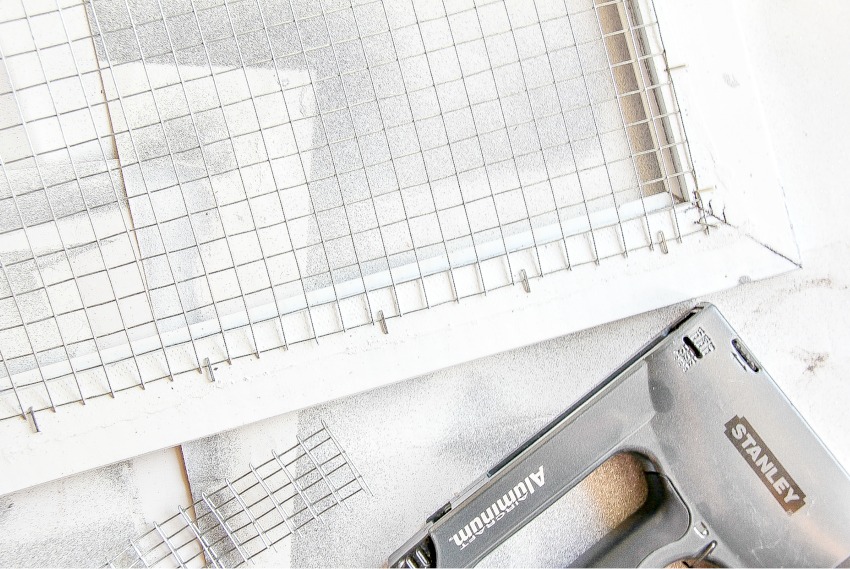 And now I have a frame that I can not only use for the holiday season to display Christmas cards, but I can use it year-round (or should I say Marisol has already decided she's having it) for photos.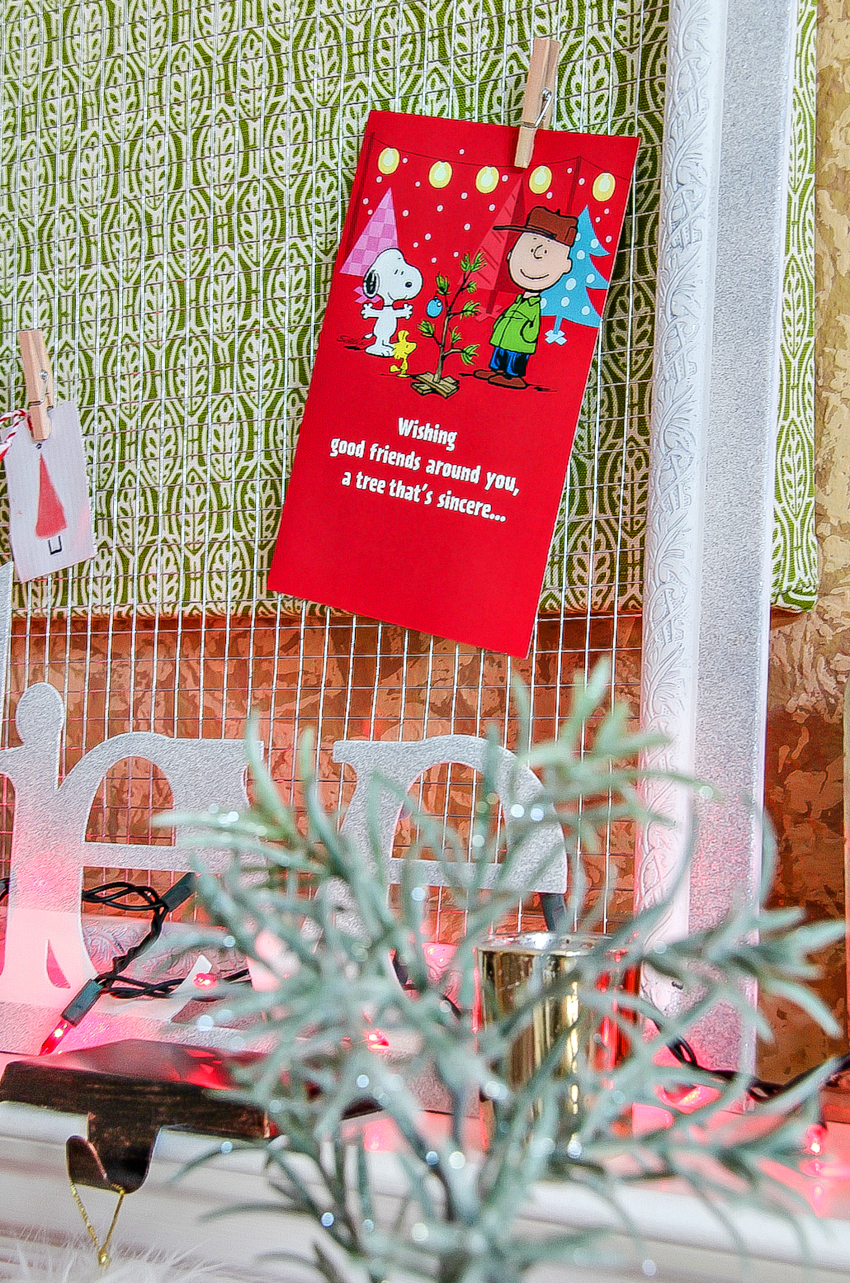 I also picked up this large pinecone ornament that was already painted, and in great condition, for 99 cents.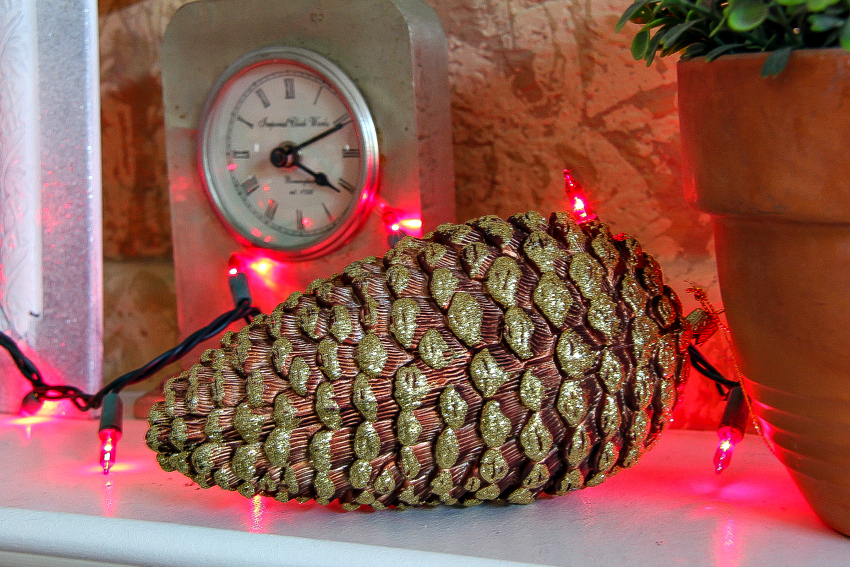 So, now we have some fabulous new pieces to add to our holiday decor collection.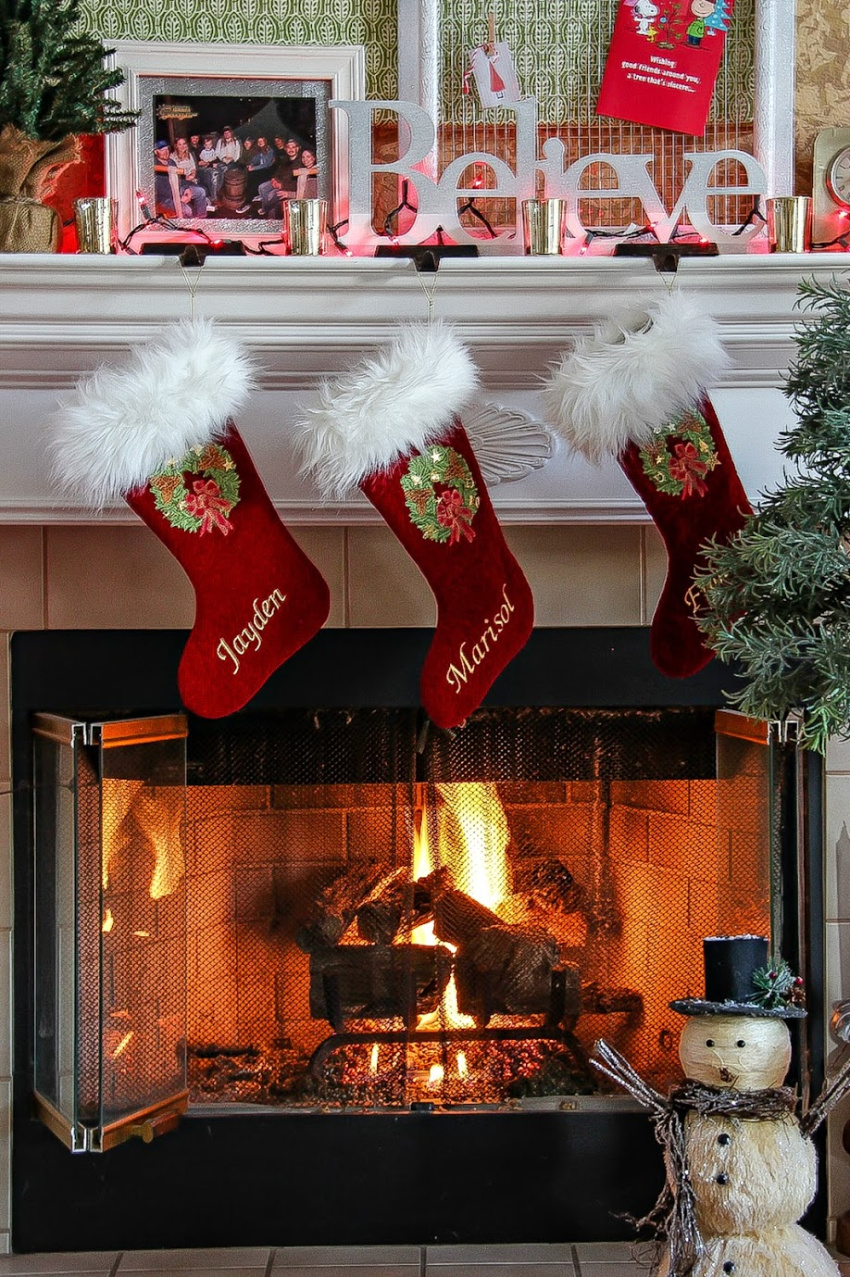 So, you don't have to spend a lot of money to decorate your home this holiday season. All you need is a little imagination, and a trip to your Goodwill store. Plus, the items that I've re-purposed can be used year-round in our home.
When you create holiday crafts and gifts from items purchased at Goodwill, you create job opportunities and training in local communities. Every 23 seconds of each business day, a person served by Goodwill earns a good job. Goodwill provides job preparation, skills training, education assistance and support services to millions of people each year who are facing challenges to finding employment.
Learn more about Goodwill here:
Instagram | Facebook | Twitter | Store locator 
Goodwill is an entrepreneurial leader, environmental pioneer and social innovator of the "reduce, reuse, repurpose" practice. Through its entrepreneurial business model of collecting and selling donated goods, Goodwill helps communities extend the life of usable items in environmentally sound ways.
Please pin this post for later: