If you've been growing tomatoes and have no idea what to do with them all, start with this homemade spaghetti sauce you can freeze.
The tomatoes in our front garden just won't stop growing. It's not a bad problem to have really. As I'm typing this post I looked down to the front garden from my office window and can see hundreds more waiting to be picked.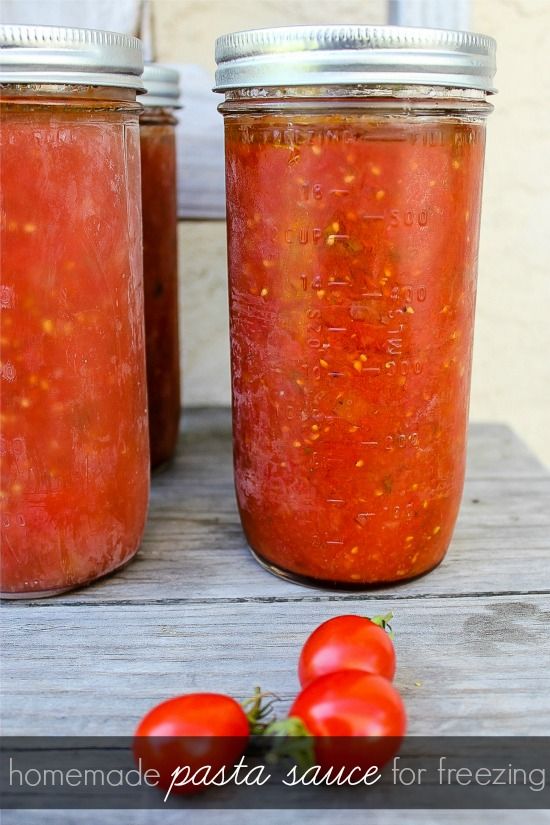 I've made a total of 10 jars of pasta sauce so far. It's perfect for last-minute dinners, and we always have boxes of pasta in the pantry.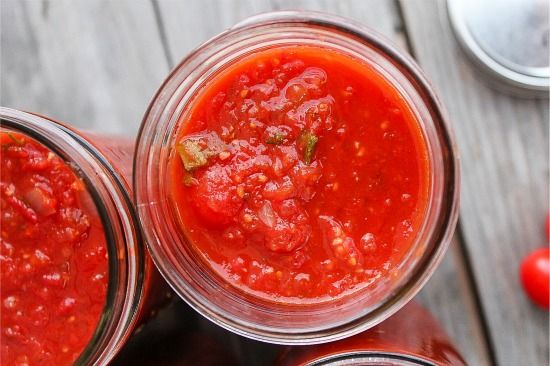 Ingredients
12 cups of small heirloom tomatoes (red) - sliced in half
2 tbs chopped garlic
2 yellow onions - diced
2 tbs extra-virgin olive oil
1 cup red wine
2 6oz cans of tomato paste
1/2 cup fresh parsley - roughly chopped
1/2 cup fresh basil - chiffonade
2 tbs dried thyme (I was out of fresh but would normally use that)
2 tbs dried oregano (again I was out of fresh)
large pinch of salt & pepper
Instructions
Over high heat in a large pot cook the onions and garlic with the olive oil until the onions have softened.
Add the tomatoes, and then the red wine and stir occasionally until the tomatoes have softened.
Spoon in the tomato paste with a teaspoon (it makes it easier to combine in small amounts) and stir frequently until completely combined.
Using an immersion blender, blend the sauce.  Not too much though, you still want some of the chunky tomato and onion pieces.
Add the basil, parsley, thyme, oregano, and salt and pepper. Reduce to a simmer for about 2-3 hours stirring occasionally.
Spoon the pasta sauce into the jars and leave it on the counter to cool before putting the lids on and freezing.
Recipe: by Tonya Staab tonyastaab.com
This pasta sauce recipe will fit 6 24oz Ball canning jars.
I plan on using some of these jars of homemade sauce to make lasagna and spaghetti with turkey meatballs, plus it's great on its own over pasta.
Freezing spaghetti sauce in Ball canning jars
Ball canning jars have a fill line on the top of the jar for freezing, so use that as a guide. Remember liquid expands when it freezes.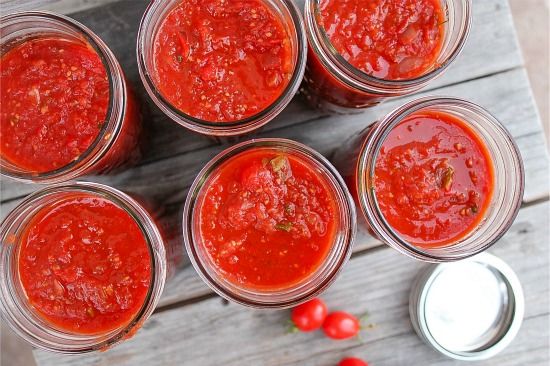 Defrosting Ball canning jars
Defrost one jar at a time for 3-minutes on 50% power, stir, and then, 1-minute at a time on 100% power. Make sure to stir after each minute.
If you have more ideas on using these tomatoes I'd love to hear them. I may have to invest in a good pressure canner.
We've already made a large batch of tomato soup, salsa, 10 jars of pasta sauce, and lots of fresh salads.
Please pin this post for later: