These delicious chocolate football cupcakes are so easy to decorate and are perfect for your game day and football parties.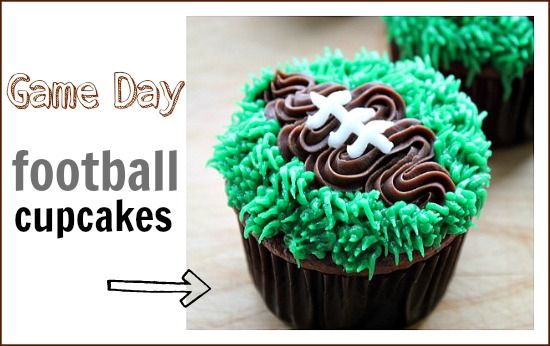 Football cupcakes
These fun game day cupcakes are simple to decorate and if you are hosting a football party for kids or The Big Game, then these will be loved by everyone.
Supplies
Basic chocolate cupcakes
Wilton decorating icing – chocolate, kelly green, and white
Coupler ring set (a set of 4 is just over $2)
Decorating tips – No. 5, 21, 233.
Note: The tips will connect directly to the Wilton decorating icing tubes by using a coupler.
Instructions
Here are the steps you will take to decorate your football cupcakes. The first step is to bake chocolate cupcakes. We used our favorite boxed cake mix for this.
Step 1
Using the chocolate decorating icing and the No.21 (star) tip begin at one side of the cupcake and make a swirl that becomes wider in the center and tapers back in at the other side. In full disclosure, I used regular chocolate frosting for this. I knew I had a chocolate tube, however, after attaching the tip I quickly realized that it was almost empty, thankfully I had a tub of chocolate icing in the refrigerator that I could use instead.
Step 2
Using the white decorating icing and the No.5 (small circle) tip make a short line down the center of the chocolate football and then a few cross marks over the top.
Step 3
Using the kelly green decorating icing and the No.233 (grass) tip pipe small sections of grass around the football.
More football party foods
Are you looking for more fun football foods to serve at your Game Day party? Take a look at these: