It's been a while since I've made cupcakes for the kids, but Spring is in the air, flowers are blooming outside and I was craving something a little bit sweet.   Of course though I have three children who each have their own idea on how I should decorates cakes.  I have one who cannot stand fondant, one who loves fondant and one who will take it or leave it as long as there is a whole lot of icing he can lick off.
Here is how you please picky cupcake eaters.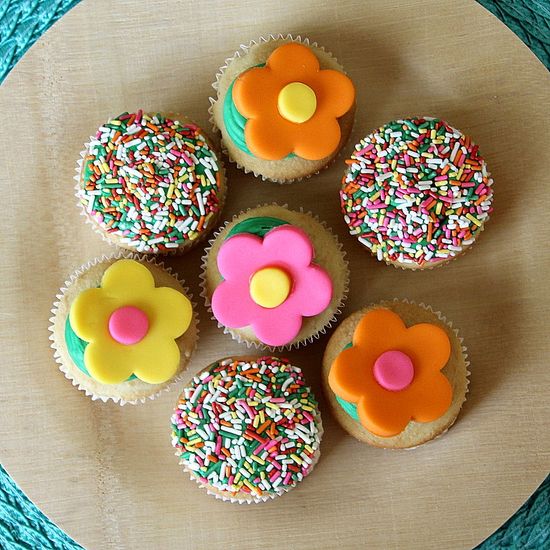 Aren't these perfect for a Spring or garden party.
And, this is how you make them.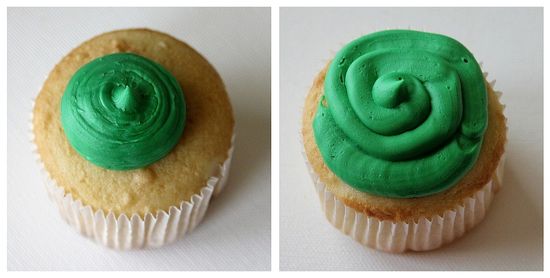 Flower cupcake (image 1): Using green icing in an icing bag with a no.12 tip (on my wishlist are the 1A and 2A) put the tip face down hovering just above the center of the cupcake.  Squeeze the bag holding your hand steady until a large circular blob of icing appears. Tip: As the icing comes out, you may feel like you need to lift your hand higher. Don't.  Keep your hand steady, this will make the mound more full and spread it out as opposed to making it higher. Plus it creates lovely little ridges around the side.
Sprinkles cupcake (image 2): Again, using green icing in a bag with a no.12 tip, starting around the outside of the cupcake, begin to spiral into the center of the cupcake, squeezing the bag the entire time.  This does no have to perfect, because they will be covered in sprinkles (you can see where I had air pockets as I piped).  There is a reason I do this instead of slapping icing onto the cupcake, it gives it a nice tidy edge for the sprinkles, instead of them flailing all over the cupcake.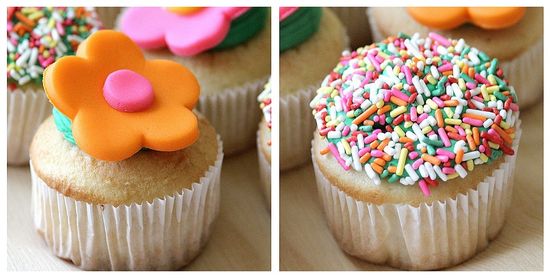 Flower cupcake (image 1): Roll out fondant until it is about 3mm thick.  Take a flower fondant cutter (or cookie cutter) and a small round fondant cutter and cut out your shapes.  Brush a little water onto the back of the center of the flower and attach it to the flower, set aside to dry.  Once dry push it down on an angle onto the icing.
Sprinkles cupcake (image 2): Pour sprinkles into a small bowl (just large enough to fit the cupcake in), turn the cupcake upside down and dunk it into the sprinkles. 
This is also a great activity that the kids can help out with.  They will love stamping out the fondant, attaching the center of each flower and dunking the cupcakes in sprinkles.
Enjoy!
AS SEEN ON:
MSN Lifestyle Canada