UPDATE:  This giveaway has ended.  The winner of the $300 gift card is Kathy Murphy.  Congratulations!
************************
I am always looking for new ways to feed guests who come over, and more importantly feed both adults and children without making a lot of different dishes.  I don't want to spend the entire time in the kitchen.  Quite often my husband will grill and I will whip up a few sides, but I like to mix it up, especially when the same group of friends come over regularly, I don't want to be seen as too predictible with what they will be fed.  So recently we put together a Sub Lunch Bar.
We went with 4 different types of subs: Pizza, Chicken Alfredo, Meatballs, and Vegetarian.
This is what we put out: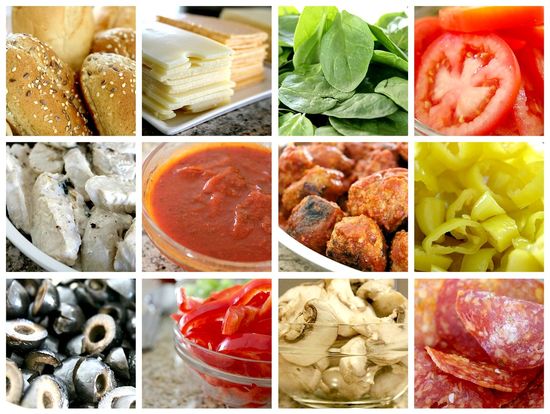 Assorted sub rolls
Cheese: Swiss, American, Cheddar, Provolone
Green and red bell pepper
Olives
Banana Peppers
Spinach
Tomato
Mushrooms
Pepperoni
Pizza sauce
Chicken alfredo (recipe below)
Turkey meatballs with pasta sauce (recipe below)
Turn the oven on before serving lunch so that it is heated before guests begin to load up their subs.  Those guests who want to have their subs toasted can put their sub onto a cookie tray and pop it in the oven for a few minutes until the bread is toasted and the cheese melted.  Everyone ended up having toasted subs, it was a big hit.  The pizza subs were a favorite of the kids, they loved theirs toasted with cheese, Ragu pizza sauce and pepperoni.  Adults and bigger kids though seemed to go for the meatball and chicken alfredo.
Meatball Subs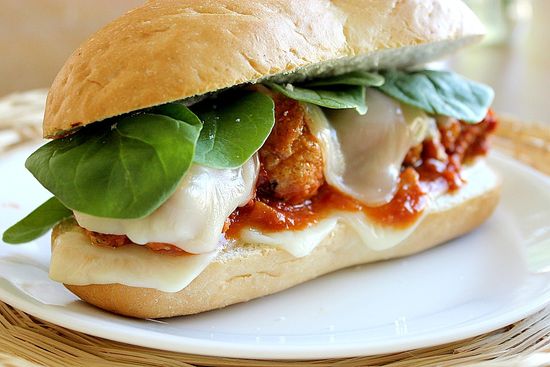 Turkey meatball ingredients:
Ground turkey
1 1/2 cups bread crumbs
1 onion (finely chopped)
2 eggs (lightly beaten)
thyme (approx 1 tbs)
Everyday seasoning (Trader Joe's have a great one that comes in a grinder)
salt & pepper to taste
Ragu® Old World Style® Traditional Pasta Sauce (with 2 servings of veggies)
Combine ingredients in a bowl and then roll into meatballs.  Heat oil in a pan and cook the meatballs, turning until browned on all sides.  Once cooked through poor the Ragu sauce over the top and simmer until ready to serve.
Chicken Alfredo Subs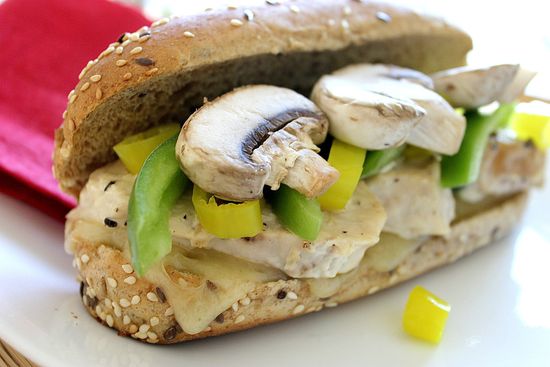 Chicken Alfredo Ingredients:
Chicken breasts
2 tbs butter (melted)
2 tsp Everyday seasoning (Trader Joe's have a great one that comes in a grinder)
Fresh basil

Combine the butter and seasoning in a bowl, brush over the chicken breasts.  Grill until cooked through (I cooked ours on the George Foreman Grill).
Once cooled a little cut into slices and transfer to a pan that has been sprayed with a little cooking spray.  Pour the alfredo sauce over the top and heat, mixing every now and then.  Add in the fresh basil and turn the heat down to low and simmer until ready to serve.
Note: I made both the meatballs and chicken alfredo at the same time, then had the pizza sauce heating on a 3rd burner on the stove.
Pizza Subs
Aside from the toppings that were already out on the bar, I heated up a jar of Ragu® Pizza Sauce in my lovely new red Le Creuset Saucepan (thanks to Ragu) and then transfered it to a dish with a spoon.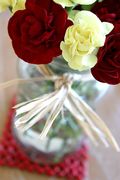 Here's a fun tip for you.  I used the jars from the Ragu® sauce to make lovely vases for our table.  Wash them out, take off the labels, fill with pretty flowers and then tie a ribbon or piece of raffia around it.
It's football season and a sub bar would be a great way to celebrate with friends and family if you love homegating parties.
Now about that giveaway!
With thanks to Ragu® I have a $300 gift card to giveaway so you can host your own party.
Entry requirements – you can do just one, or all of these things, just please leave a separate comment for each:
1.  Subscribe to my blog – via email or RSS feed

2.  Follow me on Twitter (leave me your twitter handle for verification)

3.  Follow @RaguSauce on Twitter (leave me your twitter handle for verification)

4.  Tweet the following: You can win a $300 gift card to host a party with thanks to @RaguSauce and @TonyaStaab http://bit.ly/pYsQNZ #momstheword (you can do this once per day)
Entry is open to all U.S. residents over 18 years of age.  This giveaway will end and winner will be selected via random.org at 10pm PST Friday October 7th.  You must leave me some way to contact you in the event you are the winner, no anonymous entries without email addresses (will not be published and will remain confidential) will be accepted.
Disclosure: This post has been compensated in connection with my appointment as an ambassador in the Ragú® Mom's the Word on Dinner Program.  Visit http://www.facebook.com/ragusauce to join the conversation.