This pink strawberry hot chocolate recipe is the perfect twist on a traditional hot chocolate, and delicious too.
Disclosure: This is a sponsored post written by me on behalf of ALDI.
It's been cold and rainy the past couple of days. And by cold I mean in the 50's, not nearly as cold as some parts of the country, but us Californians are used to the heat, so once it dips below 60 degrees I'm immediately bundled in about 30 layers from head to toe, bring out all the throw rugs for the bed and couches, and put the fire on.
Of course rainy, cool days, and hot chocolate go hand-in-hand. My daughter doesn't like milk chocolate though. I know … I KNOW! If she didn't look like the spitting image of me I'd order a DNA test. She does love white chocolate though, so whenever I make hot chocolate I always make a pink version for her with white chocolate in it.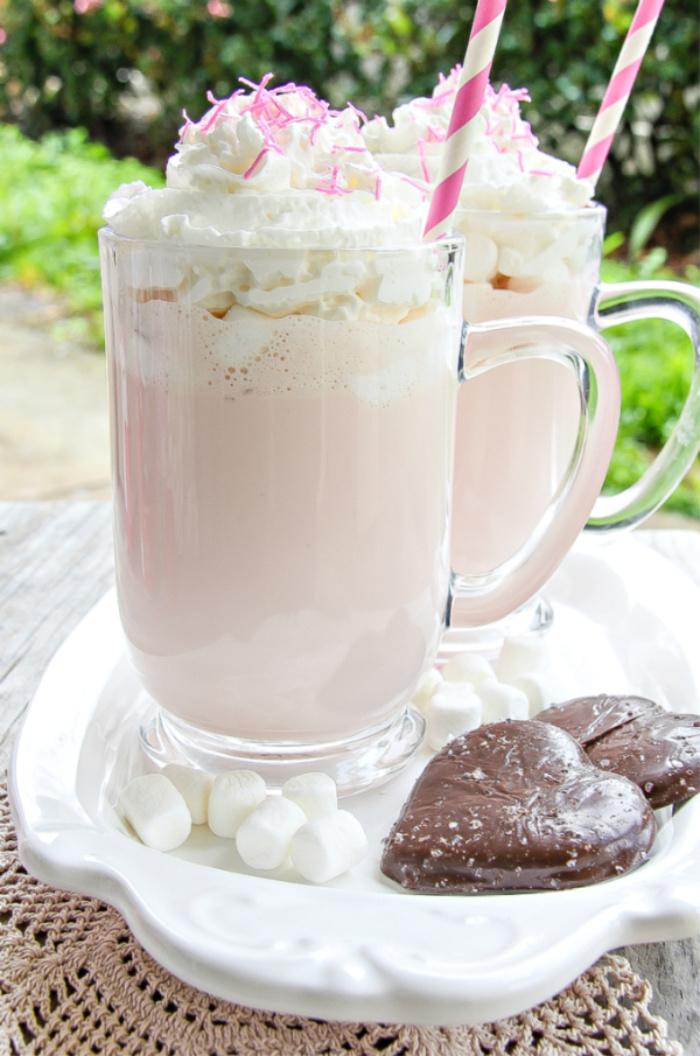 Before getting to the recipe to make this delicious pink hot chocolate, I want to share a little about the brands used, including the price comparison on the brands available at ALDI versus national brand products available at other grocery stores.
Price Comparison For Aldi Groceries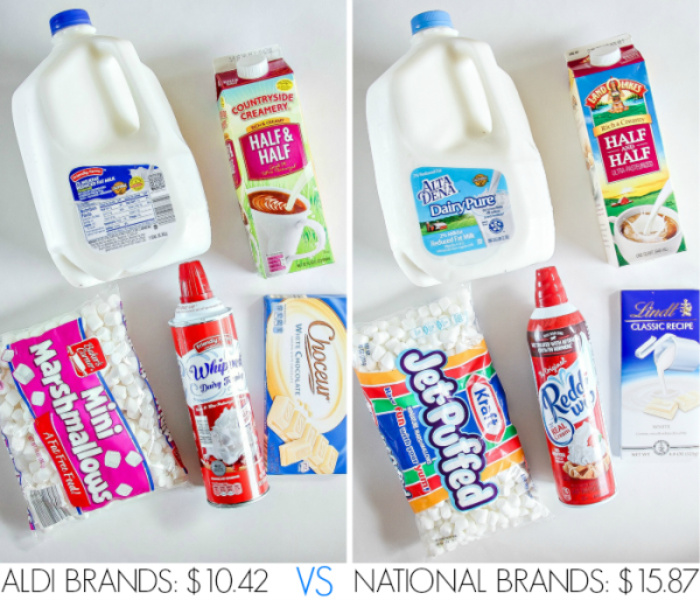 Milk
Friendly Farms Reduced Fat Milk- $2.56

[National Brand] Reduced Fat Milk – $5.48

Half & Half

Countryside Creamery Half & Half – $1.99
[National Brand] Half & Half – $2.98
Mini Marshmallows

Baker's Corner Mini Marshmallows – $0.59
[National Brand] Mini Marshmallows – $1.25
White Chocolate

Choceur White Chocolate – $2.29

[National Brand] White Chocolate – $2.68

Whipped Cream

Friendly Farms Whipped Dairy Topping – $2.99
[National Brand] Whipped Dairy Topping – $3.48
As you can see the cost of the ALDI products are considerably less expensive than the other brands, and by purchasing ALDI brands you save a lot of money to make the recipe I'm sharing below. To help shoppers save money, ALDI stores are 90 percent ALDI exclusive brands – with a few national brands mixed in. In the ALDI Test Kitchen, they sample and analyze their products so customers know they're getting the best selection of great food at a great price. *Price and availability may vary
Now for the recipe to make Marisol's favorite pink hot chocolate.

How To Make Pink Hot Chocolate
Ingredients
1 carton Countryside Creamery Half & Half (approximately 3 1/2 cups)
3/4 cup Friendly Farms Reduced Fat Milk
7 tbs Strawberry syrup or powder
2 rows of Choceur White Chocolate (broken into pieces), plus extra for grating over the top
Baker's Corner Mini Marshmallows
Friendly Farms Whipped Dairy Topping
Instructions
Pour the Half & Half, along with the pieces of white chocolate, and strawberry syrup (or powder) into a saucepan and heat until the chocolate is melted and the liquid is boiling around the sides. Stir often though so a skin doesn't form on top.
Pour into large mugs or hot chocolate glasses until 3/4 full. Add a little cold milk to the top so the hot chocolate isn't too hot to drink.
Top with marshmallows, and then whipped cream (this stops the whipped cream from melting too quickly into the hot chocolate.
Grate a little white chocolate over the top.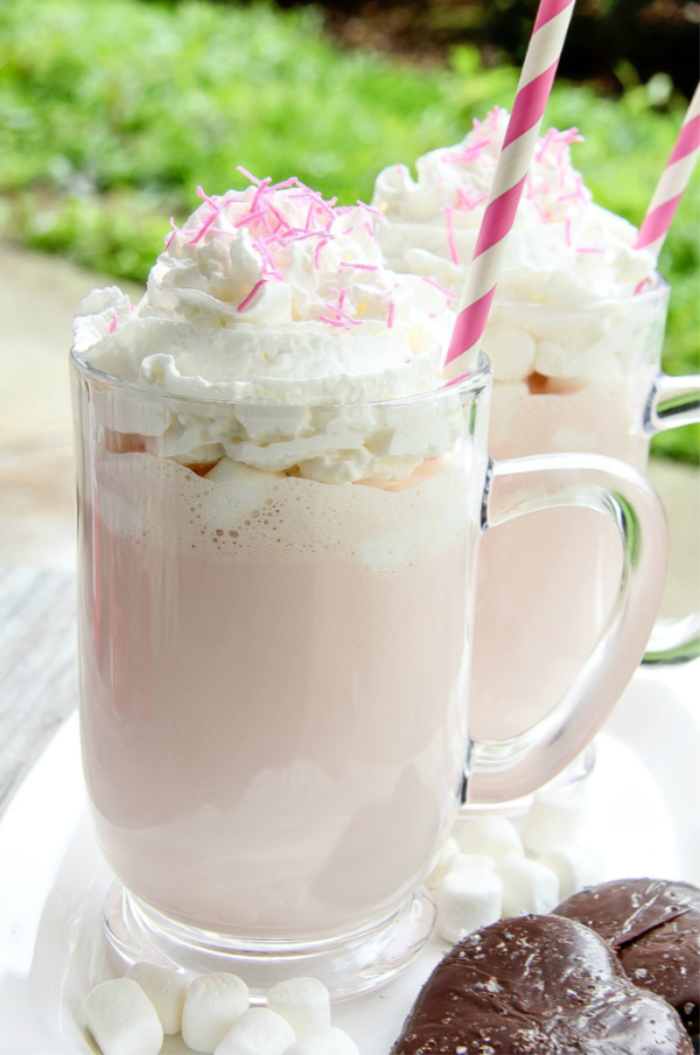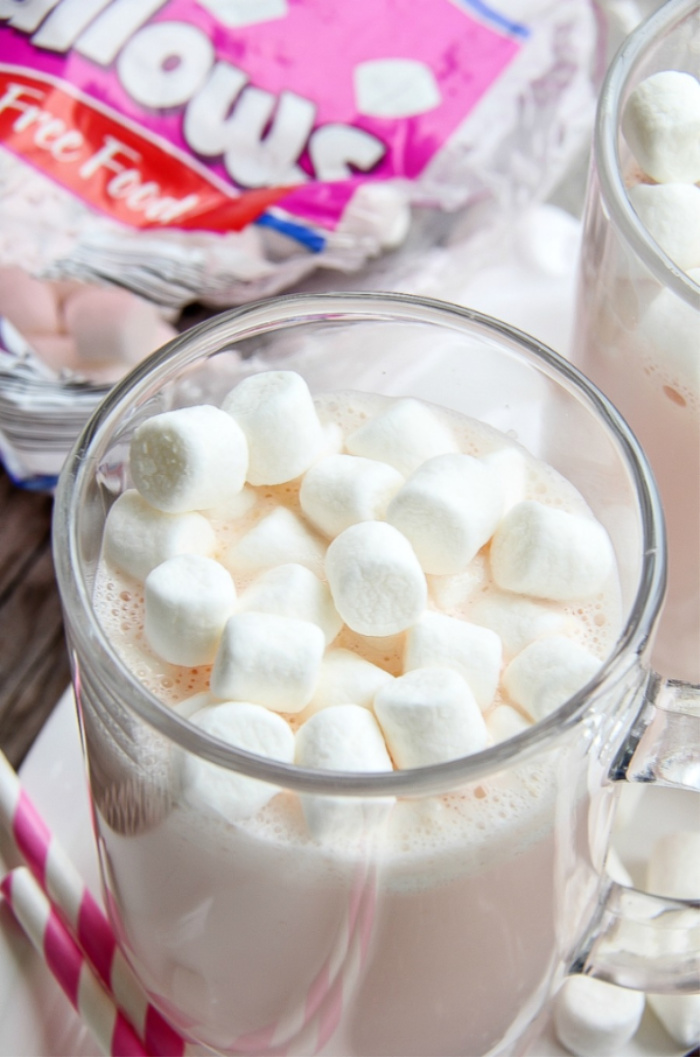 Serve and enjoy!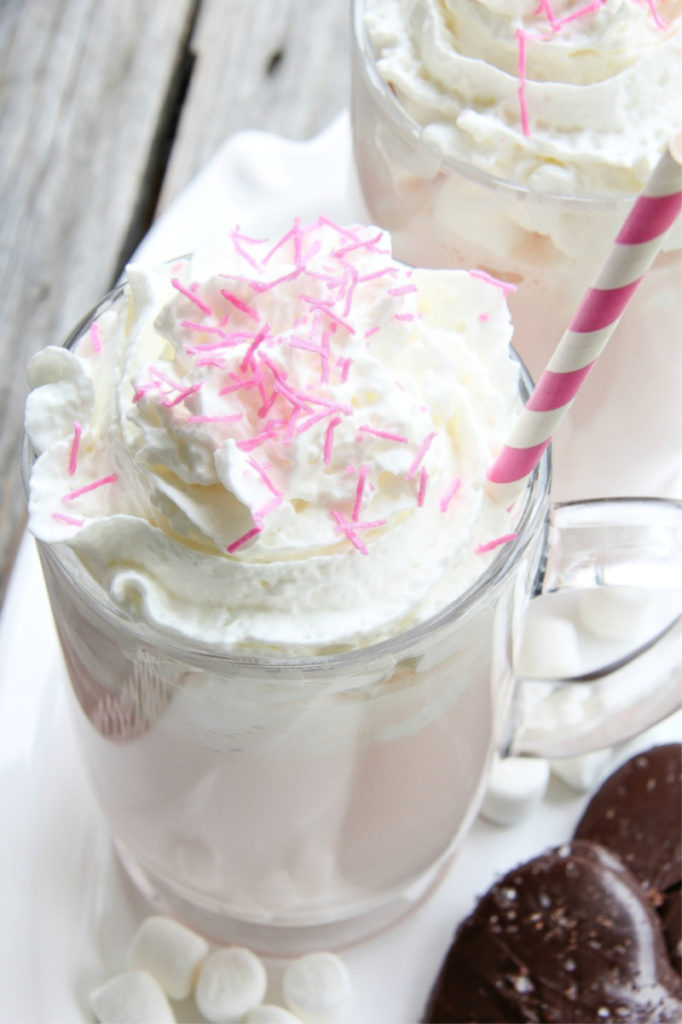 This hot chocolate is perfect to serve for Valentine's Day too. Do you have a favorite cold-weather drink that you love to make?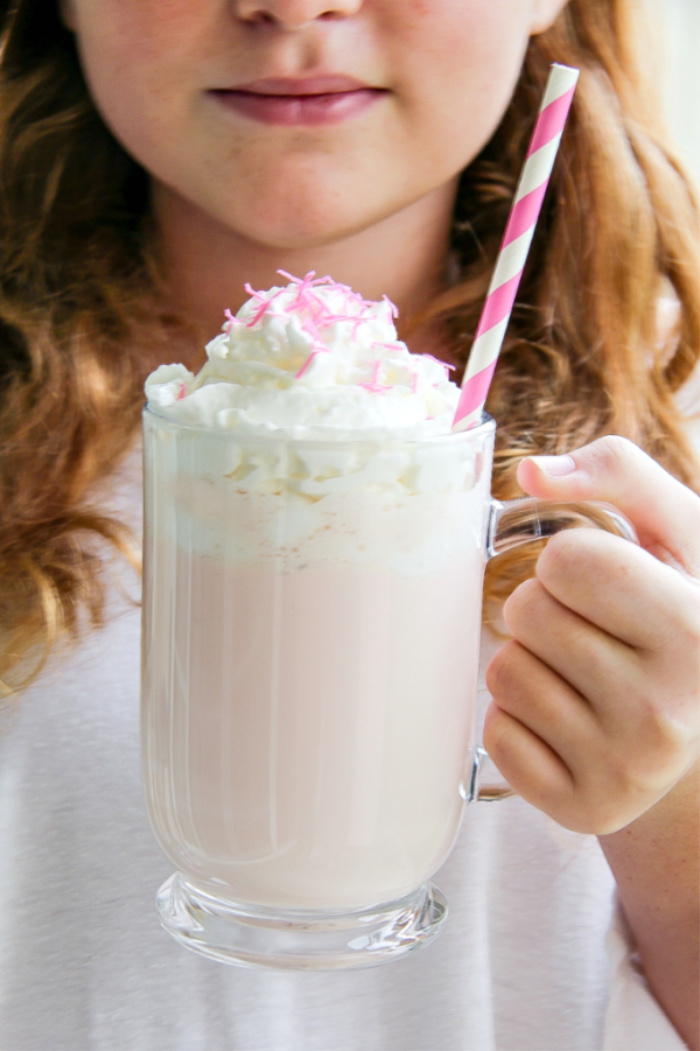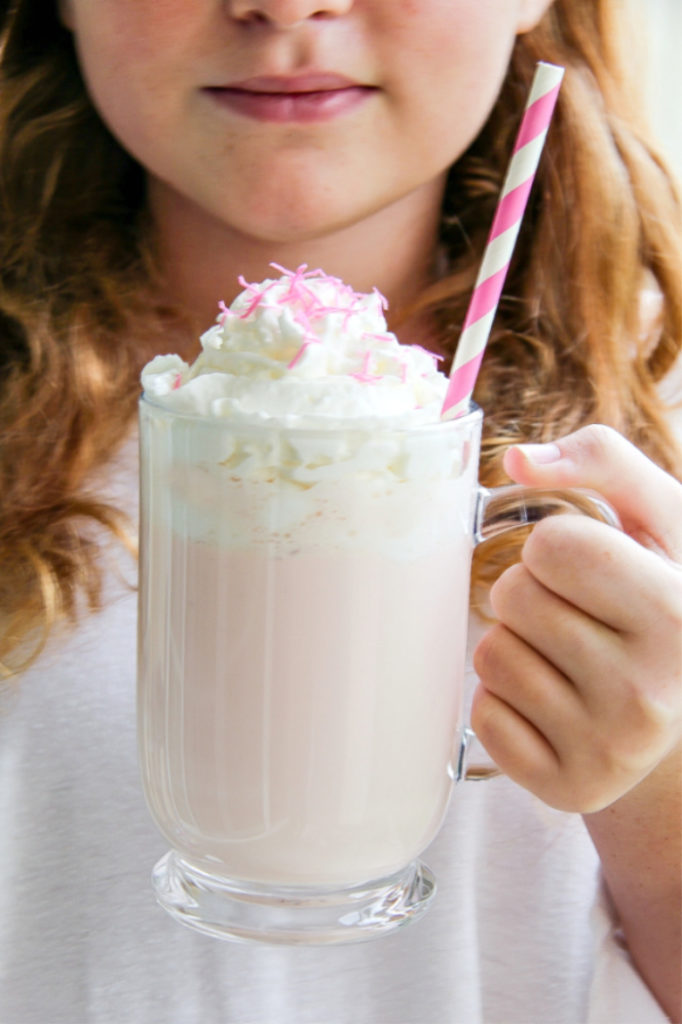 Since opening in my area, ALDI has quickly become one of my go-to places to food shop. Their livegfree has become a favorite with my little man, who is the only member of our family on a completely gluten-free diet, and thankfully my other kids love some of the products just as much, making dinnertime so much easier when I don't have to cook two separate dishes. Plus, as I showed above (and in previous blog posts), you just can't beat the prices of ALDI compared to other grocery stores for staple items such as milk, bread, meat, and fresh fruit and vegetables.
If you are a wine drinker, the Winking Owl Pinot Grigio has become a staple in my house … it's under $3, you simply cannot beat that.
Tips for grocery shopping at ALDI: Don't forget a quarter for the grocery carts, and bring your own grocery bags.
Enter the giveaway below and you could win a $200 ALDI gift card. And don't forget you can earn entries by sharing a photo or video of your ALDI Try & Tell experience, sharing your blog post on Twitter, and sharing the giveaway with your friends.
** NOTE: THIS GIVEAWAY HAS ENDED
Please pin this post for later:
 Disclosure: This is a sponsored post written by me on behalf of ALDI.