These heart-shaped strawberry milk drinks are the perfect treat for kids on Valentine's Day.
 UPDATE: This craft project was initially created for a website by the name of Kidzui, however that website no longer exists.
Surprise the kids on Valentine's Day with these fun treats.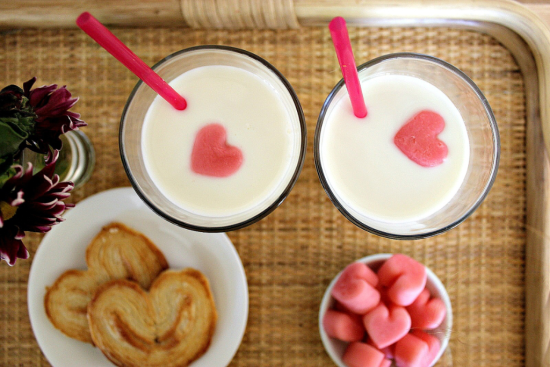 For the instructions on how to make this fun after school treat for your kids this Valentine's Day head on over to Kidzui.  I have a great tip for labeling glasses too so kids don't forget which one is theirs.
What you need:
Heart-shaped ice cube mold
Strawberry topping
Milk
Make a stronger version of strawberry milk in a jug, pour it into the heart-shaped ice cube mold and freeze. Add your pink heart-shaped ice cubes to a glass of cold milk and watch them melt turning the milk pink.
Save
Save
Save
Save