It's a Valentine's Day Progressive Dinner and I've got dessert!  If you have just arrived from enjoying some yummy Creamy Chicken Florentine over at Desiree Eaglin's then welcome.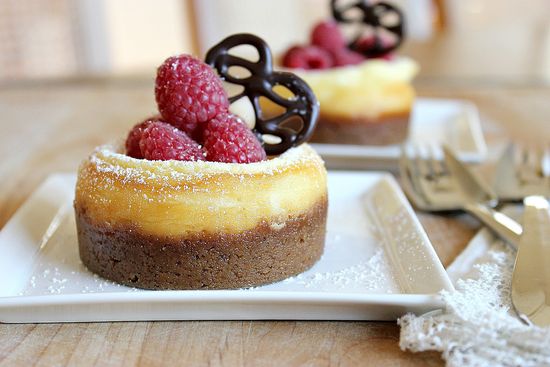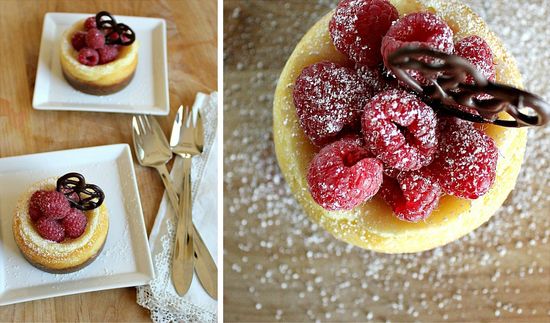 Ingredients:
 Cheesecake Base
8 sheets of Graham Crackers
4 tbs of butter (softened)
2 tbs sugar
 Cheesecake Filling
1 package (8oz) cream cheese (bring to room temperature, it's easier to mix when it's softer)
2 eggs (lightly beaten)
1 tsp vanilla essence
3/4 cup sugar
2/3 cup heavy whipping cream
pinch of salt
 Additional ingredients
Raspberries
Chocolate (for melting)
Butter (melted) for greasing the pan
Confectioner's sugar
Note: You will need either mini individual springform pans or a mini cheesecake pan for this recipe.  If you don't have either of these, they can be made in cupcake liners, I'm just not sure how well the wrapping peels off once cooked.

Turn the oven onto 325F.   Lightly grease the pans with the 1 tablespoon of butter, making sure to brush up the sides of the pan.
Break the graham crackers into smaller pieces and mix in a food processor until you see fine crumbs.  Add in the sugar and mix just for a few seconds.  Add the softened butter in small sections into the food processor too and mix until you can see that everything is starting to stick together a little.
Press the mixture into the base of the pans creating a very shallow well in the center and allowing just a little to edge up the sides.
Bake for 10 minutes.  Set aside to cool.  Turn the oven down to 300F.
Chocolate hearts: melt chocolate in the microwave, cool just a little and pour into a piping bag with a small round tip (I used a Wilton no.2 round tip) on the end.  Lay down a sheet of parchment paper onto a cookie sheet and carefully pipe chocolate hearts onto the paper, filling each with a lace pattern.  Pop into the refrigerator until you are ready to use them.
Cream Cheese Filling:  Break up the cream cheese and blend in a bowl until smooth (by having it at room temperature it will be easier to mix than if it came directly out of the refrigerator).  Add in the sugar and blend again for just a few seconds.  Add the vanilla, salt and cream and mix until combined.  Pour in the eggs and blend on low speed.
Pour the cheesecake filling over the graham cracker base until about 3/4 of the pan is full.   Pop back into the oven and bake for between 45-50 minutes.  Check them to make sure that the outside is set, you will see that it has pulled away from the pan a little and will be the slightly browned.  The inside will still be a little wobbly and may look like it's risen over the pan, but it's okay, once you remove it from the oven it will settle and set. 
Leave on the counter until cool.  Once cool, gently either push the base of the cheesecake pan up (or open the springform pan).  Using a sharp knife gently remove the base.  Pop onto some parchment paper and into a container and refrigerate for a couple of hours before serving.
Once ready to serve, remove from the refrigerator, top with raspberries, sift confectioners sugar over the top, and add a chocolate heart.
Makes 4 mini cheesecakes – will make more though if you are using cupcake liners which are smaller.
Now, head on over to This Talk Aint' Cheap for some delicious White Chocolate Creme Brulee.
Follow these recipes for a delicious Valentine's Day dinner for the one you love.

 

  

Beverage

Sparkling Pomegranate Jubilee: Someday I'll Learn 

Strawberry Bruschetta: The Wonder Years

Bruschetta Hearts: The Jolly Tomato 

Salad

Sweetheart Salad: Baby Baby Lemon 

Mains

Steakhouse Steaks for Two: The Gonzo Gourmet

Creamy Chicken Florentine: Sarcastic, Funny, and Brutally Honest 

Baked Mini Cheesecakes: from me, see above.

White Chocolate Creme Brulee: This Talk Ain't Cheap