This Peter and the Wolf party table is the perfect way to celebrate the classic tale for World Book Day, 1st birthday party, or a fun storytime activity for school or after school play dates with friends.
Do you remember the classic story of Peter and the Wolf?
Well if you love to download books for your kids on their iPhone or iPad, then you will absolutely love this one. Peter and the Wolf in Hollywood is narrated by Alice Cooper, and the graphics and story are fantastic. I was even curled up in bed listening to it last weekend.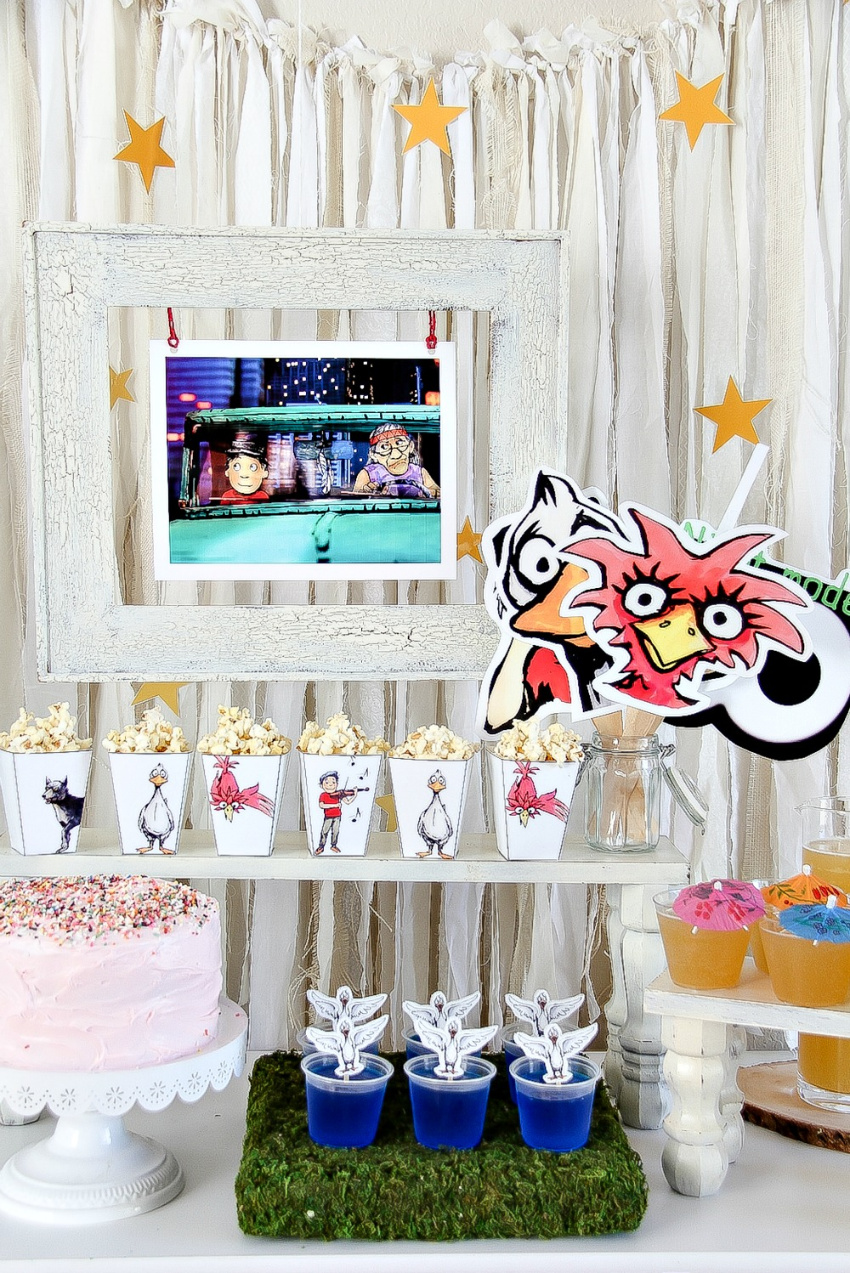 Note: This project was originally created for Hewlett Packard's MyPrintly website however that site is currently offline. You can still find some of the MyPrintly projects on the HP YouTube channel.
This classic would make a fantastic party theme, especially for back-to-school, and the ideas I've put together are perfect for kids to do (with supervision) too.
What You Need For A Peter and the Wolf Party
Free Printable Treat Boxes (Download)
Free Printable Photo Props (Download 1 and Download 2)
Free Printable Cupcake/Jell-O toppers (Download)
Free Printable Scene from the App (Download)
Free Printable Stars (Download)
HP Glossy Photo Paper
Party Treats – see below for details on the cake, fruit punch, popcorn and Jell-O.
How To Style A Peter and the Wolf Party Table
Step 1: Treat Boxes
Download and print the free printable treat tubs.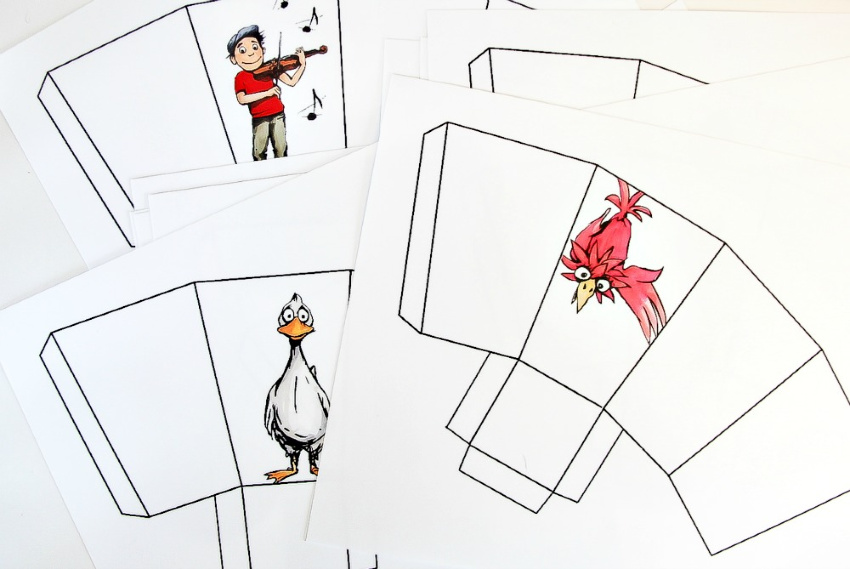 Cut out each treat box, fold at the lines, and secure with glue. Fill with popcorn or other yummy treats.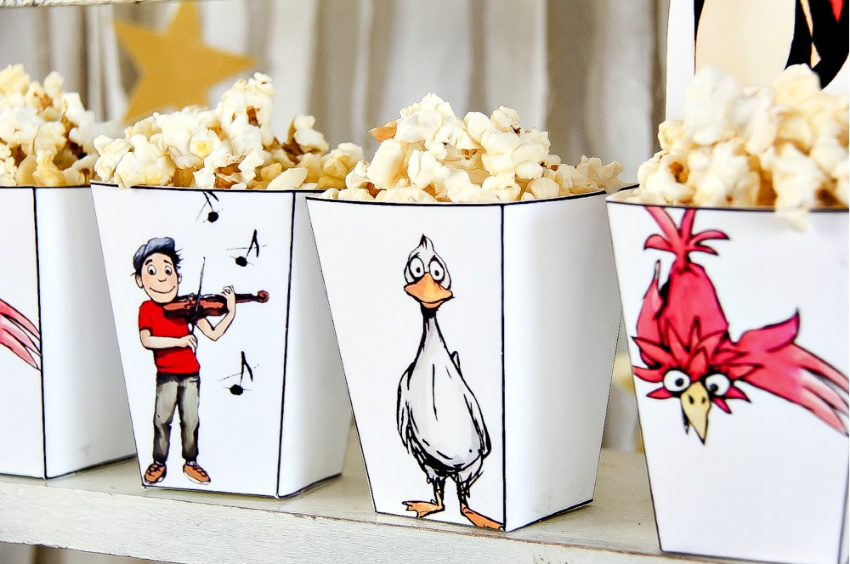 Step 2: Fruit Punch
In one scene from the story, the cat is lazing about in the pool sipping on a fruity cocktail with a paper umbrella in it.
Use frozen lemonade, ginger ale, and pineapple juice to create your own delicious fruit punch, and pop an umbrella into it too.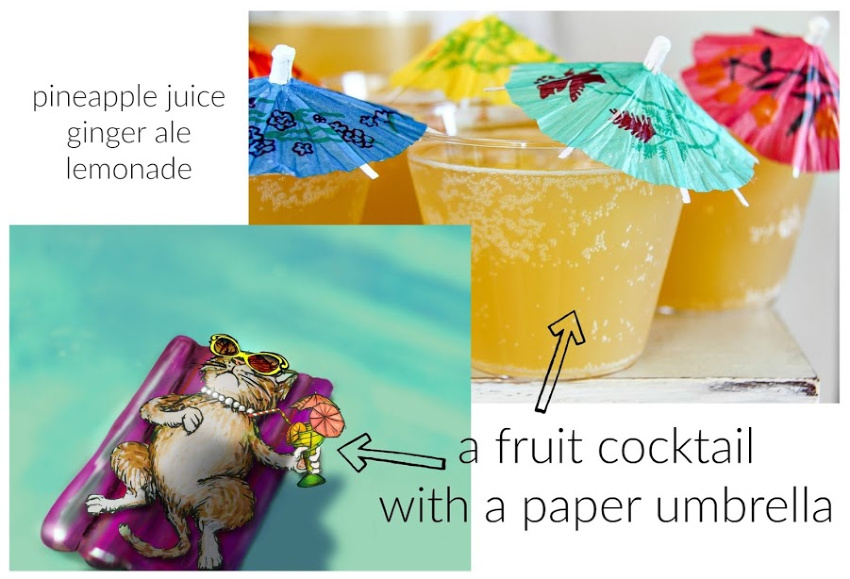 Step 3: Strawberry Cake
Peter's grandfather bakes him a cake as a surprise for his birthday, complete with pink icing and sprinkles. Make your own strawberry cake, with strawberry marshmallow frosting and sprinkles. I used a simple cake mix and store-bought frosting for this, and it's the perfect thing to get kids into the kitchen to help out with.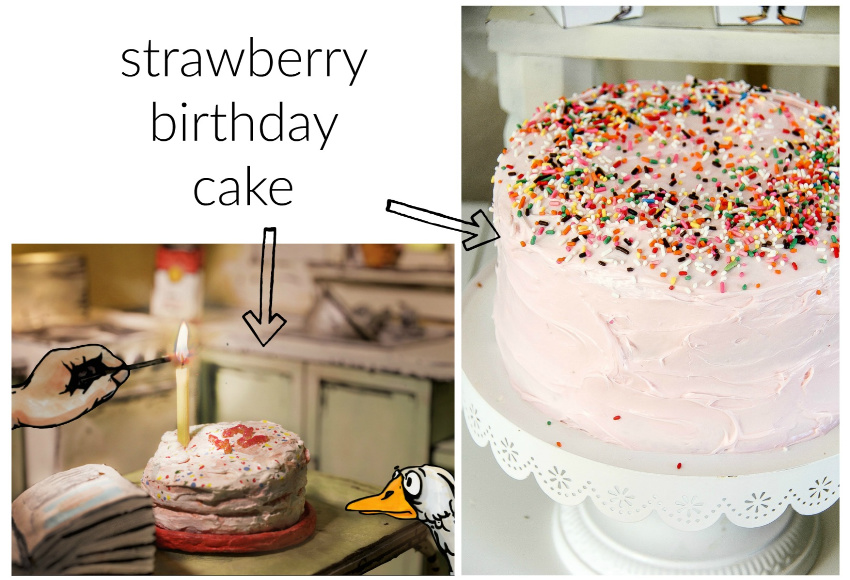 Step 4: Photo Props
What's a party without fun photo props? Make your own by downloading and printing the free printable (download 1 and download 2).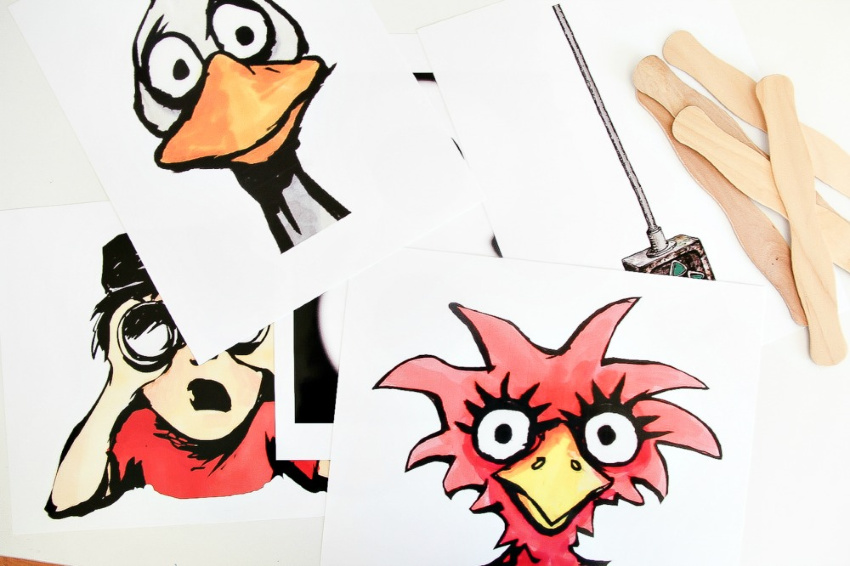 Cut out each and attach the wooden sticks using sticky dots.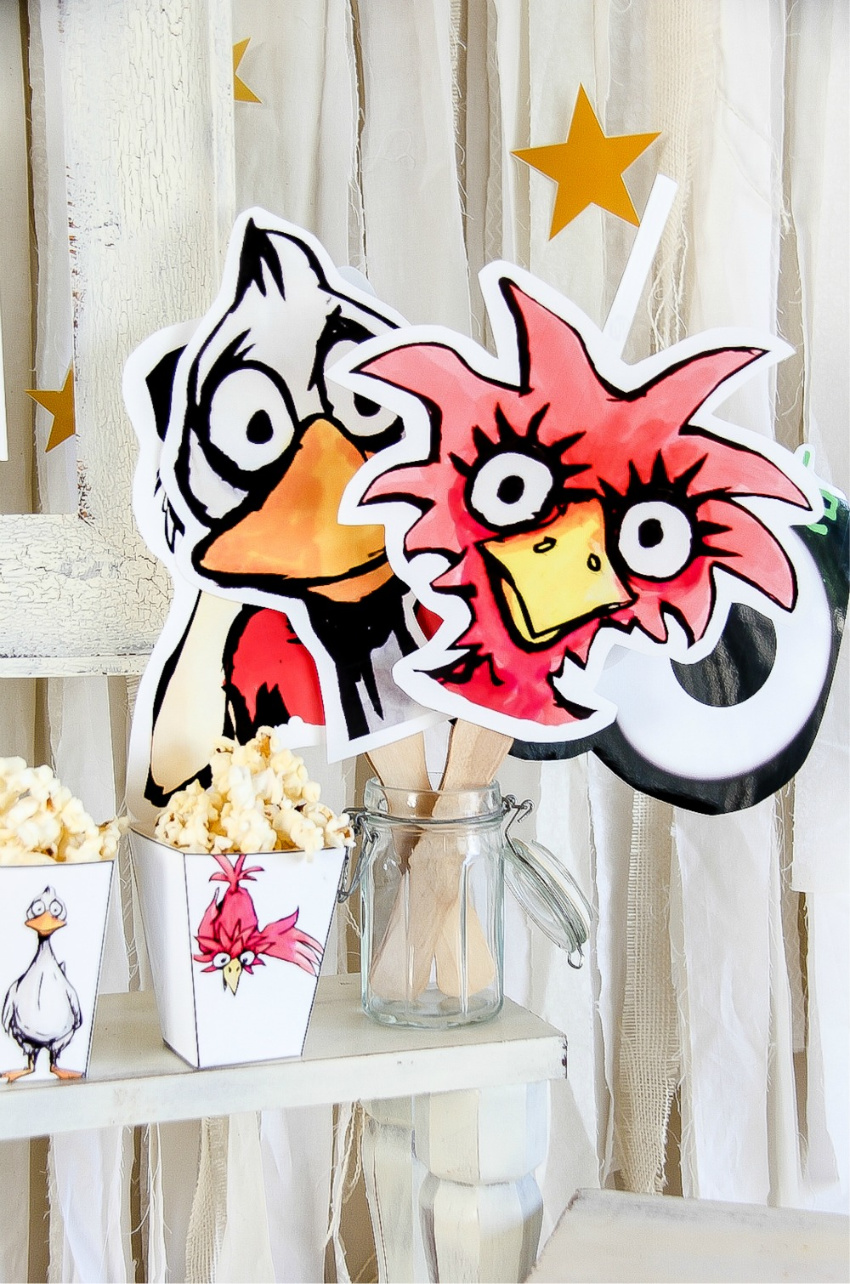 Step 5: Jell-O / Cupcake Toppers
In a scene during the story, the duck is splashing in the pool, so I thought how fun would it be to have blue Jell-O treats, or cupcakes with blue frosting, and then top then with a cut-out of the duck. So go ahead and download and print the free printable topper, and attach it to a food pick using sticky dots.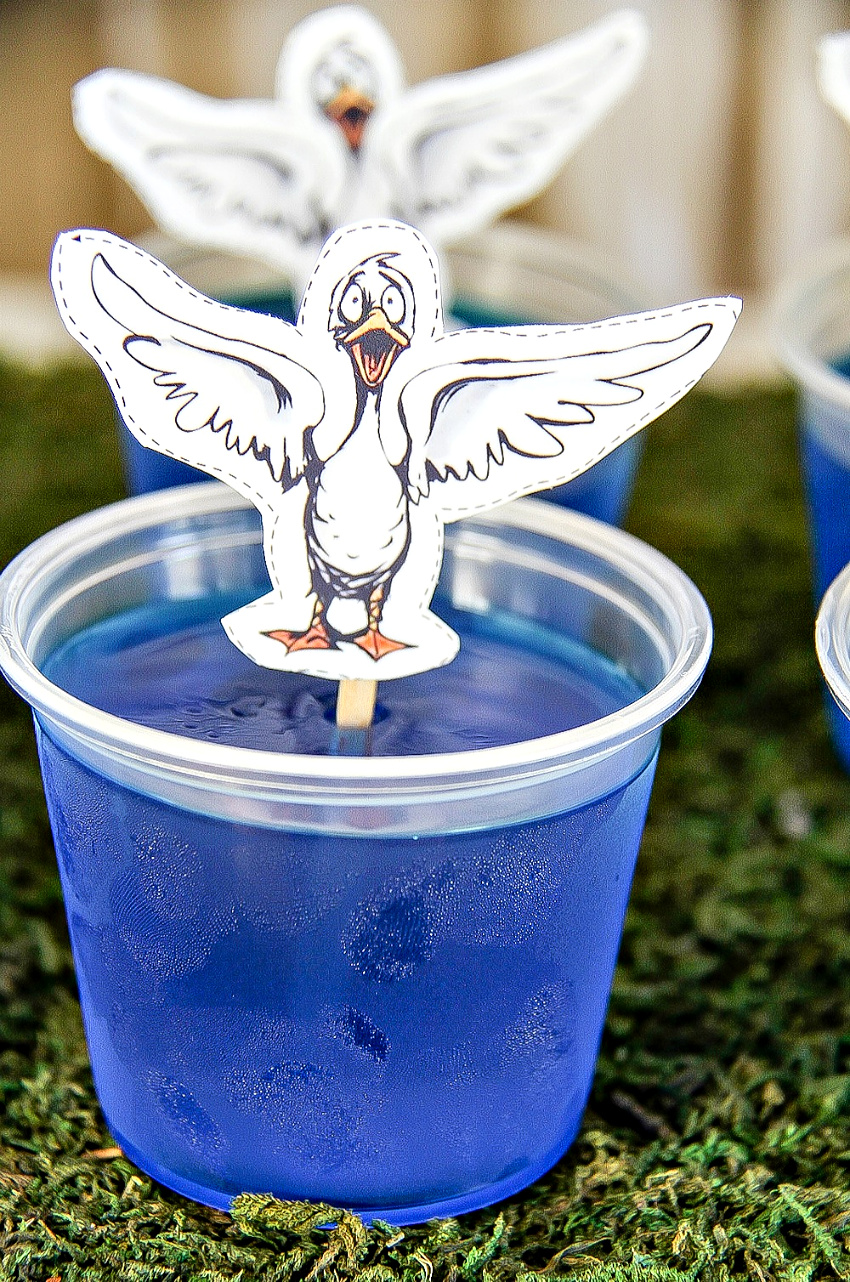 Step 6: Scene and Star Printables.
Print out the free scene download, along with the stars to decorate your party table.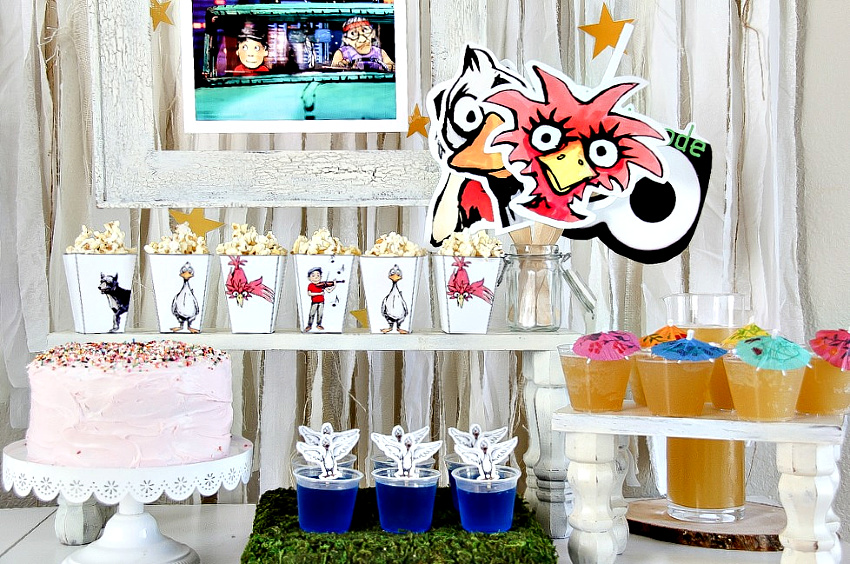 Pin this project for later: