Keep the kids occupied on road trips this summer with these fun surprise road trip travel bags full of goodies that will keep them busy for hours.
We've been planning our big summer road trip for a couple of months now. It's going to be so much fun, just me and two of my children, and we'll be meeting up with my boyfriend for some fun, then road-tripping back home to California again.
So I've been putting together some fun for the kids for the road because I don't want boredom to set in during the long stretches of nothing but desert.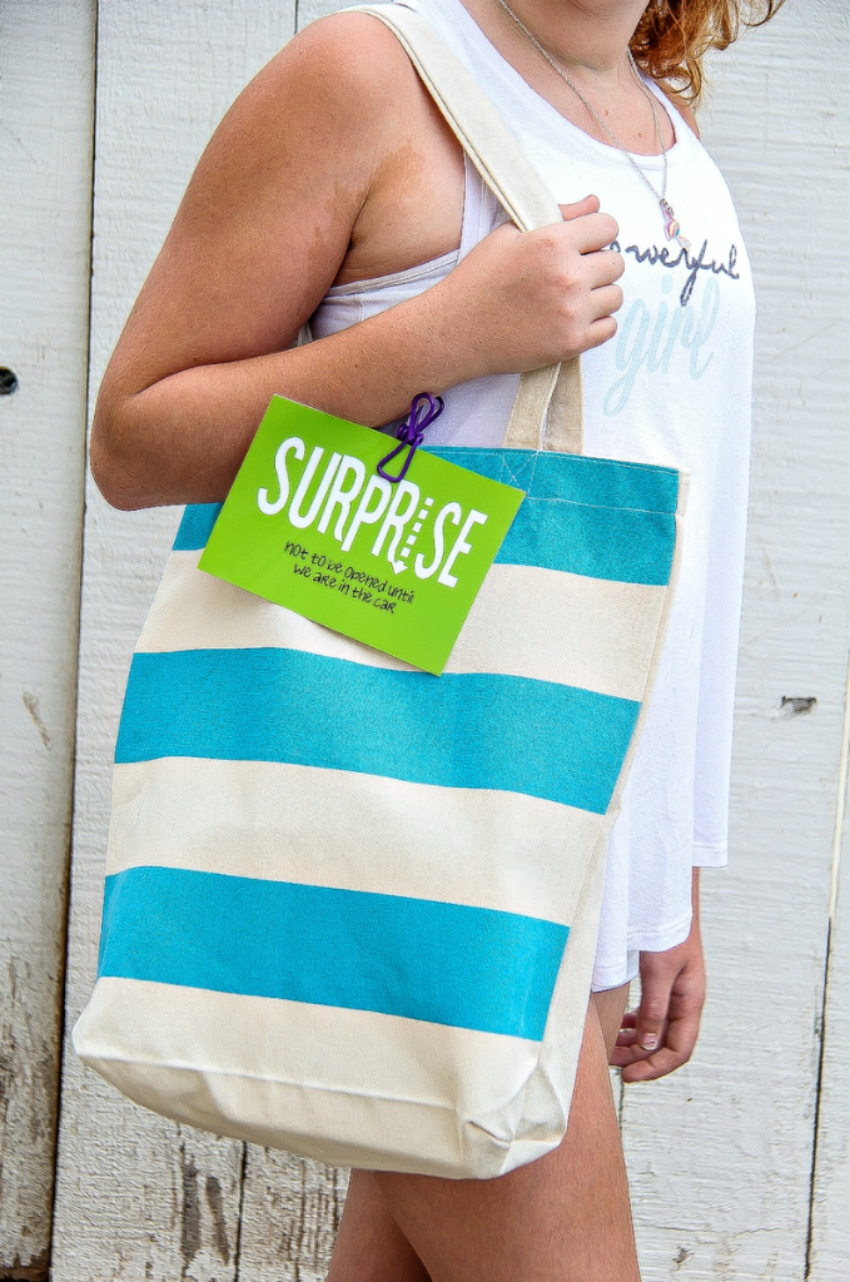 Note: This project was originally created for Hewlett Packard's website MyPrintly however that site has been taken offline. You can still find some of the MyPrintly projects on the HP YouTube channel.
I don't know about you but being asked countless times "how much longer?" can become a little tiresome after a while. I like to break up our road trips with planned stops for sightseeing and food (and of course rest areas) so that the kids aren't sitting for too long. To help keep them occupied in the car though I always give them a few of their favorite things. But, I also give them a couple of new things too that will hold their attention, because don't we all love something that's shiny and new?! So I've made a couple of these surprise road trip bags for the twins' for our upcoming summer road trip.
How To Make A Road Trip Travel Bag For Kids
Surprise Card PDF to clip to bags (download)
HP Printer
HP glossy photo paper
Contents for bags – see my suggestions below
Clip to hold bag closed so there's no peeking
Instructions:
The first thing you need to do is decide what you are going to put into your bag, that will determine the size of the bag that you need. Here are a few ideas though:
HP Sprocket with paper
Road trip maps and activities – these are free if you are a AAA member
Travel bingo
Fluffy socks
Neck pillow
Small toy
DIY kit that doesn't contain a lot of small parts that can be dropped such as the pom pom animal kit I included
Travel journal
Clipboard with a marker attached so it isn't dropped and so that they have a hard surface to complete activities on.
Sleep mask for naps
Cute sunglasses for protecting little eyes from the sun coming through the window
Next, find a bag big enough to hold all of your goodies. The one I chose will double as a bag for taking things such as snacks and towels to the lake and fishing during our road trip adventure.
Then, print out the fun 'Surprise' printable I created to clip to your bag, or alternatively make up your own. I used HP Photo Creations to create this card.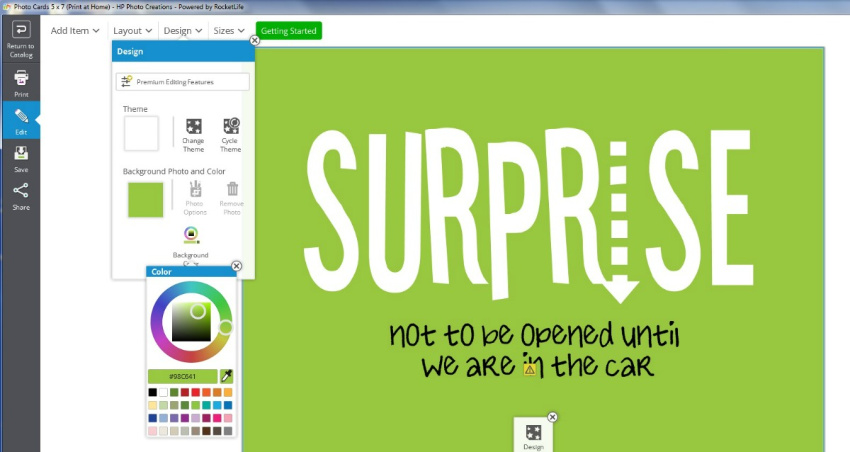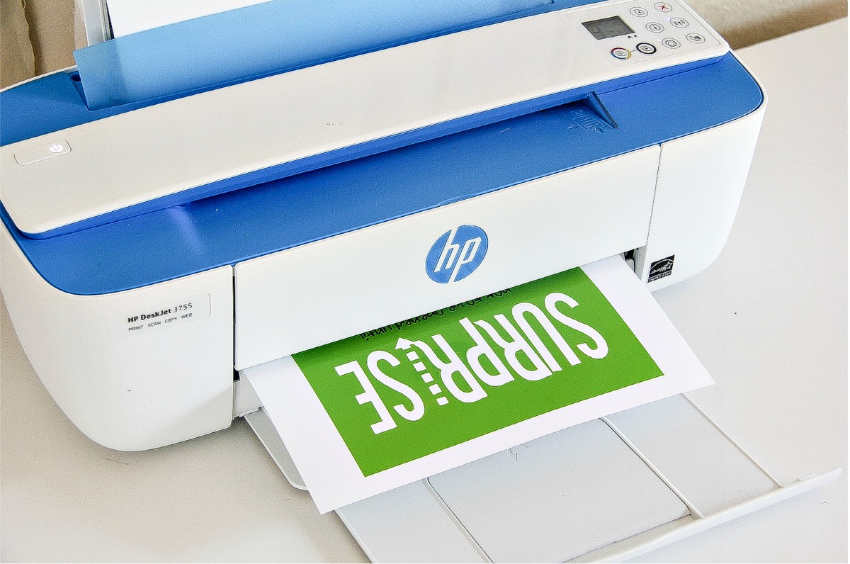 Attach the note card to the bag using a clip so that kids cannot open until they are in the car.
Fill your bag and have a great road trip.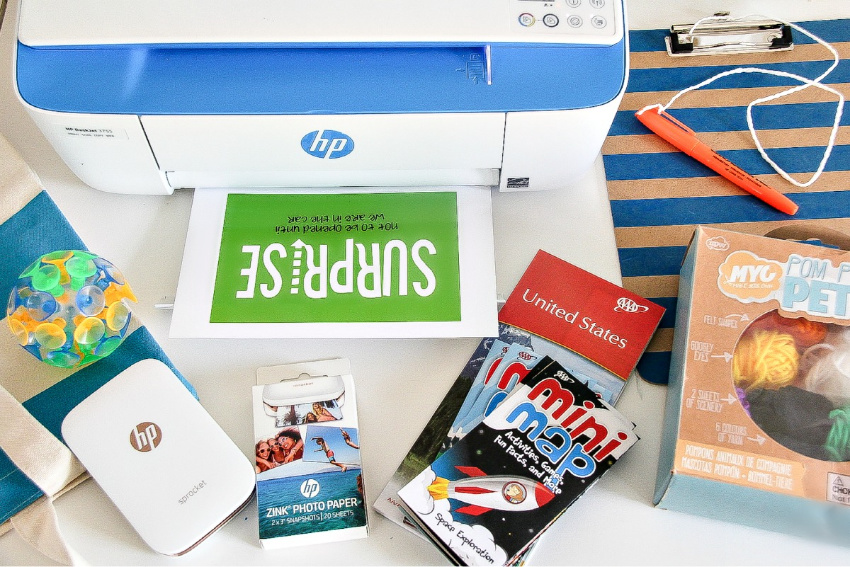 Please pin this post for later: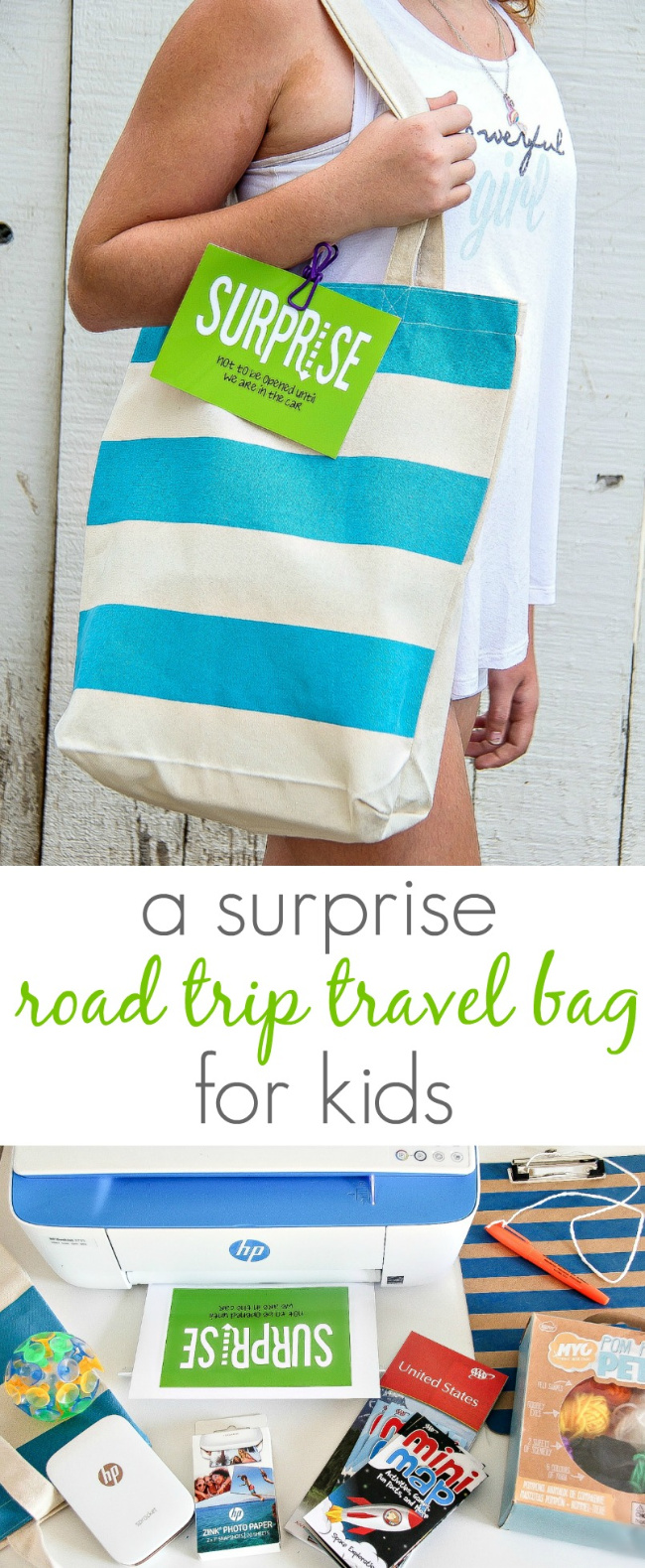 Save