This creamy homemade potato and bacon soup recipe is the comfort food you've been looking for and a great way to use that bag of potatoes in your pantry.
Disclosure: I am part of an Instagram campaign for the US Potato Board and their #TopTater promotion. I was not required to blog this recipe. I did though because I loved it and I know you will too.
The weather still hasn't cooled down here, but I'm dreaming of autumn and hoping for a few cooler nights when we can sit outside to eat. It doesn't mean that I can't make a little comfort food though. We'll just crank the air conditioning up a little and pretend it's cool fall weather.
Last week I was down and out for a couple of days with what I'm assuming was a reaction to a tetanus shot. Whenever I'm sick or feeling a little down all I want is comfort food. This homemade potato and bacon soup was exactly what I needed. I ate it again the next day for lunch too.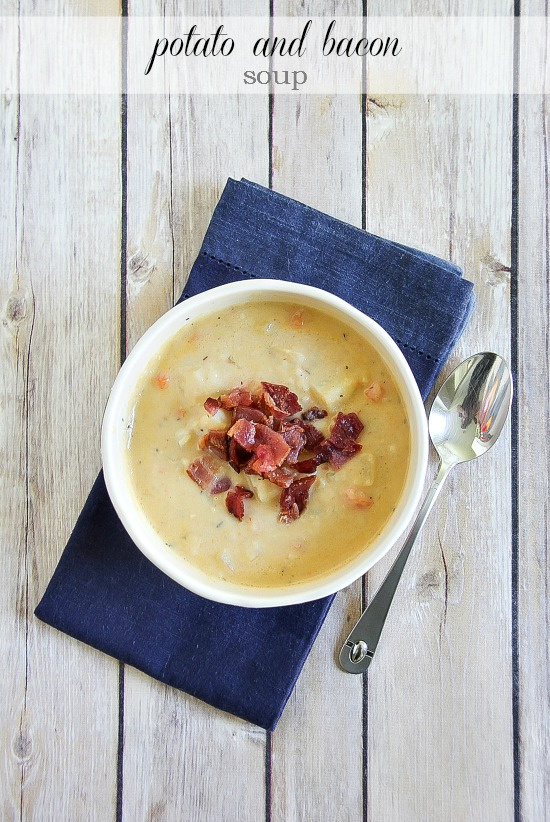 This soup is fairly quick and easy to make and doesn't require too many ingredients. I didn't even have to go to the store, I had everything I needed. I didn't have milk or cream in the refrigerator, so Half & Half was used instead. It worked out perfectly.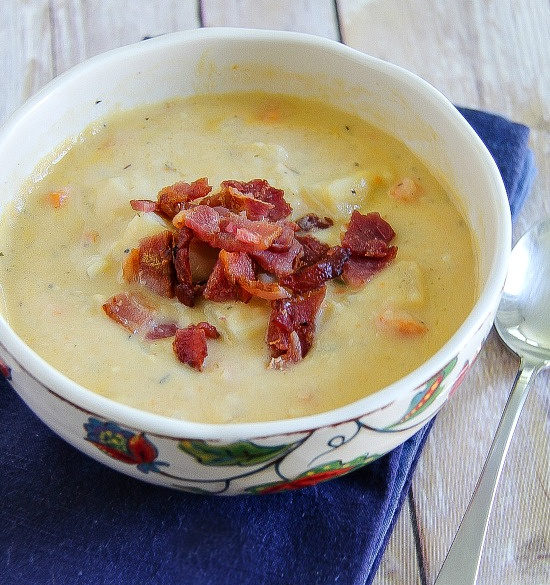 Ingredients
4 medium potatoes - peeled and cubed
2 carrots - peeled and diced
1 yellow onion - peeled and diced
Vegetable broth - I used a 32oz carton
1 1/2 cups Half & Half
4 slices bacon
1 heaped tsp crushed garlic
2 tbs butter
2 tsp dried thyme
pinch of salt & pepper
Instructions
In a large pot add the butter, onion, and garlic and saute for a couple of minutes.
Add the potato, carrots, thyme, salt, pepper, and vegetable broth and bring to a boil.
While the soup is boiling, cook your bacon and set aside, covering it to keep it warm. Cut it into smaller pieces right before adding you put it on the soup.
Once the potatoes are softened, add the Half & Half, and then using an immersion blender blend the soup just a little. You still want to retain some of the chunky carrot and potato pieces, but blending it a little will make the soup thicker and creamier.
Spoon the soup into bowls and top with bacon pieces.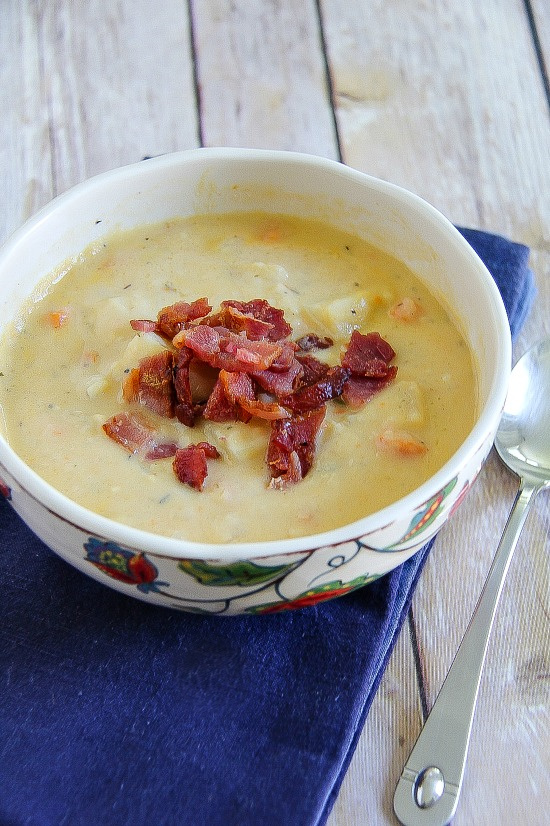 Please pin this post for later: