Make this simple, but spooky Halloween themed lunch for kids. It's perfect for school, or at home. The kids will love it!
My kids asked me to make them a spooky school lunch this week.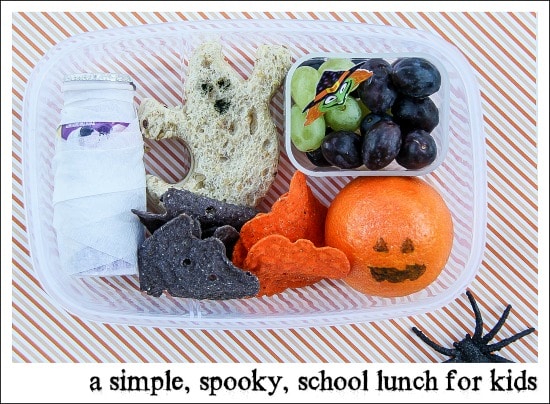 You know I'll always get on board with a request for something fun. It won't be too much longer that they'll be 'too old' for this kind of fun at school.
Of course, with my limited time in the mornings, it had to be a simple lunch.
So this is what I gave them, and they loved it:
Yogurt mummy – my kids love taking Danimals to school, they normally grab a straw from the school cafeteria and stick it through the top to 'drink' their yogurt smoothie while they eat the rest of their lunch. I simply wrapped a Danimals with a crepe paper streamer and used a Sharpie to draw on eyes. Then, I used a little Elmer's glue to stick the crepe paper down.
Ghost sandwich – a simple whole-grain sandwich with cheese inside and cut with a ghost-shaped cookie cutter.
Witches brew – black and green grapes with a witch pick.
Orange Jack-O-Lantern – Using a food icing writer, I drew a Jack-O-Lantern face on small oranges.
Spooky snacks – bat and pumpkin corn chips finished this fun Halloween lunch.
Have you made any spooky Halloween lunches for your kids? I'm looking for even more ideas to use over the next couple of weeks. Leave your ideas in the comments (and links if you have them).
Please pin this post for later: