The blogosphere is filled with s'mores today.  There's s'mores on sticks, on cupcakes, in cookies, over the fire, and any which way you can think to enjoy them.  Why you ask!  It's National S'mores Day!
Not to miss out an opportunity to celebrate such a wonderful day, I bring to you s'mores in jars.  It's all about portion control.  Unless of course you indulge in two.  Not that I would do that of course.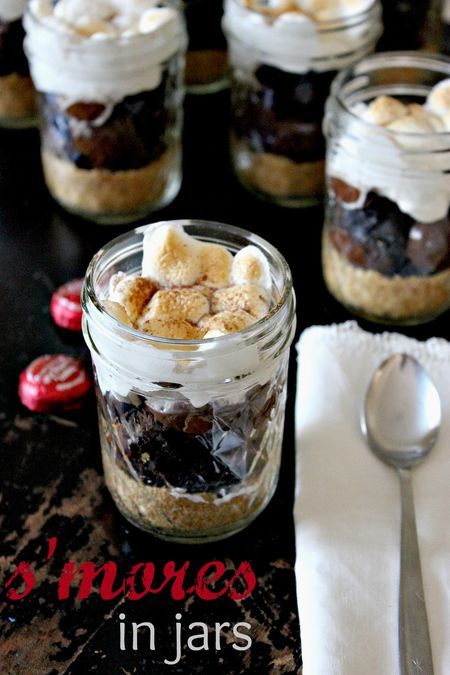 These are super simple to make, and I'd been wanting an excuse to use the last two bags of Hershey's Simple Pleasures I brought home from New York.  Okay, let's get real for a moment, I had received a few bags of these from Getting Gorgeous, and I finished off one bag while at BlogHer, then polished off a second when I got home.  Yes I hid them in the pantry and snuck them into my mouth when the kids weren't looking, mainly after they were in bed, or in the bath, or busy playing.  I ate a lot of them.
Apparently I needed to learn to share, so I made these yummy s'mores in jars with them for the kids to enjoy for dessert tonight.
Ingredients:
Pre-made brownies (I used brownies with almonds) – of course you can make your own.
2 packets Hershey's Simple Pleasures – dark chocolate
1 package of Graham Crackers
2 tbs butter (melted)
Approx 1 cup of mini marshmallows
Chocolate sugar
Turn the oven onto 275 F.
Place about an inch of water in a baking pan with a high side.  Pop the canning jars into the water.
In the food processor combine the graham crackers and melted butter.
Using a pestle or grinder with a rounded edge press the graham cracker mixture into the bottom of each jar.  Warm the brownies a little in the microwave.  Alternate layers of brownies, and the Hershey's Simple Pleasures chocolates.  Pop into the oven for approximately 10-15 minutes until the chocolates begin to melt.  Pop a handful of mini marshmallows on top and pop the tray back into the oven for another 10 minutes until the marshmallows are melted a little.
Once your ingredients are melted, move the tray to the top shelf in the oven.  Turn off the oven and turn on the broiler to high.  Stare at your jars until you see the marshmallows browning.  Then remove so they don't burn too much, or worse, start a fire.
Enjoy!
AS SEEN ON:
Recipe Lion … Spoonful