Are your kids transitioning to a new school, starting school for the first time, or have friends who have moved away over the summer?  These first day of school books will help them through this time.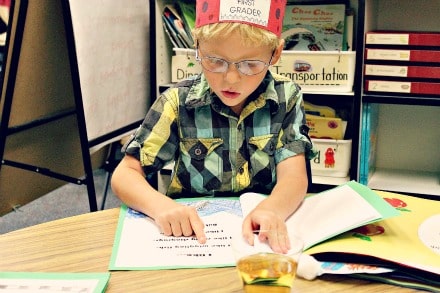 Note: I originally created this list of ideas for the website Rusty and Rosy, however that website is no longer online.
There are so many things that run through your mind when you send your child off to school for the first time. Will they make friends? Will there be bullies? What if my child feels different from the other children. Does my child learn differently from other children?  Here are some resources to answer those questions and others.
First day of school books
First day of school jitters
It's Time For School, Stinky Face by Lisa McCourt
It's Time For Preschool! by Esme Raji Codell and Sue Rama
First Grade Jitters by Robert Quackenbush
Kindergarten Rocks! by Katie Davis
Miss Bindergarten Gets Ready for Kindergarten by Joseph Slate
Countdown to Kindergarten by Alison McGhee
I Don't Want to Go to School: Helping Children Cope With Separation Anxiety by Nancy Pando
Bullies, troublemakers, and tattling
David Goes to School by David Shannon
The Bully Blockers Club by Teresa Bateman
A Bad Case of Tattle Tongue by Julia Cook
Skippyjon Jones, Class Action by Judy Schachner
Don't Squeal Unless It's a Big Deal: A Tale of Tattletales by Jeanie Franz Ransom
Enemy Pie by Derek Munson
The Recess Queen by Alexis O'Neill
Making new friends and changing schools
Amber Brown is Not a Crayon by Paul Danziger
My new School by Kirsten Hall
Back to School Mallory by Laurie Friedman
First Day Jitters by Julie Danneburg
The Night Before First Grade by Natasha Wing
Making Friends is an Art by Julia Cook
The Name Jar by Yangsook Choi
Books that help
Amelia Bedelia Goes Back to School by Herman Parish
Thank you, Mr. Falker by Patricia Polacco
My Mouth is a Volcano by Julia Cook
Howard B. Wigglebottom Learns to Listen by Howard Binkow
It's Hard to Be a Verb by Julia Cook
Personal Space Camp by Julia Cook
Spaghetti In a Hot Dog Bun: Having the Courage to be Who You Are by Maria Dismondy
Other school stories
Tripping Over the Lunch Lady: and Other School Stories by Nancy Mercado
Substitute Creacher by Chris Gall
Lunch Money and Other Poems About School by Carol Diggery Shields
The Magic School Bus
Last Day Blues by Julie Danneburg
Back-To-School Rules by Laurie B. Friedman
Peanut Butter and Homework Sandwiches by Lisa Broadie Cook
Do you have any other books to recommend? Please leave them in the comments below.
More back-to-school ideas for kids
Are you looking for more ideas to prepare the kids for the school year? Take a look at these: