Who said fairy bread had to be boring? Get creative with cookie cutters to make these fun flower-shaped spring fairy bread sandwiches for kids.
I wouldn't be a good Aussie mama if I didn't occasionally whip up fairy bread for the kids. And, they love it!
This time I may have gone a little crazy with the cookie cutters. Because who said fairy bread just had to be a slice of bread with hundreds and thousands sprinkled on top?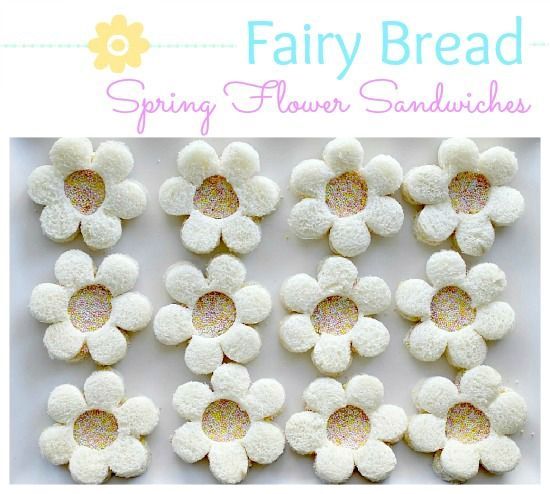 What you need
Bread
Flower Cookie Cutter
Circle Cookie Cutter
Sprinkles – I used a Spring mix
Sandwich spread – we prefer Earth Balance, but you could use cream cheese, Nutella, or your favorite butter.
Instructions
Use the flower cookie cutter to cut the slices of bread before assembling. You will need two flowers for each sandwich.
Switch to the circle cookie cutter to cut out the center of half the bread flowers.
Place the sprinkles into a bowl.
Spread a thin layer of butter (or whatever spread you are using) onto the flowers without the hole in them. Turn the bread face down onto the sprinkles to attach them.
Apply a little of the sandwich spread you are using to each petal of the flower (the side that has the hole) and then turn it face down onto the flower that has the sprinkles so that the sprinkles peek through the hole of the flower.