________________________________________
We make a lot of popsicles at home, the kids absolutely love them, especially for after school treats, and over the long summer vacation after they've spent the day swimming in the pool.
These mini strawberry pudding popsicles are delicious and make a perfect treat, especially for a little boy who was home sick from school today.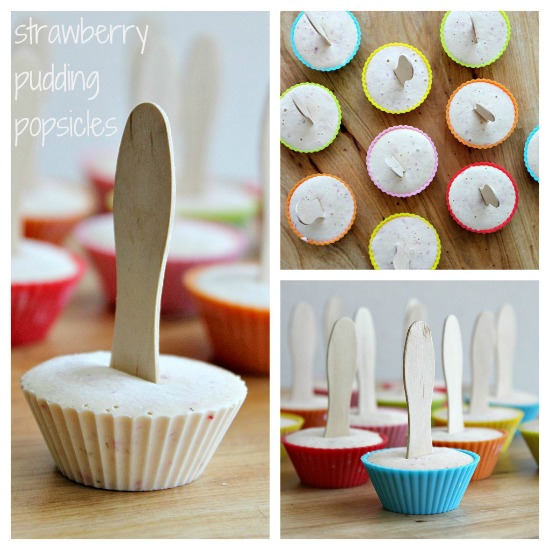 Ingredients:
1 cup COOL WHIP Whipped Topping (thawed)
1 packet Vanilla Instant Pudding
2 cups milk
2 cups fresh strawberries
To make:
Combine milk with the vanilla instant pudding mix in a bowl, whisk for approximately 2 minutes until the pudding begins to thicken. Place in the refrigerator to finish setting while you prepare everything else.
Hull and roughly chop the strawberries. Place the strawberries, COOL WHIP, and vanilla pudding into a blender. Blend until thoroughly combined scraping down the sides of the blender every now and then.
Place mini silicone baking cups (*see more information on these below) onto a tray and carefully spoon the strawberry pudding mixture into each. Freeze for about 30 minutes before placing a popsicle stick in each, this will allow the pudding popsicles to set a little so the popsicle sticks don't fall over. Place the tray of popsicles back into the freezer for about 2-3 hours.
* You can use regular popsicle molds to make these, however I find that silicone baking cups work just as well. The reason I love the silicone baking cups is because they are easy to use, you don't need to purchase an extra item to clutter the kitchen cabinets if you have a small space, and they are easy to clean. Plus, the added bonus is that if children need to put their popsicle down at all mid way through enjoying their treat they can place them straight back into the baking cup to prevent mess and spills.
Tip: If the kids have friends over and are playing outdoors place the popsicles still in the molds onto a tray to serve to your little guests, especially if you have fun colored silicone cups like these, the kids will love picking out a special color. These would make a fun treat for a rainbow birthday party.
Kids will love getting into the kitchen to help you make these too.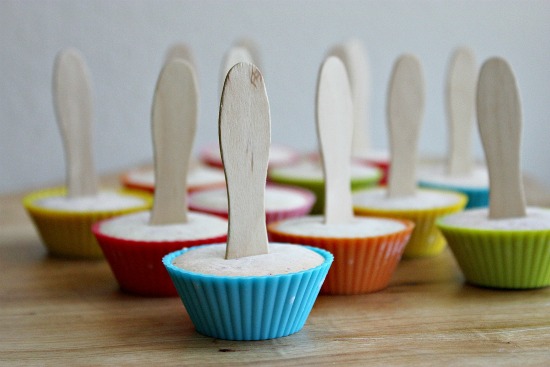 Want another COOL WHIP recipe idea, take a look at these patriotic parfaits that will make for a yummy breakfast on the 4th of July, or add a variety of other fruits to make year-round.
Disclosure: Sponsored posts are purely editorial content that we are pleased to have presented by a participating sponsor. Advertisers do not produce the content. I was compensated for this post as a member of Clever Girls Collective, but the content is all my own.