If you are looking for a new quesadilla recipe, Squash Quesadillas with Chipotle lime Sour Cream are absolutely delicious.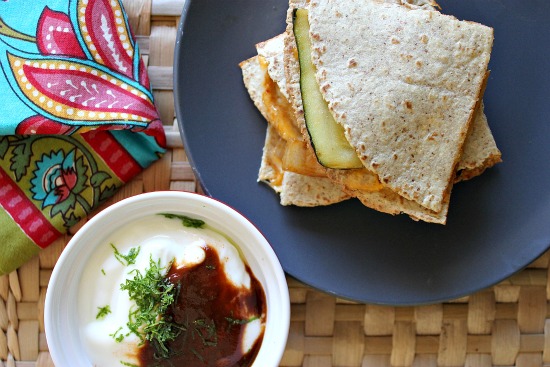 Prep Time: 15 minutes – Cook Time: 8 minutes – Yield: Serves: 4
Ingredients
1 each: small zucchini and yellow summer squash, thinly sliced (2 cups)
1/2 cup chopped sweet or yellow onion
2 tsp. canola or vegetable oil
3 tsp. pureed canned chipotle chilies in adobo sauce, divided
8 (6 to 7-inch) whole wheat or flavored flour tortillas
16 slices Sargento® Ultra Thin Sliced Colby-Jack Cheese
1/3 cup light sour cream
1/2 tsp. finely shredded lime peel
Directions
Cook squash and onion in oil in a large nonstick skillet over medium heat 6 to 7 minutes or until crisp-tender. Remove from heat; stir in 2 tsp. chipotle chilies.
Coat 4 tortillas with cooking spray; arrange sprayed sides down on a foil-lined baking sheet. Place 2 slices cheese over each tortilla, tearing to fit. Top with vegetables, remaining cheese and tortillas; coat tops with cooking spray.
Bake in preheated 450°F oven for 4 minutes or until golden brown on bottom. Use a large spatula to turn quesadillas over. Continue baking until tops are golden brown, about 4 minutes. Meanwhile, combine sour cream, remaining 1 teaspoon chipotle chilies and lime peel. Cut quesadillas into quarters; serve with chipotle lime sour cream.
Miss M was home sick from school today when I was making these so I made plain cheese quesadillas for her lunch and she loved them.  Which is something believe me, for the past few months she has refused to eat homemade quesadillas because she's been completely spoiled by a great little Mexican place in our neighborhood.
My quesadillas though with the squash and chipotle peppers in adobe sauce were absolutely amazing.  Especially when paired with the chipotle lime sour cream.   The best part, they take only 15 minutes to prepare, and 8 minutes to cook.  Head over to the Sargento® website for even more delicious recipes using Ultra Thin Sliced Cheese.
Want to try the Sargento Ultra Thin Sliced Cheese for yourself?  The first 3 people to leave a comment on this post will be sent a coupon to try a packet for free.
Disclosure: I received products and compensation from Sargento Foods Inc. and The Motherhood as part of my participation in this campaign.