Are you looking for a delicious Thanksgiving side dish? You will love this roasted sweet potato recipe with Brussels sprouts and pecans.
There is a traditional Thanksgiving dish that I just cannot bring myself to make or serve; sweet potato casserole with marshmallows. I absolutely love sweet potato and I love marshmallows, and although I'm sure I would probably like this dish, I still can't make it or serve it.
If you love sweet potatoes as much as I do and are looking for a different way to serve them for Thanksgiving, try my roasted sweet potato recipe. I made this recipe along with my Kentucky Hot Brown dip for a recent potluck Friendsgiving dinner that had about 20 people in attendance.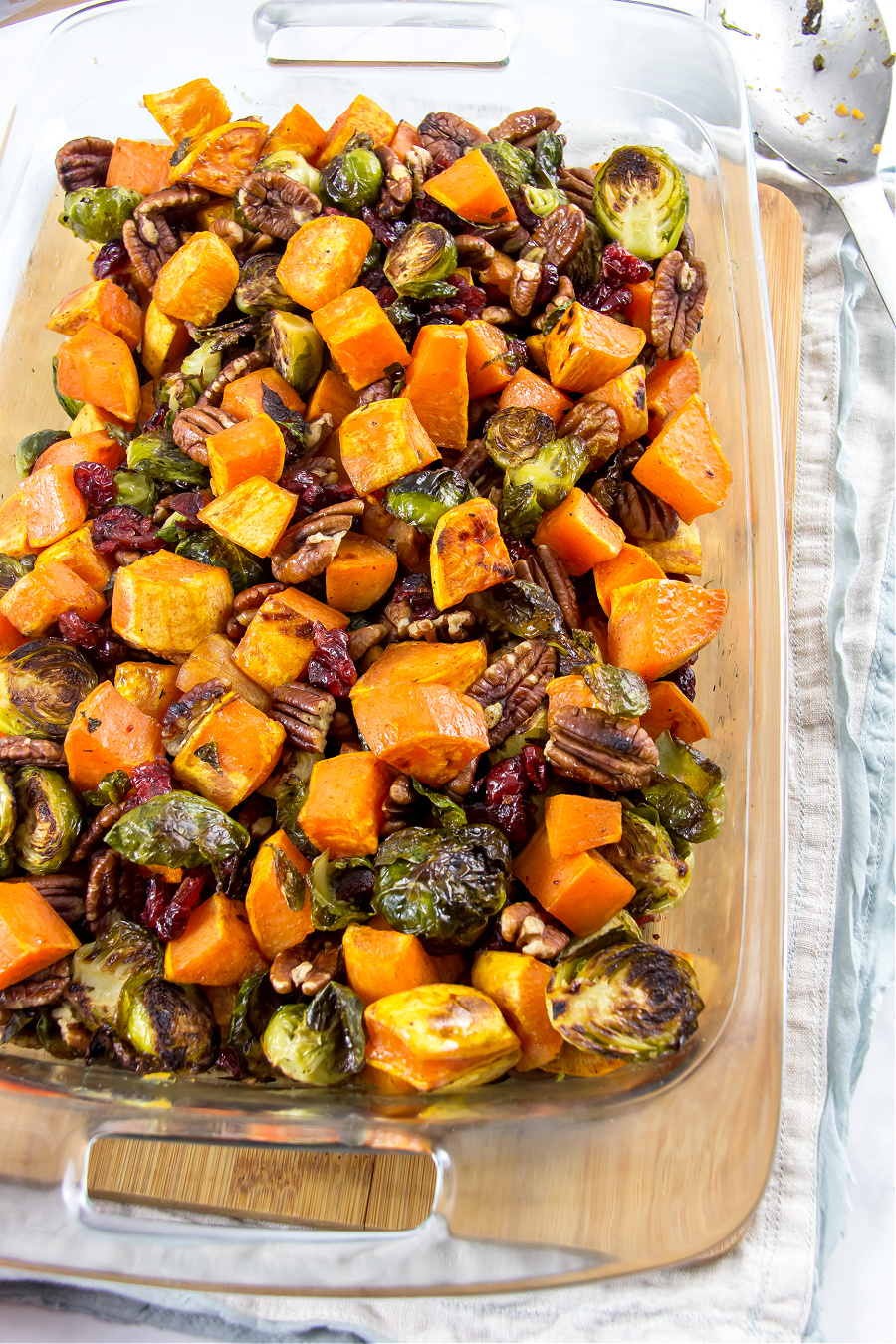 Roasted sweet potato recipe with Brussels sprouts
This recipe uses very simple ingredients and has extra flavor thanks to the maple syrup added to it.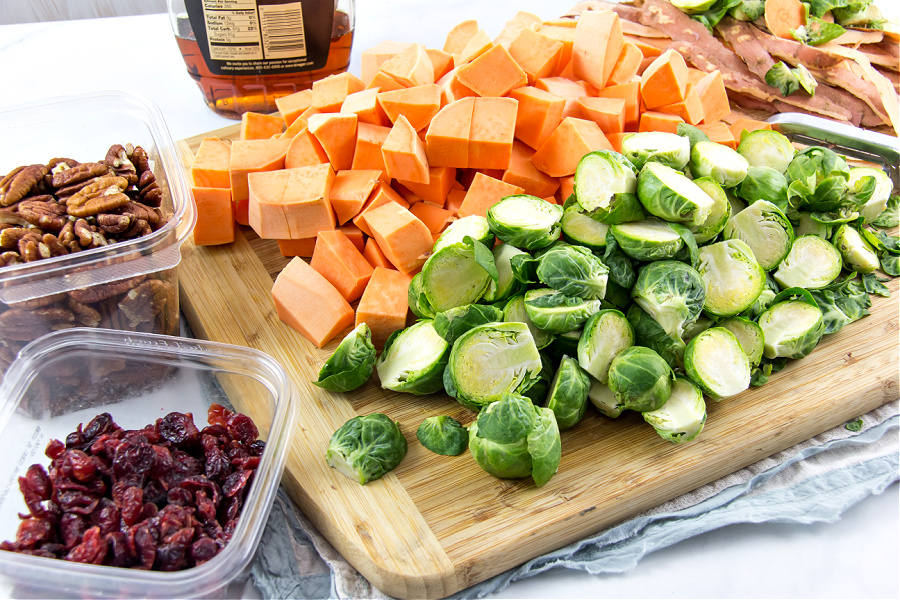 If you are cooking this dish for your immediate family, you can halve the ingredients. If you are cooking it for a large group as we did, then separate the vegetables for roasting onto their own baking trays.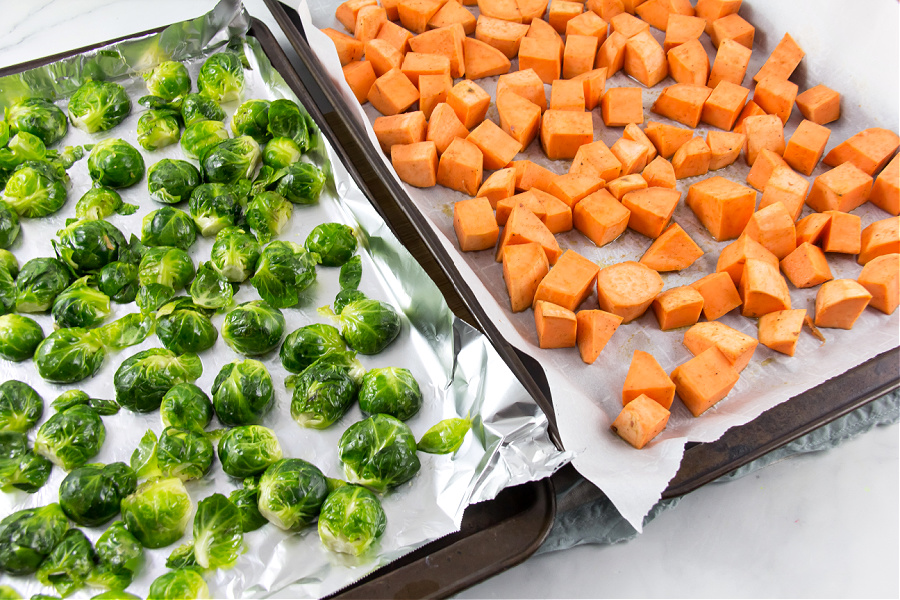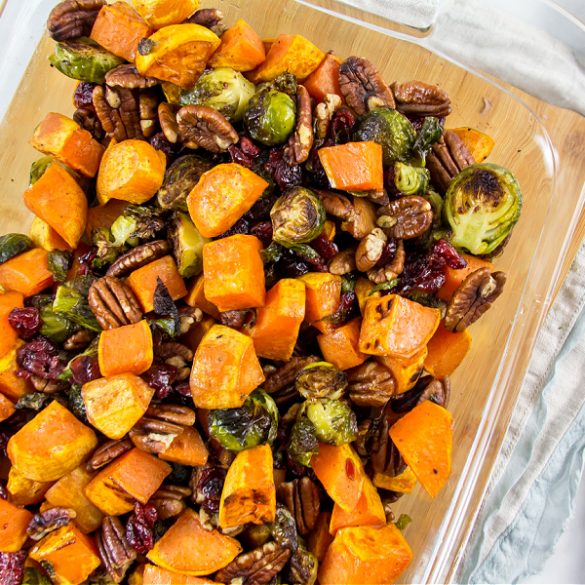 Ingredients
5 cups sweet potato cubed (approx) - we used 3 sweet potatoes
3 cups Brussels sprouts halved
4 tbs olive oil - divided
3 tbs maple syrup + 1 tbs extra
1 tsp ground cinnamon
1/2 tsp ground nutmeg
2 cups pecan halves
1 cup dried cranberries
pinch of salt
Instructions
Preheat the oven to 400F
You will need 2 baking sheets - one lined with parchment paper, and one lined with aluminum foil.
Add Brussels sprouts, salt, and 2 tablespoons of oil to a bowl and toss them together. Once the Brussels sprouts are coated put them onto the baking tray lined with aluminum foil. Spread them out into a single layer all on the same side (so you can turn them halfway and know which ones have been turned).
Add sweet potato cubes, 1 tablespoon of oil, maple syrup, nutmeg, and cinnamon to a bowl and toss them together. Once the sweet potato is coated, turn these onto the baking tray with parchment paper and spread into a single layer.
Put the trays into the oven (side by side if you can) and roast for 20 minutes. Turn both the Brussels sprouts and sweet potato cubes over. Return to the oven. The Brussels sprouts will probably only need another 5-10 minutes, but the sweet potatoes can go back in for about 15 minutes.
Heat the remaining oil in a cast-iron skillet. Add the pecans and toss lightly, cooking them for no longer than 5-minutes until they are a slightly darker color.
Add all of the ingredients (including the extra maple syrup) to a roasting pan (we used the pan we would serve the dish in). Put it back into the oven for 5-10 minutes.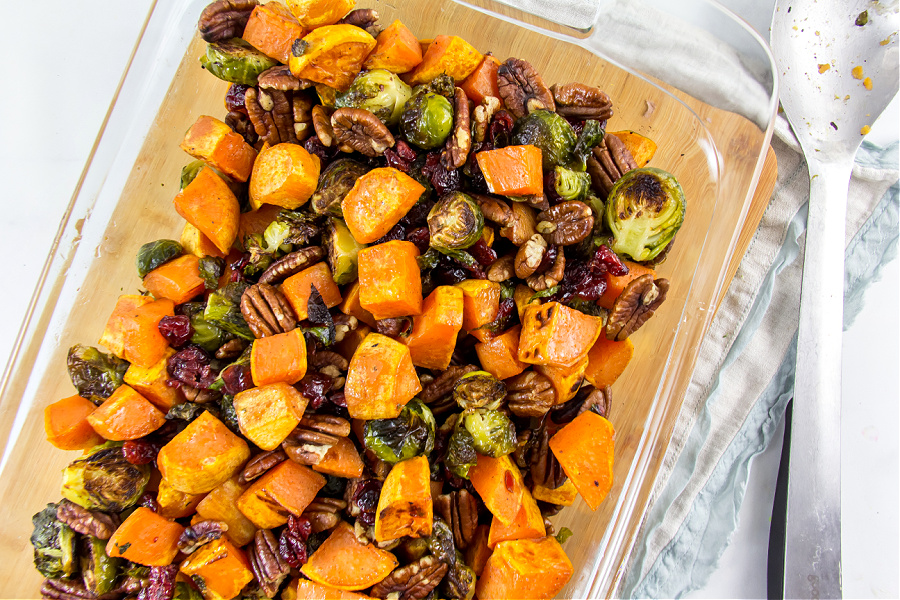 More Thanksgiving side dish recipes
Are you looking for more Thanksgiving side dish ideas for your holiday dinner? You should try these too:
Please pin this post for later: