The North Pole Santa Train that departs from The Pacific Southwest Railway Museum in Camp, San Diego, is the best Christmas adventure to have with your kids this holiday season.
A couple of weeks ago I had the kids dress in their pajamas and we drove to Campo (in South East San Diego) to take our little train lover on a trip to the North Pole. We boarded The Santa Train North Pole Limited at around 5 pm, as the sun was setting.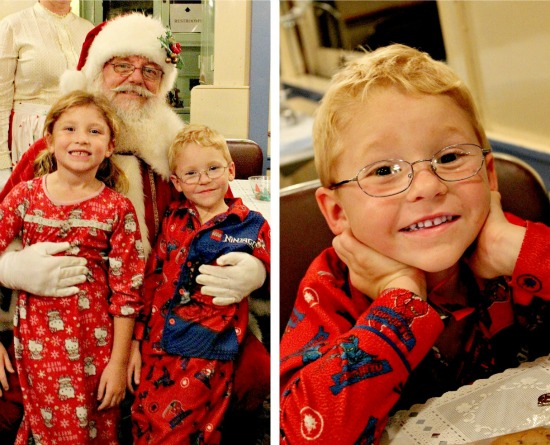 Just like regular train travel, there are first class and coach seats.  Only 35 first class tickets are sold for this special event and because we are members of the Pacific Southwest Railway Museum I received advance notification via email that tickets were available for purchasing before non-members could purchase. I immediately bought 4 first class tickets ensuring that we caught an earlier train so that the kids wouldn't be too tired and cranky; the trains run at 5 pm and 7 pm. I can't speak for what happens in the coach carriages or how crowded they may be because I haven't traveled in them, but having only 35 people, with only about 10 of those being children in first class was wonderful.
The elves immediately set to work entertaining the children as soon as we boarded. First thing, they gave the kids paper and pencils to write their wishlist to give to Santa once he boarded the train at the 'North Pole' – which is a lovely holiday display set up at the halfway point of the train trip.  Santa boards the train there and makes his way through the carriages (ending with first class) to greet the children and have photographs taken. The entire train ride is approximately 90 minutes.
After lists were written and hot chocolate and cookies were handed out, the elves invited the kids up to the front to play a game of Santa Says, listen to the Polar Express book being read, and to sing Christmas Carols. We even had a hobo on our carriage which amused Flynn to no end, and we were able to walk outside to the front of the train after dark, just like in the Polar Express. The kids loved it.
Here are some of the fun Instagram shots I posted too.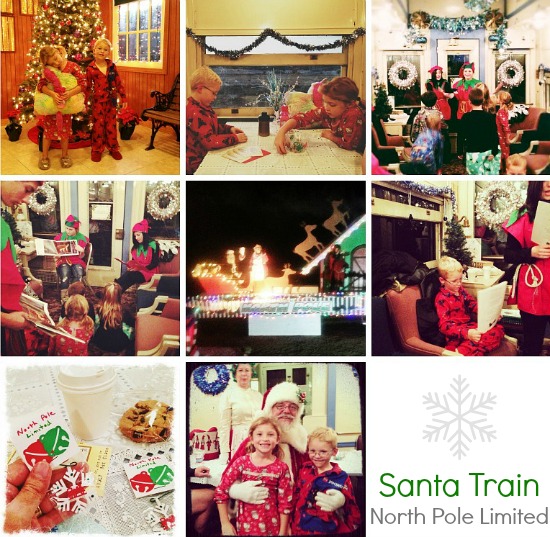 Unfortunately, all train rides on for this holiday season are sold out, but I highly recommend putting this on your holiday list for next year, become a member of the museum, and purchase tickets early.  Kids will love this.