If you are looking for educational activities to do with kids that also encourage them to read, then we've got some great ideas for you.
My youngest children visit their school library once a week to borrow a book which they bring home to read. Their favorite books to bring home are The Magic School Bus. I've previously provided fun interactive activities to go with a few of these books that will be perfect for a little educational fun over the summer.
More recently though Miss M brought home a Hello Kitty book. She read it in bed one night and the next morning asked if we could do some of the fun activities in it. I sat down with her, and together we went through each page, I was quite surprised by how many fun things there were in this book that kids would love to do, such as: playing catch, visiting grandma, looking through family photos, baking, learning about different countries, and taking a canvas outdoors to paint flowers.
When you head to your local library to borrow a book, or to the book store to purchase a new book, talk to your child about choosing books that contain fun activities you can do together.
Here are a few books with fun activities (aside from The Magic School Bus) you might consider:
On Beyond Bugs: All About Insects, Dr. Seuss' The Cat in the Hat
Take your kids into the yard or on a nature walk. Don't forget a magnifying glass to study bugs, you might also want to take a pencil and paper so kids can draw what they see, or a camera so they can make a book about the bugs they found.
Harold and the Purple Crayon, by Crocket Johnson
Give your kids a piece of paper and a purple crayon and have them create a beautiful landscape or a picture of their bedroom. Have them look at the tiny details such as is the moonlight or sun shining through the window.
Curious George Goes Camping, by H.A. Rey
Pitch a tent in the backyard and have fun camping. Don't forget a flashlight, and this book to read.
Team Umizoomi: Find the Dinosaurs!, by Golden Books
Hide toy dinosaurs for the kids to find. Maybe they'll be hiding in the garden, sipping from their drink of water, taking a shower, or brushing their teeth. Get creative.
Planting a Rainbow, by Lois Elhert
Gather some pots, soil, and flower seeds. Teach the kids how to plan their very own rainbow of flowers.
As for my daughter's project, she decided to bake and decorate cookies, just like Hello Kitty.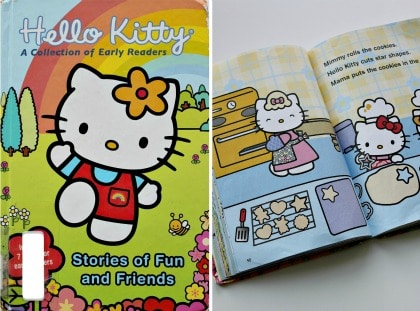 So with my help, she measured the ingredients and mixed the batter.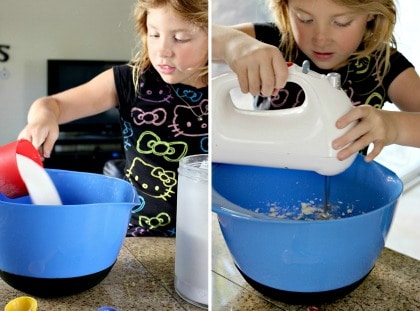 After I rolled it out, she cut out fun shapes, watched them bake and cool, and then decorated them.