These Despicable Me push-up cupcakes are sure to be a hit with every little Minion. Download and print the free Minion printable wrapper.
Disclosure: This Despicable Me 2 party post was sponsored by Universal Pictures.
It's that time again. Time for another fun Despicable Me Minion party tutorial.
This week I'm bringing you a FREE Despicable Me 2 Minion push-up cupcake wrapper printable.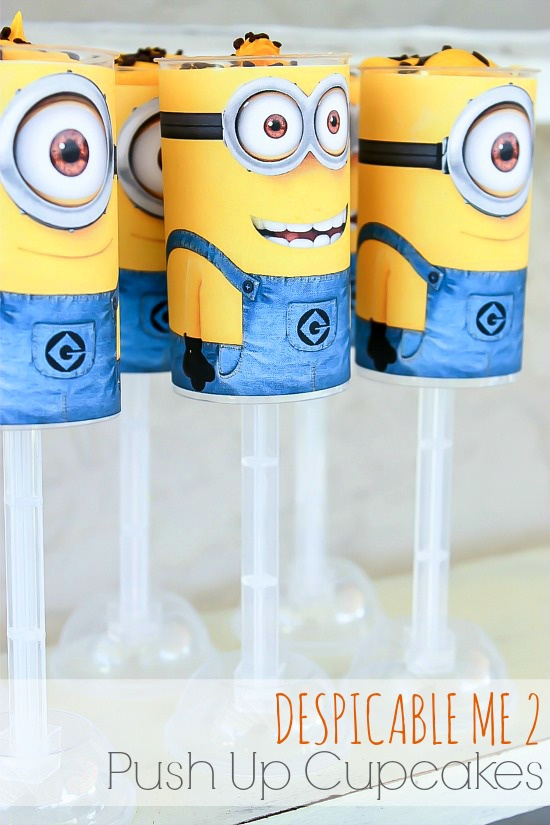 I asked the amazing Juliann Law to create these for me. She did such a fantastic job.
Minion push up cupcakes
Before I share the free printable though, I want to share yellow cake instructions.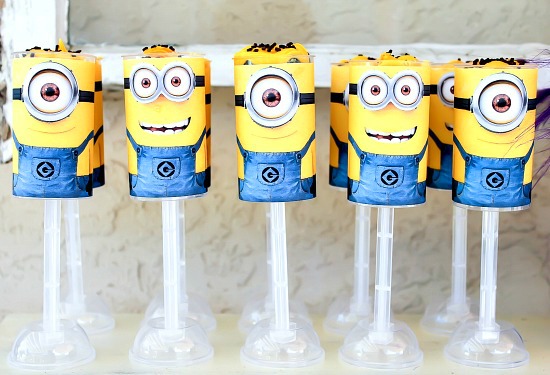 Ingredients
2 cups cake flour (and 1/4 cup extra)
1 stick butter - softened (and 1 tbs extra - melted)
1 cup sugar
3 eggs, plus
2 egg yolks
1 tbs vanilla extract
2 tsp baking powder
1 cup buttermilk
pinch salt
Instructions
Preheat the oven to 350F.
Brush a little melted butter into mini muffin tins, then sprinkle flour over the top, making sure to get rid of any excess - I hold it upside down over the sink and shake it out.
In a medium-sized bowl combine the cake flour, baking powder, and salt. Set aside.
In a large bowl, beat the butter and sugar until combined and fluffy. Beat in the eggs and egg yolks gradually, and then add the vanilla.
Add about a cup of dry ingredients to the butter mixture and combine on low speed.
Add in about 1/2 of the buttermilk and combine.
Repeat until all flour and buttermilk have been completely combined.
Pour mixture into mini muffin tins and bake for approximately 15 minutes (or until a toothpick inserted in the center comes out clean).
Once baked, set aside to cool.
While the cupcakes are cooling, make your frosting. I normally make mine according to C&H Powdered Sugar package directions – which is basically a 1lb box of powdered sugar, 1/2 cup softened butter, 1/4 cup milk, and 1 tsp pure vanilla essence. Combine all ingredients, then add Wilton yellow food gel coloring (just a little at a time) until the desired color is reached.
Alternate adding a cupcake and yellow frosting to the plastic push-up cupcake container. You should end up with three layers. Pipe a little extra yellow frosting onto the top cupcake and top with brown sprinkles.
NOTE: I used the Wilton brand of treat pop containers, see how the lid makes a great stand so they don't fall over.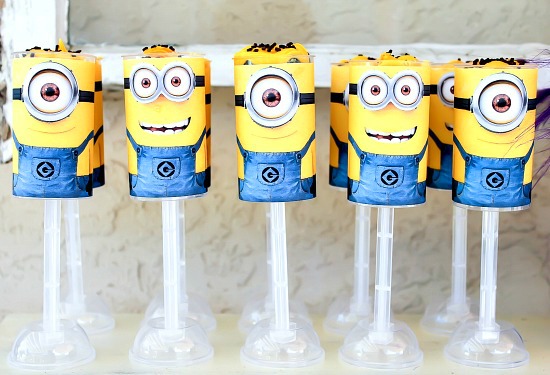 Free Minion printable wrapper
More Despicable Me Minion party ideas
Are you looking for more Despicable Me Minion party ideas? You need to check out these: