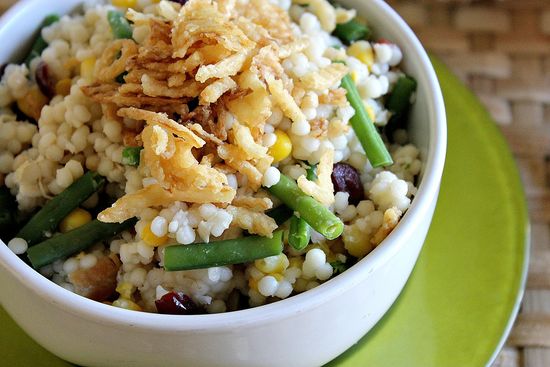 Ingredients:
Turkey Breast (fully cooked)
Israeli Couscous
Corn Kernels
Dried Cranberries
Green Beans
French Fried (crispy) Onions
Boil the corn and green beans, and warm the turkey.  Cook Israeli couscous according to the package directions – 1 1/4 cups boiling water to 1 cup couscous covered and simmered for approximately 10 minutes, stirring occasionally).   Add the corn, cranberries, turkey, and green beans.  Stir gently to combine.
Once dished into bowls top with crispy onions and freshly cracked pepper.
Note:  This is a great way to use up those Thanksgiving or Christmas leftovers.