These photo ornaments make a wonderful Christmas gift for grandparents and family. They will also look beautiful hanging on your tree.
A couple of weeks ago I was asked to speak at a local MOPS meeting to give the ladies attending ideas for holiday crafts they can make with their preschoolers. I was also asked to go over the basics of starting a blog.
This is one of the projects I created for the meeting.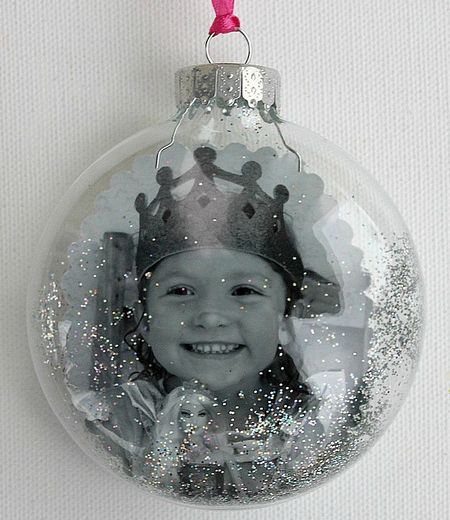 Photo ornaments
Make a series of these starting with your baby's first Christmas. Add a new one each year and attach them to a rope to hang in your home during the holidays as a garland. 
Alternatively, take a family photo each year and start a collection of family photo ornaments to carry on throughout the coming years.
Supplies
Clear ornament (available at craft stores)
Glitter
Photograph
Ribbon
Scissors
Instructions
Print a favorite photograph and cut it out using patterned edge scissors (I cut mine into a circle). 
Craft tip: Make sure to measure the diameter of the ornament first and cut the photo a little bit smaller than that.
Sprinkle glitter inside the ornament, it will naturally stick a little to the sides but will move around if shaken. 
Roll up the photograph with the photo on the outside and carefully insert it through the top of the ornament. Use a brush or pencil to open up the photograph once inside the ornament. If you cut the photo to just a little smaller than the size of the ornament it will be less likely to move around, if you print a smaller photo brush a little glue to the inside of the back of the ornament and press the photo onto it until it sets.
If too much glitter appears on the inside of the ornament in front of the photograph take a dry paintbrush and gently brush it away.
Re-attach the top of the ornament and tie on a ribbon for hanging.
The other craft projects I suggested to the group are:
Each of the parents at the meeting went home with a bag of supplies to create the reindeer candy cane, pasta wreath, glitter glue, and photo ornaments.
More DIY Christmas ornaments
Are you looking for more homemade clear ornaments crafts to put on your tree this year? You need to take a look at these:
Please pin this post for later: