These turkey cupcakes are bright, colorful, and delicious. Kids will love them for fall celebrations. You could make them gluten-free too.
Once upon a time, my kids LOVED pumpkin pie. Now, they love cupcakes.
So while there will now be extra pumpkin pie for me to devour this Thanksgiving, there will also be lots of little cupcakes for me the kids to enjoy for dessert too.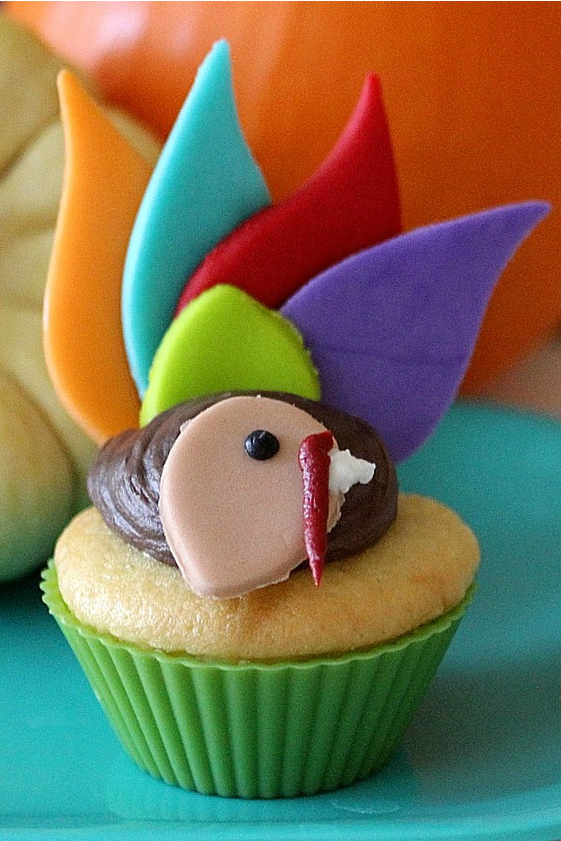 All you need is a basic cupcake, a little icing and some fun fondant colors to make these sweet turkey cupcakes for your Thanksgiving parties. You can make a gluten-free version of these too by using a gluten-free cupcake.
Turkey cupcakes
I was inspired by these colorful pinecone turkeys the kids made at school.
Ingredients
basic vanilla cupcakes
chocolate frosting
decorator icing – black, red, and white
fondant – with color gels.
Instructions
Pipe a little chocolate frosting onto the top of the cupcake using a larger round tip.
While wearing gloves, use color food gels to dye the fondant. Keep the colored fondant wrapped in cling wrap until ready to use so it doesn't dry out.
Use a couple of different leaf or teardrop shaped fondant or cookie cutters to cut the feathers and face out of the dyed fondant.
Pipe icing from small decorator icing tubes to create the facial features.
Are you looking for more delicious turkey treats for your Thanksgiving celebrations? You should check out these:
Please pin this post for later: