Glad® Black Bag have teamed up with the Keep America Beautiful and the Picker Sisters Tanya and Tracy to find ways to re-use old items, and turn trash into treasure, which I'm sure you can imagine I absolutely love given the amount of time I spend scouring thrift shops and antique stores looking for items to upcycle.  So when I was presented with a challenge to create something using 'trash' how could I pass that up.
I was sent some supplies to get me started, and to get the ideas flowing, including three 16×20 canvas panels (of which the boards were made of reclaimed material from renewable resources), a glue gun, scissors, paint brushes, and a picture frame … as well as a box of much needed Glad® ForceFlex® Black Bags.
If you've taken a look at my 40-by-40 list you will have seen that one of the things I wanted to do is create artwork for the wall behind our bed.  I wanted the artwork to be something personal, and that was handmade.  The three canvasses definitely got those creative juices flowing and so I made these:
We have a ton of packing boxes in the garage and I briefly considered using one of those to create the photo collage letter on each canvas, but as I was pulling stuff out of the box I was going to use I came across some old felt creation boards.  The felt on the boards was stained and torn a little (my kids can be a little rough) and I was going to throw them out, but after peeling off the backing and the felt to see what was inside, a perfect piece of chipboard was revealed.   I knew I didn't want to use wood on the canvas because I was concerned that with the weight I might have something land on my head in the middle of the night, but the chipboard was perfect.
I began by creating a letter stencil out of each piece of chipboard, then I printed black and white photos and made a collage on each using mod podge to adhere and then seal each photograph.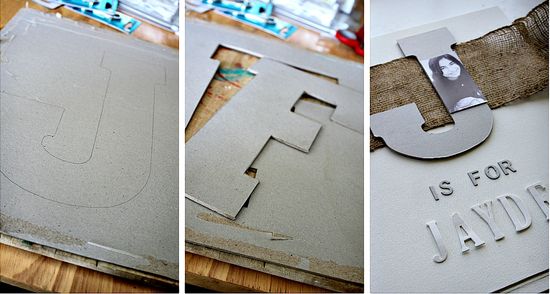 I then painted each of the canvasses making them a little more shabby chic.  I mixed my own shade of grey that is similar to our bedding color for the first coat.  Once dry, I applied my favorite crackle.  When that was just about dry, I applied a coat of off-white paint and then left the canvasses to dry in front of an open window. 
While they were drying, I painted plain chipboard letters in the same off-white.  It took two coats, and I set those aside to dry too.
Once completely dry (I left overnight to make sure), I used a staple gun and hot glue to attach a band of burlap to the top section of each canvas.  I then adhered the photo collage letter and the smaller chipboard letters using hot glue. 
The canvasses are fairly thin so I couldn't use my usual hanging method of hammering a sawtooth hook onto the back as even the smallest nails would have gone right through the canvas, so I found some eyescrews that had a wide eye, but a very short screw and screwed that into the center top of each canvas.  The eye on each screw fit perfectly over the top of a small picture frame hook.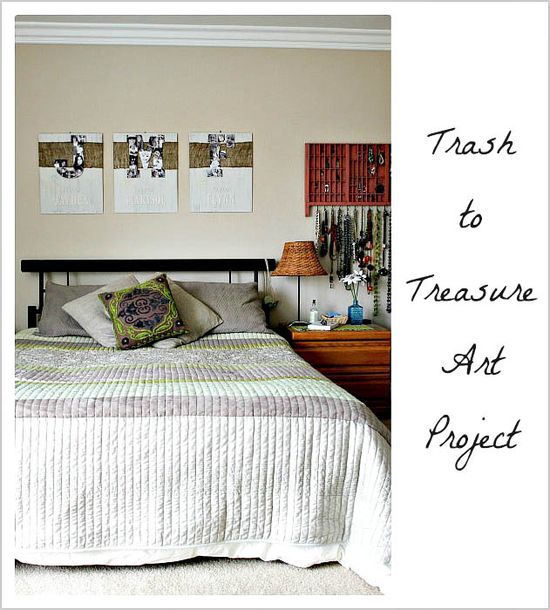 If you look to the right of the photograph above, you can see one of my previous trash to treasure projects, a jewelry organizer that was made from a typeset tray and also some lace flowers that I made from off-cuts.
I've got a few more really cool things I want to share with you. 
First of all, celebrated mosaic artist Jason Mecier has created works of art utilizing people's trash or "wild life remnants," including items donated by celebrities, such as Lauren Conrad, actress Megan Mullally, Jesse Eisenberg (The Social Network), Raphael Sbarge (Once Upon A Time) and Nathan Kress (iCarly). These works of art are currently being auctioned off during the Glad® Black Bag art auction on eBay for consumers to bid on until April 26, with proceeds benefiting Keep America Beautiful's Great America Cleanup.    
Secondly, I have a few fantastic tips for turning trash into treasure from the Picker Sisters.
Practically practical – As a designer, it's essential to think about how a piece will function. Will the item get lots of use and have to withstand daily beatings? Make mental note of who will be using the pieces and how often, then design your projects using materials that will suit your lifestyle. Your creations should be both beautiful and functional. For instance, consider using an old trunk as a coffee table. If you want a smooth surface, get some glass cut at your local home improvement store to fit over the trunk, so you can still admire the charm of the piece, while making it useable.
Embrace the eclectic – Mixing old with new, modern with antique, or rustic with mid-century, can bring freshness to your style and breathe new life into your space. And the good part is, you can choose items you prefer, not items you think you need to make everything match exactly.
Refresh key pieces – Looking to freshen up your dining room chairs because they've endured their fair share of spills? Don't throw them out. It may be easier than you think to reupholster the cushions with a fresh, new print, or, perhaps something spill-proof. With just a few key tools – such as an electric staple gun, pliers and screw driver – and you can have a fresh-looking dining set. Check out a how-to video at www.thisoldhouse.com.
Inspiration everywhere – We draw inspiration and ideas from everything around us all the time. Magazines, the Internet and nature itself are brimming with interesting, evocative images and objects that may spark a thought that you can then incorporate into your own design. The most original ideas can come from the most unlikely places. So keep your eyes open and your creative goggles on, and draw inspiration from the great big world around you.
To connect with the Picker Sisters, Tanya and Tracy visit, www.mylifetime.com/shows/picker-sisters. For additional information on GLAD Trash, visit, www.glad.com.  From yard work to daily household cleanup, Glad Black Bag can handle the toughest jobs.  The bags are large, tough and dependable, and feature convenient easy-to-seal closures, so what goes in stays in.
Disclosure: I wrote this review while participating in a blog tour campaign by Mom Central Consulting on behalf of Glad Black Bag and received a Glad Black Bag product, a craft kit and a promotional item to thank me for taking the time to participate.