Wood frames from Michael's are perfect for kids to decorate. They make beautiful Valentine's Day picture frames to give as gifts to family.
The twins made these earlier in the week to give to their teachers at school. I think they should make more for their grandparents too.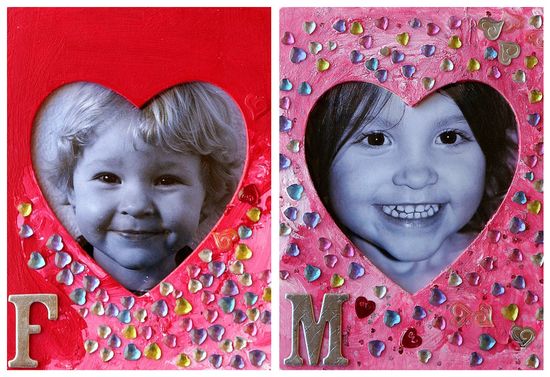 Valentine's Day picture frames
Supplies
Michael's wood picture frames
Paint
Paintbrushes
Gems or sequins
Glue
Photo
Letters – cardboard, chipboard, or stickers
Spray sealer
Clear vinyl (optional)
Note: Michael's craft store currently sells these unfinished wood frames in a couple of different sizes for $1 each. They come with a peg to put into the back so the frames stand up.
Instructions
Have the kids paint their picture frames, and then set them aside to dry.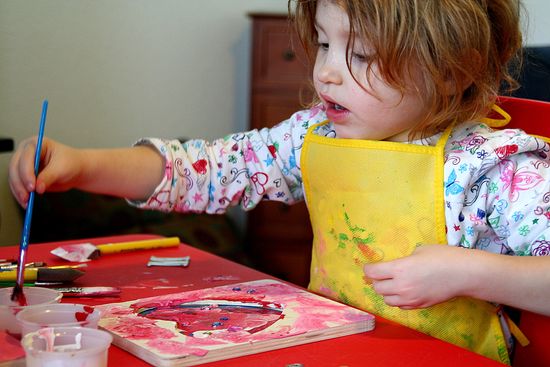 Use glue to attach sparkly sequins or gems and their initials or a word on the frame.
Spray the frame with a sealer and then set it aside to dry before adding a photo and cutting vinyl to protect the photo.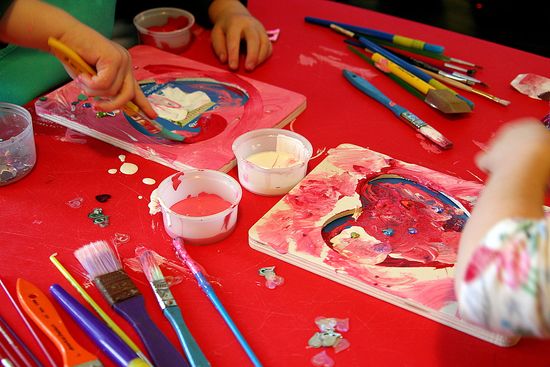 Craft tip:  Remove the cardboard heart from the center before decorating commences.  I didn't and of course, it was decorated too. Which wasn't a big deal, except I had to cut a new back to put behind the photographs. You can use a cereal box etc for this, I used a Turkish delight container because one side was plain white.
One thing these frames don't come with is glass or perspex to protect the photos. With this in mind, I headed to Beverly's fabric store where you can purchase clear vinyl – much more child-friendly and cost-effective than having glass or perspex cut to a heart shape. The vinyl is on a roll in the fabric department so I had a 1/4 yard cut and still have plenty left over for more projects in the future.
More Valentine's Day crafts for kids
Are you looking for more fun Valentine's Day crafts for kids to make? Take a look at these:
Please pin this post for later: