Ladies, are you looking for the perfect outfit to wear this Valentine's Day? Take a look at this!
Disclosure: This article was originally written for eBay.
Valentine's Day is just over a week away. Do you have plans?
I actually have a date. Something I did not think I would be saying. I thought for sure I would be hunkered down at home with the kids, watching romantic comedies in the evening while crying into a cocktail once they were in bed, or possibly even heading out with girlfriends for the night for a little dancing and wine. I have no idea what we are doing, or where we are going, he's in charge of the planning. I have no doubt it will be something fabulous though.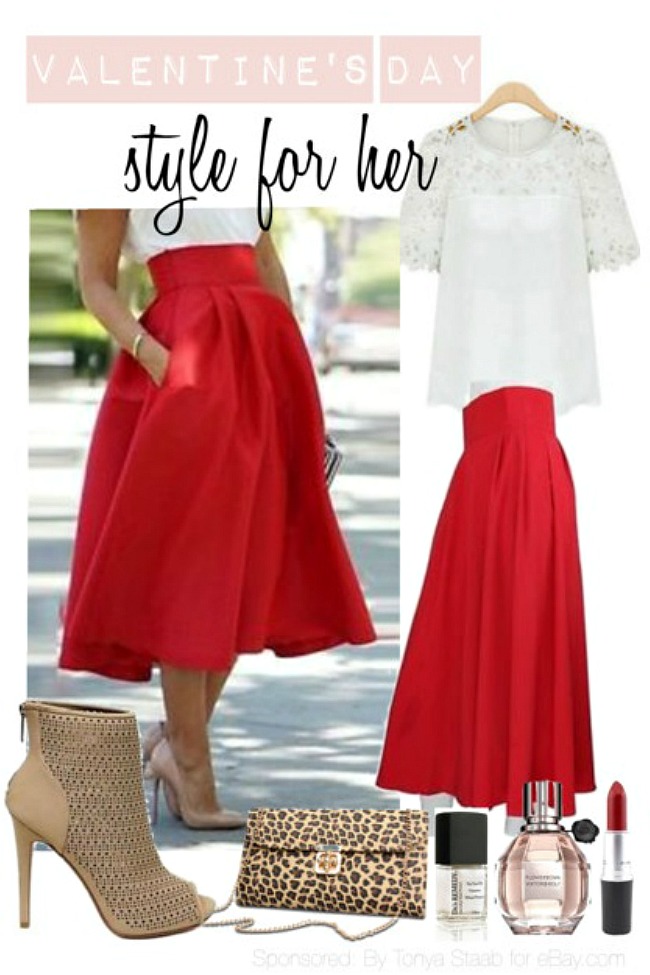 So of course I've already started planning what I might where on the day. I'm a big fan of keeping things classy, but with a touch of sexy, and I love adding touches of vintage and lace to my outfits.
Whether you are heading out with girlfriends, or have a date this Valentine's Day dress up for the occasion. A touch of red is the perfect addition to your Valentine's Day outfit, but don't go overboard. Pair the red with nude tones, black or white, and a little leopard print goes a long way to make your outfit look fun and flirty, while still looking classy. I also love to add a touch of vintage or lace to make the outfit look elegant and feminine.
THE SKIRT
When choosing your perfect Valentine's Day outfit, start with a main piece and then add to it. I started with a fabulous vintage high waist pleated skirt and then built my outfit around it.
THE SHOES
Shoes can make or break an outfit. I fell in love with nude peep toe stiletto ankle boots. I'm a huge fan of stiletto ankle boots, I find them far more comfortable to walk or stand in for long periods of time than regular stiletto's and these are fun and flirty.
THE BLOUSE
A vintage lace sleeve blouse is the epitome of elegant and feminine and looks fabulous tucked into a skirt.
THE BAG
I  love a touch of leopard print, especially against a white, red, or black outfit to make it fun and flirty. Just don't go overboard. A small leopard print clutch like this one is the perfect addition to your Valentine's Day outfit.
THE PERFUME
Say it with  me ladies, less is more. Flowerbomb by Viktor & Rolf is the only perfume I wear. I'm going on three years, and always receive compliments on the subtle floral scent.  Keep these tips in mind: pick one or two key spots to spray, don't rub your wrists together, and use unscented lotion and body wash before applying perfume.
THE ACCESSORIES
Again, less is more for an elegant look. The blouse on this outfit requires no necklace, so keep your jewellery simple with a fun cuff like this vintage latticed bangle and a pair of heart-shaped earrings.
THE MAKEUP
Now is not the time to experiment with a new look so know what works for you. Try to stick to a classic look such as a red lip, I love this Russian Red MAC lipstick, a smokey eye which can be accomplished using a simple smokey eye palette, and nude or white nails.