This vegetable lo mein recipe is quick, easy, and delicious.
In an attempt to save a little money, I'm trying to cut back on the amount of take-out we purchase.  Asian food is definitely a favorite around here, but making it at home is so much cheaper, and dishes like lo mein noodles take hardly any time at all to whip up.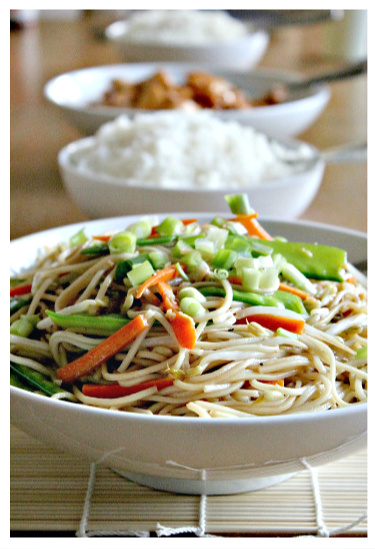 Vegetable Lo Mein
Ingredients:
1 pkg lo mein egg noodles
2 cups snow peas
3 small carrots – sliced in half, then into thin strips
1 cup bean sprouts
2 tbs sesame oil (+ a little extra)
2 tsp ginger – freshly grated
1 tsp minced garlic
3-4 tbs soy sauce
2 tbs sherry cooking wine
salt & pepper
3 green onions – chopped
red pepper flakes
Add noodles to boiling water and cook for 4 minutes.  Drain, and then rinse the noodles in cold water, toss a little sesame oil on and gently combine to prevent the noodles from sticking while you prepare the rest of the ingredients.
Put the rest of the sesame oil in a wok and heat.  Add the ginger and garlic and cook for about 10 seconds.  Add the snow peas, and carrot and stir-fry for 1-2 minutes until softened but still a little crunchy.  Add the following ingredients (in order)- bean sprouts, sherry cooking wine, soy sauce, salt and pepper, noodles.  Stir-fry for another 1-2 minutes.  Serve immediately.
Once in a serving dish, top with green onions.  Serve red pepper flakes on the side, for those who like a little more kick (we love it, but not the kids).
Note:  In case you are wondering how I made the orange chicken: I grilled chicken breasts, cut them into cubes, and tossed them in a pan with a bottle of La Choy Orange Ginger Sauce and Marinade.  It's my kids favorite.  I've made this chicken for them a number of times before, but this was the first time I'd added the lo mein as a side too.
The best part is we had enough for leftovers tomorrow for the kids if they want to take the noodles, chicken or rice in a thermos to school for lunch, and for my husband to take to work.
Please pin this post for later: