Here are 10 Earth Day kids activities that they can do to show their love for the earth. They'll love learning about nature and giving back.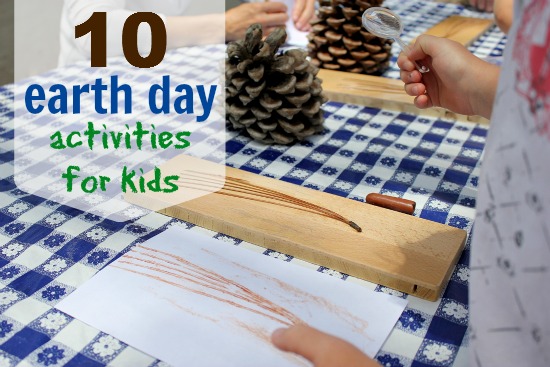 Teach your children about recycling, the beauty that surrounds us every day, and make their lives a little greener.
Note: This article was originally written by me for the website, Rusty and Rosy, however it is currently offline.
Recycle
Have your kids decorate boxes or bins to separate recycling from trash. Teach them which items can be placed in recycling bins. They will love earning a little extra cash by separating cans and bottles and exchanging them for money at a local recycling center. You can also start a composting area at home.
Volunteer
Look for an organization in your area that hosts regular beach or park clean-ups. Sign up to volunteer and spend a few hours collecting trash and recycling. Don't forget your gloves and a couple of buckets. Afterward, reward the kids with a play at the park or beach they've been cleaning up.
Get into the garden
Plant a tree, herbs, fruit and vegetables, and weather-tolerant plants that don't need to be watered often.  Kids will love growing, caring for, and eating fruit and vegetables they grow themselves. Planting a tree will provide natural shade in the summer and they help clean the air we breathe.
Go on a nature hunt
Can your kids identify the birds, wildlife, plants, and trees in your area? Put together a nature hunt and let them learn outdoors. Have them mark off each item as they find it, or take photographs so they can create a nature book when they get home about what they observed. Take paper and a crayon and do bark and leaf rubbings along the way. We've outlined 20 ways kids can learn outdoors in nature.
Host a book swap
Kids love books, they also love to read new books, whether it be borrowing from their school or local library, or begging you to purchase new books for them. Have them gather together books they don't read anymore, invite friends over who have done the same, and swap books. Provide water, healthy snacks, and storytime for the kids.
Earth Day kids crafts
Raid the recycling bin for bottles, boxes, cartons, paper rolls, and whatever else your kids can find to make fun recycled crafts.
Learn about wildlife and plants
Visit a nature center, Wildlife Park, State or National Park.  Pop into the visitor center to learn more about what you will find in the area, ask if they offer guided hikes which is the perfect way to learn more about the wildlife and plants you might otherwise overlook. You can also learn all about butterflies and caterpillars by watching their metamorphosis at home. We also have another fun day where you can teach kids all about owls.
Eat clean
Spend an entire day eating clean. No junk food, no pre-packaged food. Shop at a local farm, or farmer's market for organic produce. Once you've started, you may not be able to stop.
Read Earth Day books
The Earth Book, by Todd Parr
Michael Recycle, by Ellie Bethel
The Adventures of an Aluminum Can, by Alison Inches
I Can Save the Earth, by Alison Inches
The Lorax, by Dr. Seuss
Earth Day Every Day, by Lisa Bullard
The Magic Schoolbus, by Joanna Cole and Bruce Degen
The Three R's: Reduse, Reuse, Recycle, by Nuria Roca
Make bird feeders
Bird feeders for your yard can be as simple as rolling pine cones or paper rolls in peanut butter and seeds.  Hang them outside and watch the birds come. You could also make our popsicle stick bird feeders.