These freezer hacks and tips will have you better prepared for meal planning and throwing out less fresh herbs and produce.
I always go into everything I do with great intentions. But still, I do crazy things sometimes like head to the farmer's market and buy an abundance of produce and fresh ingredients that I have every intention of actually using … while it's still fresh. Craziness. I'm never going to use it all. Ever. Because life happens. Cue an overflowing toilet, and clean up, that results in me not getting dinner cooked early enough before racing off to the kids extra curricular activities.
So I have had to learn a few tips and tricks along the way to ensure that I'm not letting anything go to waste.
Freezing homemade sauces
There was a time that I lived in a house that had an apple tree, apparently I also had tomato bushes, not that I planted them, they just kind of sprouted out of nowhere one year. So I had to got a little creative. I made slow cooker applesauce and froze it to use when baking, and I made jar after jar of pasta sauce for quick weeknight dinners. Did you know that you can even drain and store bacon grease in your freezer for cooking?
What You Need For Your Freezer
There are freezer staples that I keep on hand at ALL times because guaranteed there will be a night that's busier than normal, days when I'm not feeling well, or when my oldest kid is babysitting his siblings. My essentials are: Alexia fries, frozen vegetables, and pizza bases.
Freezing leftovers
Whenever I make dishes such as soup, casseroles, or lasagna I always make enough for at least two nights and freeze half. Place the chilled meals into freezer bags, seal, and label with the date you made it.
Freezing herbs
Herbs are one of those items I always end up buying too much of. They are most often sold in bunches and you only need a small amount in the dish you are cooking. You can either freeze bunches between parchment paper, or freeze the herbs in olive oil.
Freezing breakfast
Most Sunday's I make a big brunch. More often than not it's whatever the kids put in their request for the day before – so pancakes, waffles, muffins etc. You can make extra of all of these, and then freeze them for the kids to enjoy during the week before school too. To freeze pancakes and waffles all them to cool, place them on a cookie tray lined with parchment paper, freeze, and then they can be stacked (with a small piece of parchment paper) between each one and placed into freezer bags.
Freezing leftover fruit
When we have small amounts of fruit leftover there are a couple of ways I like to freeze it. The first way is to combine it in the blender with yogurt and milk, and then frozen as popsicles. The second way is to put small pieces of fruit in ice cubes trays with water and freeze to make flavored water, or to put into my large drink dispenser for parties.
Freezing drinks
Did you know that you can freeze coffee and wine. I know, I know, who has leftover coffee and wine? Not me. But surprisingly there are people out there who do. Pour what is left into ice cube trays and freeze. You can use the frozen wine cubes for cooking and sangrias, and the frozen coffee cubes to make iced coffee.
Freezer meal prep parties
Sometimes being a parent means juggling all of the things and not having enough time to do everything that you want to, like seeing your girlfriends. Invite them over for a food prep party. Come up with a few meals beforehand, everyone pitches in to purchase ingredients and wine, and have a cooking party where you are making delicious dinners for your families and spending time together over wine at the same time.
Freezing rice
So last week I was out on a date. I'd left orange chicken for the kids, and the oldest kid just needed to make rice to go with it, except our rice cooker had broken. And he forgot to set the timer for the pot. And the smoke detector went off, and he smashed it off the roof with a broom. So next time, I'll be cooking rice ahead of time. Once cooked, simply spread it on a cookie tray with parchment paper, freeze, and then transfer to freezer bags in portions to be reheated when you need it.
Freezing dairy when going on vacation
So you are going away for a week, but have hard cheese and milk left in the refrigerator that needs to be used up or thrown away. Freeze it. Just remember a couple of golden rules, milk will expand, so ensure there's room for that to happen in the container before freezing. I prefer to grate my block of cheese ahead of time and toss in a little cornstarch (to stop clumping), and then freeze in freezer bags.
Looking for more great freezer hacks and tips? Take a look at this fantastic video by Coryanne Ettiene , these tips from Party Bluprints, Nutmeg Nanny, and of course Coryanne, and don't forget to join us for a Pinterest Party on February 23rd, details below.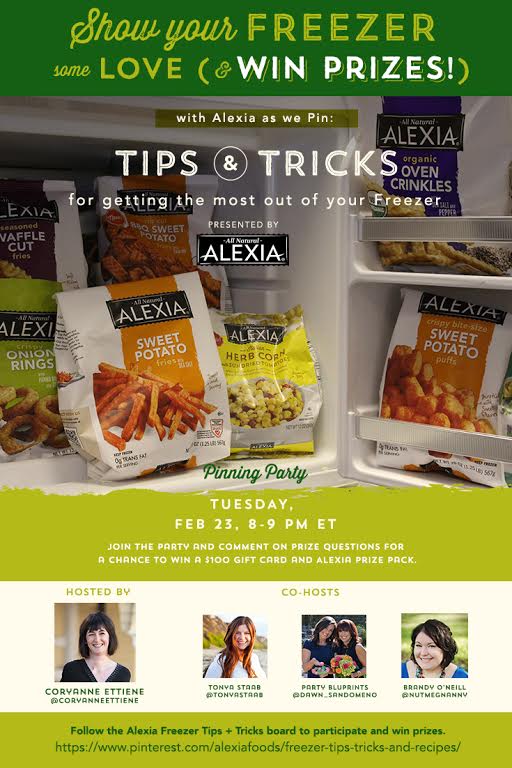 When: February 23rd, 2016
Time: 8pm – 9pm EST
Where: Pinterest and Twitter tag #AlexiaFreezerLove on the #AlexiaFreezerLove Board.
Follow:  @CoryanneEttiene @AlexiaFoods  @Dawn_Sandomeo  @TonyaStaab @NutmegNanny
Prizes: Alexia Foods will be gifting 4 x $100 Visa Gift Cards during the Pinning Party to 4 lucky winners chosen at random from those participants following the rules and regulations.
How To:  Joining a Pinning Party is as easy as following the party board and the hosts, then popping on to Pinterest to watch the party pins populate live during the party hour. By following the board and the hosts, you will see all the party themed pins as they are populated and be able to engage live with everyone else at the party by leaving comments on the party pins, re-pinning the pins that inspire you and sharing your favorite pins on Facebook and Twitter. During the party, 4 prize pins will appear that look like graphic question pins.  For a chance to win one of the four prizes, leave a comment on the prize pins with your answer to the questions asked. Remember not to over comment too much in a short space of time, it may flag you as a spammer so keep your comments limited to one every 3-4 minutes.  Can't make the party hour? Don't worry, the beauty of a Pinning Party is that the pins are there for you to review long after the party ends so you can still capture all of the inspiration even if you can't make the party.
Rules & Regulations: Prizes are open to US residents over the age of 18. Winners will be selected at random from the comments left on the prize pins, and announced following the Pinning party by @CoryanneEttiene. Winners will be sent a private Pin message to notify them of their win so please be sure to follow @CoryanneEttiene to keep the communication lines open. Winners will be asked to supply their full  name, address and emil address so that Alexia Foods can contact them to fulfill the prizes. No purchase necessary, void where prohibited. For a full list of rules and regulations, contact Ettiene Media LLC. This Pinning Party is not associated with Pinterest and is an independent joint venture between the representative parties of Alexia Foods and Ettiene Media LLC.
Disclaimer: Ettiene Media, LLC has partnered with Alexia Foods and has been compensated to run the social programs, and video production of this promotion.  All thoughts expressed are my own.