Do you have a summer bucket list yet? If not, here are 100 of the best activities you can do with kids this summer including tips for setting up an emergency kit to take with you on your adventures.
Disclosure: I'm sharing CURAD® in my life as part of a sponsored series for Socialstars™ #CURAD #SoothePlus
Summer break is my favorite time of year and I normally start planning a month or so in advance … okay let's be honest, I've already made notes about a few things to do with the kids summer next year. We don't tend to do camps, unless they are short ones that the kids ask to attend, instead I like to plan a lot of activities for us to do as a family, but with a combination of just plain old summer fun, and things to stop the summer slide too.
All three kids have been on summer break for almost 3 weeks now and so far we've knocked quite a few things off our summer bucket list, especially while we were in Florida during our first week of vacation. Mike and I were there with all of the kids, and the grand-baby, and it was a blast. We went to the beach, on a dolphin sightseeing boat tour, climbed to the top of a lighthouse, visited NASA, and played mini golf. Since returning back to California we've been to a theme park, the beach, started a summer scrapbook, and been to the local swimming pool. I'm allowing plenty of downtime for the kids too, especially seeing as I'm still working over summer, and they still have their regular weekly activities (roller skating, aikido, and archery lessons) to go to each week. It gives them a chance to decompress a little and not be over-scheduled, but I'm not leaving any room for boredom to set in.
Want to see our bucket list?
100 Things To Do With Kids This Summer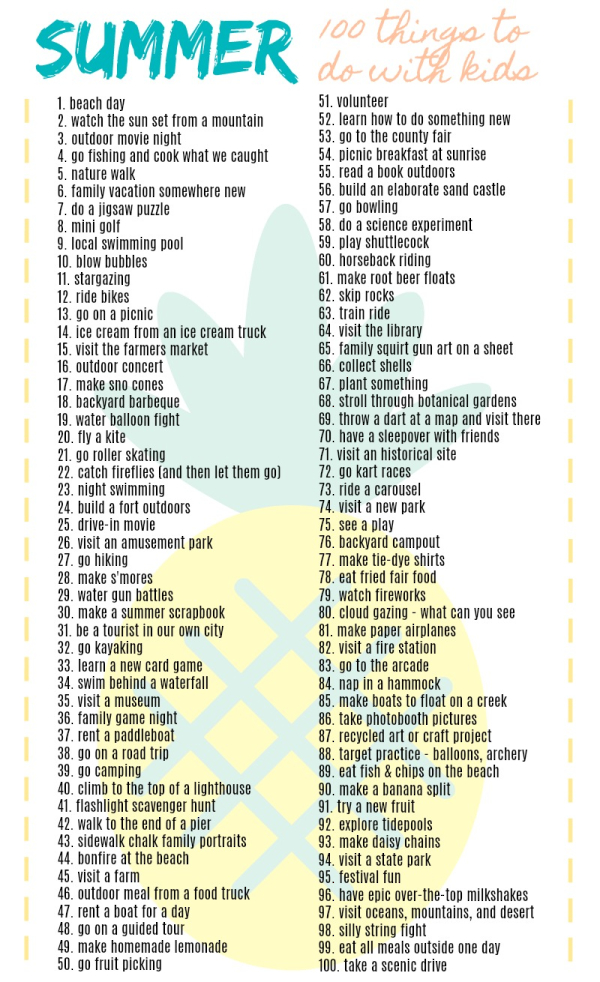 As you can see from our list, a lot of what we want to do is outdoors. I love getting the kids outside, exploring new places, learning something new, and doing a little of what I grew up doing; making daisy chains, kayaking, and camping. Click the following link to print our summer bucket list if you'd like to use it too.
Without fail though every time we leave the comfort of our home (or don't) someone gets an owie … a bug bite, a scrape, falls over, runs into something, or gets one of those 'unknown injuries' that mysteriously appears out of nowhere. So, I"m super organized when it comes to this and keep a first aid kit on hand. But, this isn't just any kit full of gauze and pain killers, it has just about everything we would need to cover most situations that arise. I normally keep it in my car, but put it in a backpack or beach bag if we are going to be a long way from the car for a period of time, because mama does not want to make a run for the car for a last minute scrape on a knee, especially not in this heat.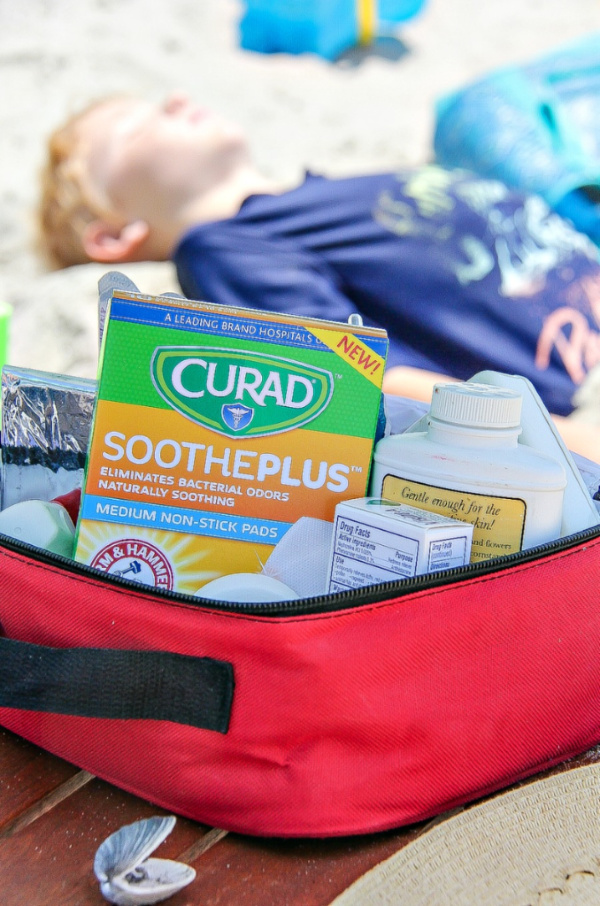 First Aid Kit Essential Items
tissues

CURAD® SoothePlus™ Medium Non-Stick Pads

CURAD® SoothePlus™ Medium Rolled Gauze

small scissors

thermometer

eye drops

stain remover pen – it never fails someone spills something while we are out

sunscreen

prescription medication

roll of bags – the kind you use for diapers or to pick up dog poop (great for keeping things like rags with blood or wet clothes separate)

tweezers

baby powder – this is great for getting sand off feet at the beach

dental floss

cotton buds

hand sanitizer

antibacterial wipes

lip balm

throat lozenges

insect bite relief

nail file
Let's stay safe out there this summer (and year-round).
If you are heading to the beaches a lot like we do please be aware of riptides, high and low tide times, make sure to swim between the flags, and try to set up within eyesight of a lifeguard. And don't forget the sunscreen.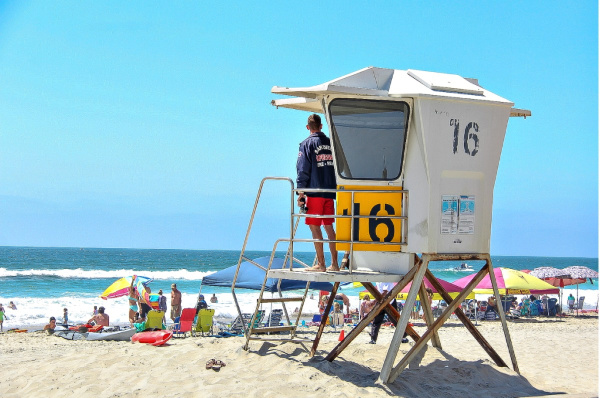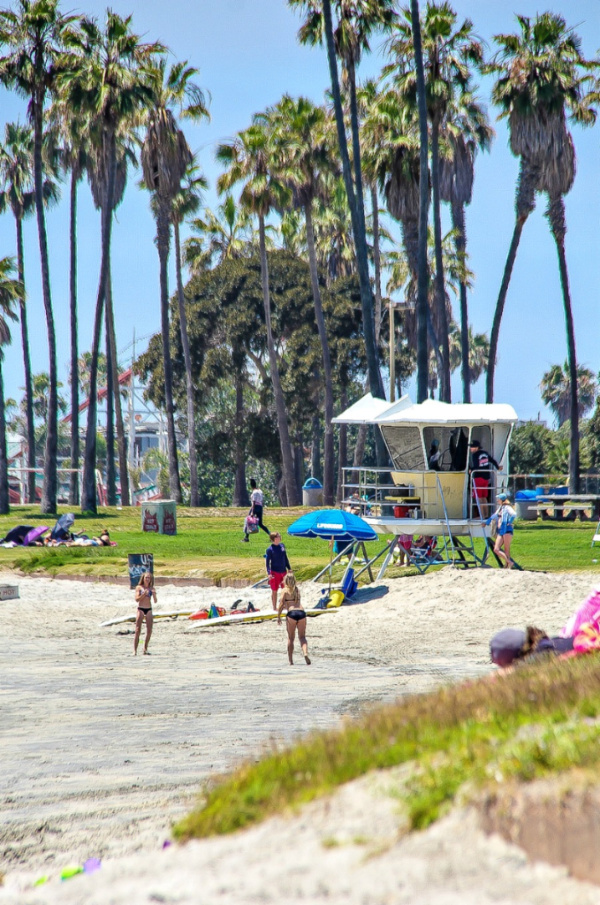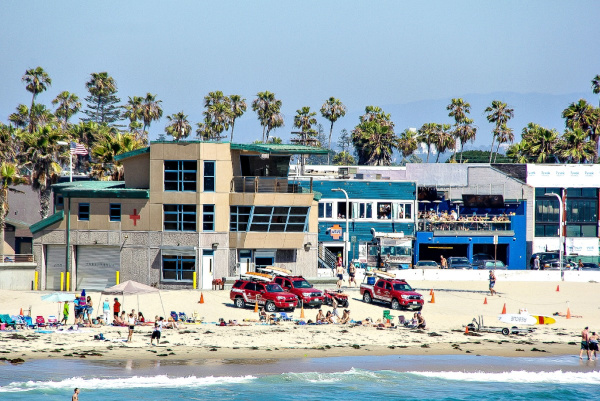 From bandages and gauze to specialty first aid products, CURAD® enables you to provide your loved ones with the best care possible.
The new CURAD SoothePlus™ product line infused with naturally soothing ARM & HAMMER™ Baking Soda helps eliminate bacterial odors. This line is perfect for taking care of your loved ones.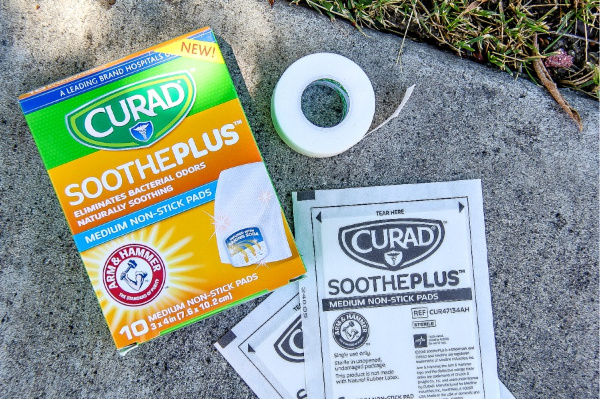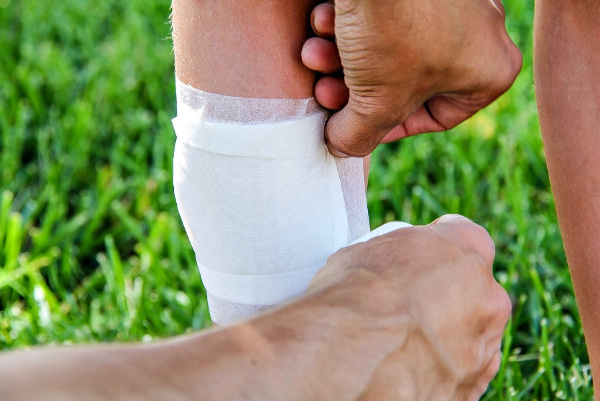 Want to see where we are at with our summer bucket list after nearly 3 weeks since school finished for summer? I think we are doing pretty well so far, and we've got a road trip scheduled, fishing boat booked, and dates on the calendar to knock off outdoor movie nights and scenic drives.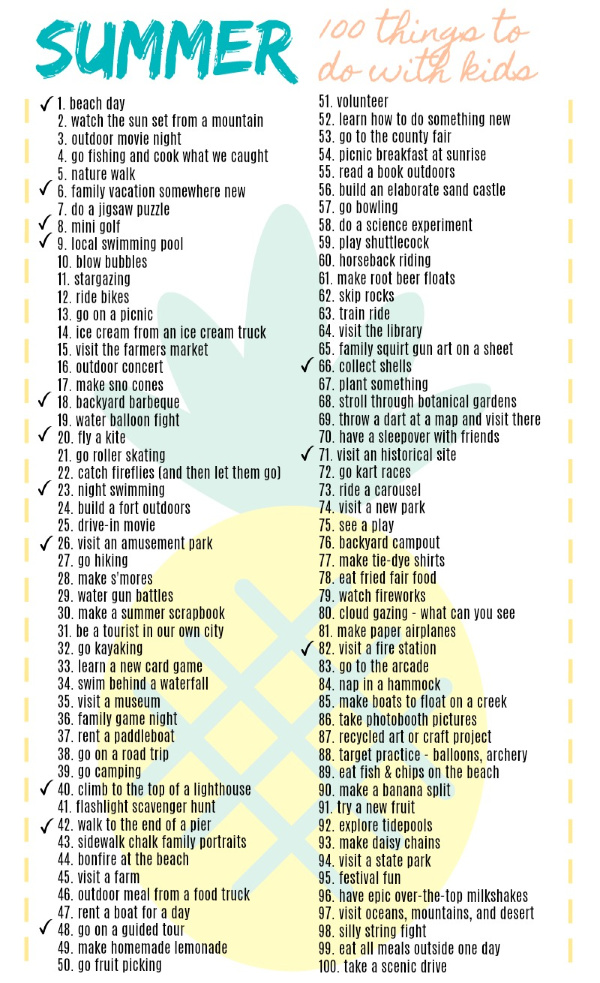 What are your summer plans? I'd love to add even more fun to our bucket list, or even start preparing early for next summer.
Save
Save
Save
Save
Save
Save
Save
Save
Save
Save
Save
Save
Save
Save
Save