Looking for creative ways to serve chicken salad? Here are four that will wow your kids and guests along with an easy-to-follow recipe.
Disclosure: This shop has been compensated by Collective Bias, Inc. and its advertiser. All opinions are mine alone. #CampbellsShortcutMeals #CollectiveBias
It's almost back-to-school time, and this means it's time to get out of our lazy summer routine of eating way too late (or way too early), sleeping until midday, and picking our way through the day without worrying about the standard three meals a day we are used to when we are in a school routine.
Making too much food on weeknights and weekends is my saving grace some days. It means leftovers the next day.
The twins' do purchase lunch at school most day, but sometimes they don't like what is on the menu so will take lunch from home, and my oldest son often packs lunch to take to college with him.
One of Jay's favorite things to have in sandwiches is chicken salad. And, apparently the only way he likes to make it is with Swanson® Premium Chicken. Which, I didn't even know until he saw me making it one day and asked "why don't you buy this more often? It's the one I use at my best friend's house to make sandwiches all the time". My first thought was, well why aren't you making these at home then too? But it's now a regular on the grocery list because it's already cooked and ready to use for quick and everyday meals, which is perfect for him, especially when I'm traveling.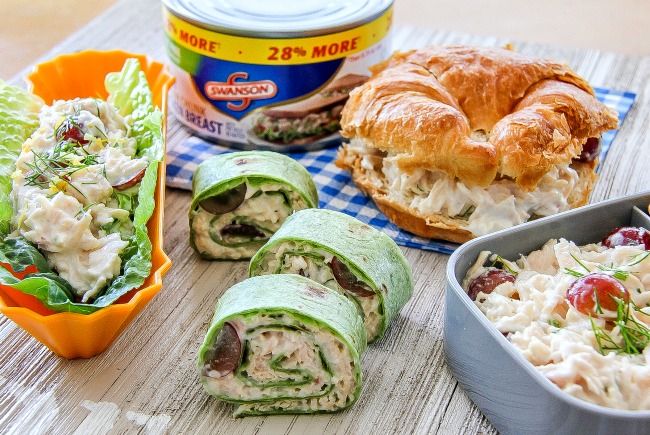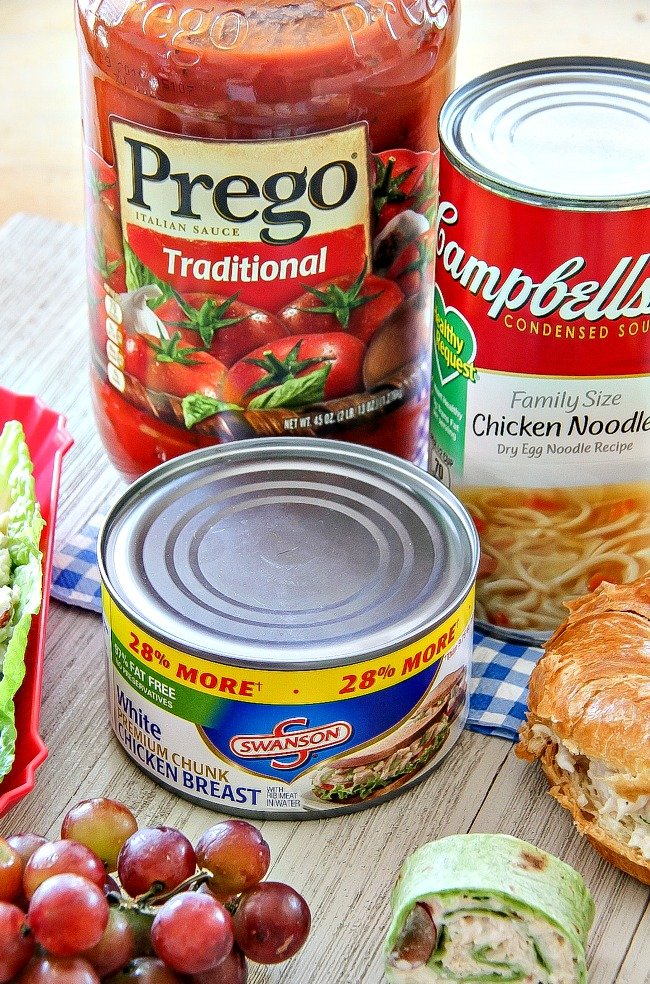 Ready to shop for delicious Campbell Soup Company products like Prego® Italian Sauce, Campbell's® Condensed Chicken Noodle Soup or Swanson® Premium Chicken? Hover over the photo above to click through to Walmart.com and purchase them!
Here is my really simple nut-free recipe for chicken salad, that complies with most school's nut-free policy.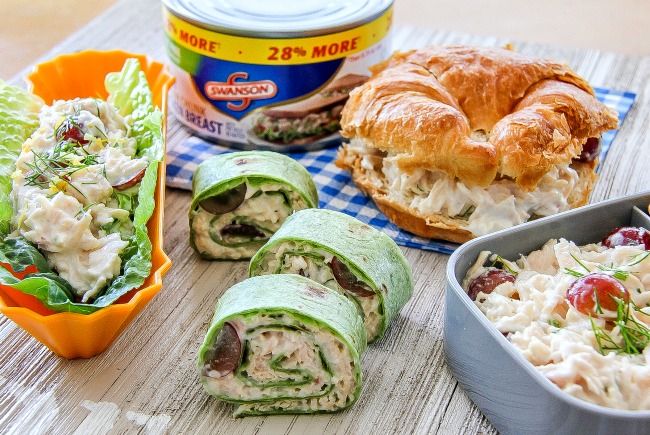 Ingredients
2 12.5oz Swanson® Premium Chicken 1/2 cup mayonnaise 1 tbsp ranch dressing 1/2 cup red grapes (sliced in half) 1 green onion (green and white parts thinly sliced) 1/4 teaspoon garlic powder juice and zest of 1 lemon 1 tsp fresh dill pinch of salt & pepper
Instructions
Combine all ingredients in a bowl and refrigerate until ready to use.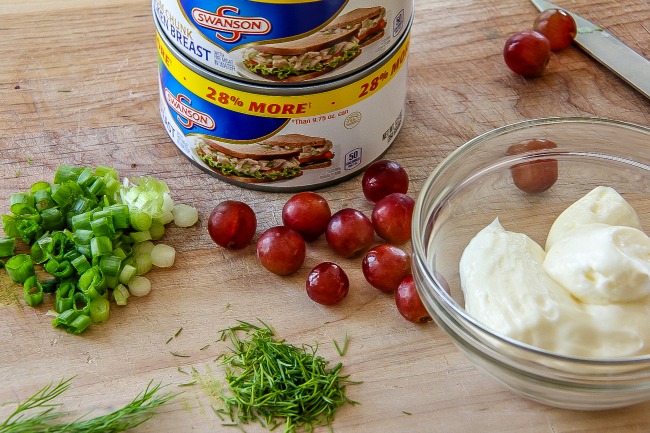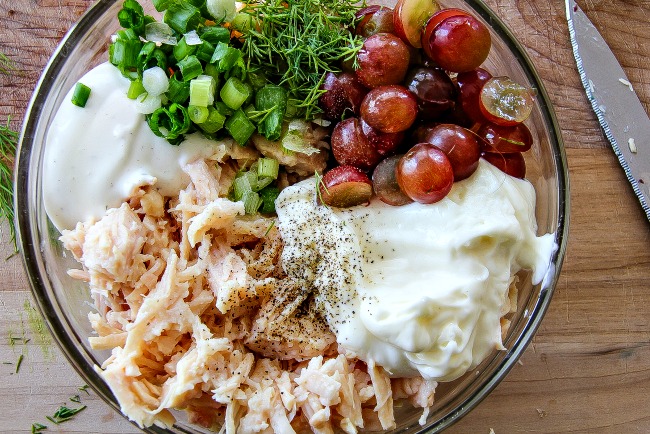 Note: Chicken salad will save in the refrigerator for 3-5 days and can be frozen too if you substitute mayonnaise (because it separates when frozen), you just need to drain the excess water out of it after defrosting in the refrigerator and add a little mayonnaise to thicken it again.
Here are 4 ways to use that chicken salad.
Chicken Salad Pinwheels
Spread onto spinach wraps, roll them up, and slice to make pinwheels.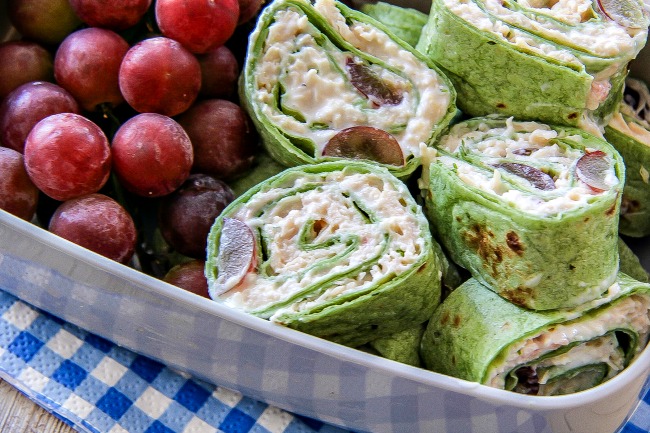 Chicken Salad Dip with Crackers
Because we all love to snack … actually this is my favorite way to have it, especially when I'm working at my desk.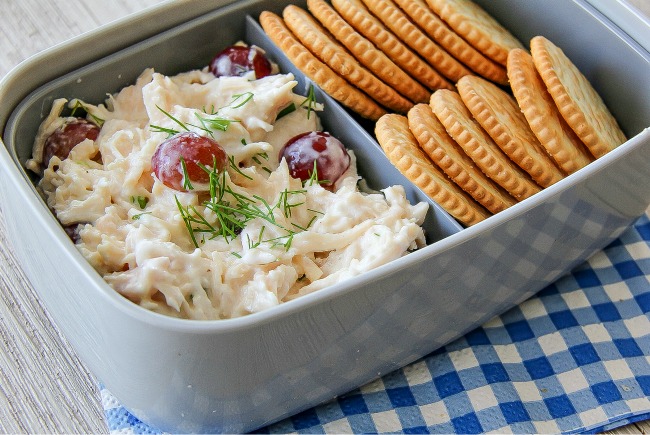 Chicken Salad Lettuce Wraps
For those who are gluten-free or looking for a lighter alternative, try a tuna salad lettuce wrap.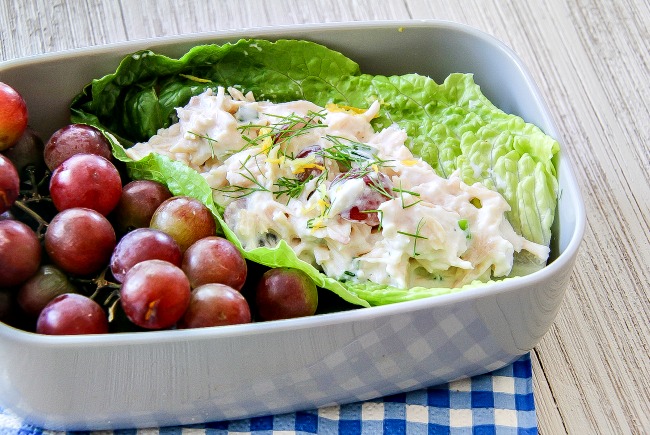 Chicken Salad Croissant
And then there's my son's favorite, in a sandwich or croissant. So simple, you can add lettuce if you like, or just enjoy the chicken salad as is.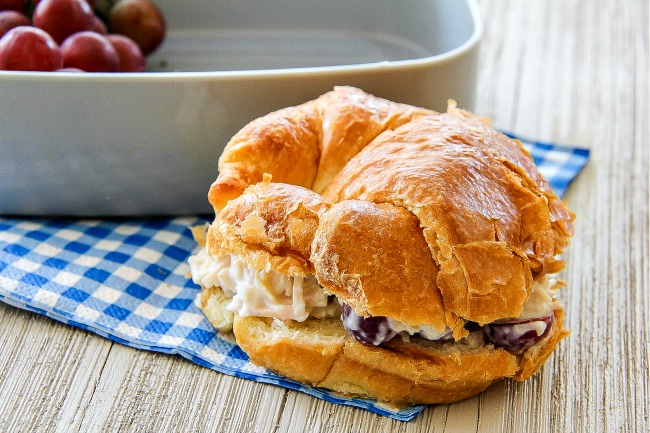 Looking for more ideas for using leftovers for school lunches? Here are a few of our favorites … if served hot we heat and put in a small thermos:
Pasta – I make a great semi-homemade sauce using ground beef and Prego® Italian Sauce

Meat used in sandwiches, with rice, or turned into a quick and easy salad – we always put any dressing in a small separate container

Soup (such as Campbell's® Condensed Chicken Noodle Soup), with fresh crunchy bread
You can find Swanson® Premium Chicken in Walmart where other canned meats and seafood are sold and more great ideas here.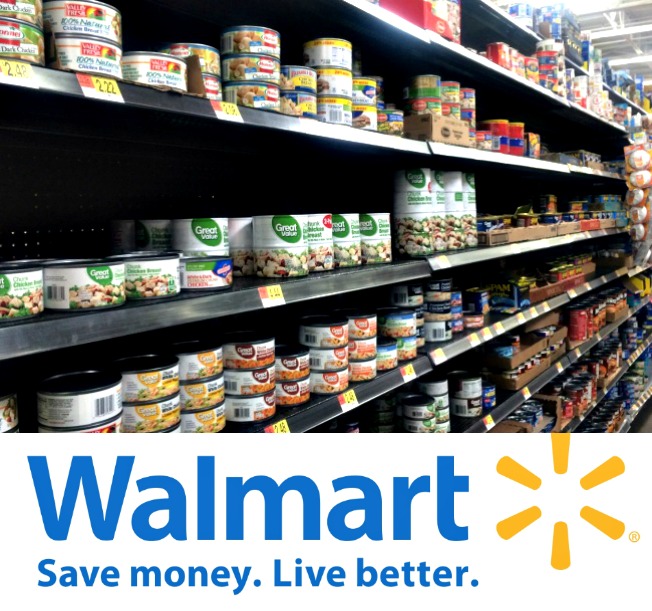 Pin this post for later:
Save