Looking for things to do in Temecula, California? We have over 50 classes, activities, and kid-friendly places to visit with the whole family.
My kids are stay-at-home to play video games and FaceTime their friends kinda kids. They do NOT want to leave the house over summer break.
Sorry kids, but I am NOT that parent. Thankfully, working from home gives me the ability to adjust my schedule as needed so I can get them out of the house (usually against their will).
My daughter and I just had a discussion about expectations for summer break now that school is officially out (as of today). She mentioned that she does not want to go hiking at all, and even though I love hiking, I won't subject her to it (much haha), so we compromised. She actually loves running, so I suggested a couple of flat areas where I can still get in a walk with the dog but she can go running. We all get to be outside and get active, but it was just a matter of compromising on where and how this will happen.
Being the planner that I am, I like to keep lists of all the things we have and haven't done and ideas to keep the kids busy during school breaks and weekends, so I thought I'd share it with you too. If you are a Temecula local or are visiting during summer break, here's a list of more than 50 things to do, right here in our town. Some of them do cost money, but not all of them.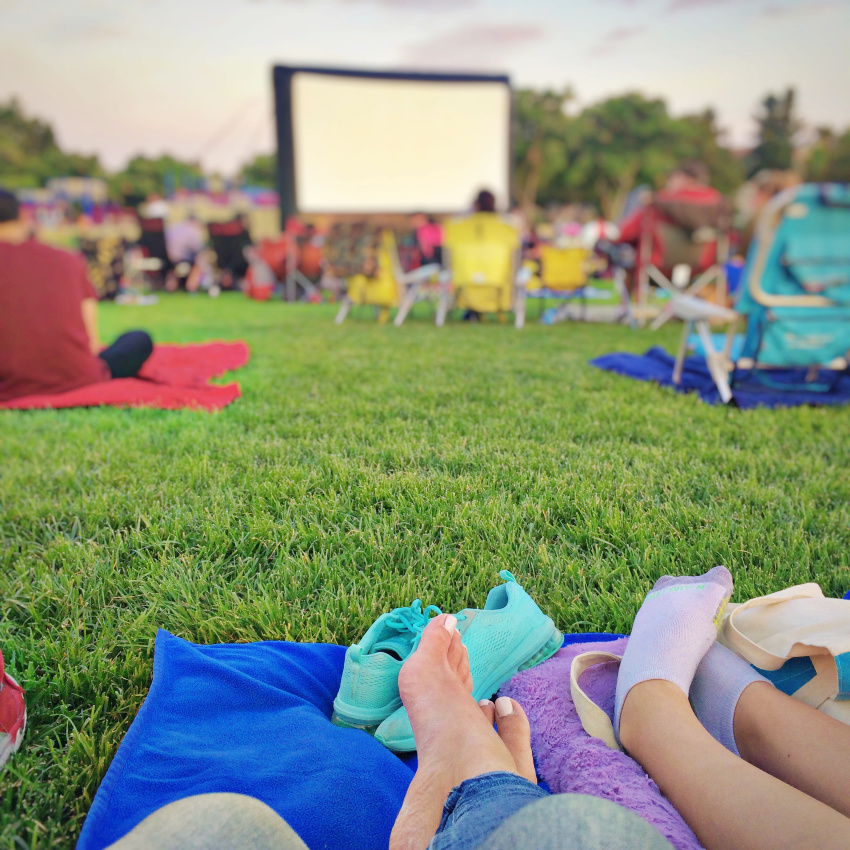 Things to do in Temecula
FREE MOVIES IN THE PARK – This is one of our favorite free summer activities. Don't forget to take a picnic dinner, blankets, and low chairs.
BOWLING – Head over to Temecula Lanes for bowling, but don't forget to sign up for Kids Bowl Free before you go.
PENNYPICKLE'S WORKSHOP – They are going to have so much fun at Pennypickle's Workshop that they won't even realize they are learning at the same time.
ROSE HAVEN HERITAGE GARDEN – Need to get outside for an hour or two? Take a picnic and spend time smelling the roses at Rose Haven Heritage Garden. There's even a small turtle pond for the kids to look at.
GEOCACHING – Download the Geocaching app to your phone and set out in search of treasures. Don't forget to take some items with you to leave behind.
TEMECULA RECREATION CENTER – Check out the great classes that the Temecula Recreation Center has. Don't forget they also have a swimming pool and teen room too. Ronald Reagan Sports Park also has a skate park, ball fields, and picnic areas.
CONCERTS IN THE PARK – Every summer there are great summer concerts that are free to the public. Here's the full list of dates and locations for the summer concert series.
PEDAL BOATS – The Harveston Lake has pedal boats available for rent. There is also a mile long path around the lake for walking or jogging, a playground, and picnic areas.
LAKE SKINNER PARK – Lake Skinner is one of our favorite places for an early morning walk. They also have a small nature center with activities for the kids, camping, fishing, and picnic areas.
GRAB A TREAT – Kids will love yummy treats at The Donut Bar, IC Rainbow (for rolled ice-cream), and the Old Town Sweet Shoppe.
THE PROMENADE KIDS CLUB – Join The Promenade Mall Kids Club for fun weekly activities such as shows and crafts.
VAIL HEADQUARTERS – We absolutely love the events at Vail Headquarters. Check their website for all their current events calendar. We've previously been to the Farmer's Market, Sunday Fun Day, outdoor movies, free concerts, and the Starlight Bazaar. They have a little train for the kids, ice-cream and smoothie stores, and outdoor games too.
KIDS CLINICS – Don't forget to book the kids into local kids clinics and workshops offered by Lowe's, Michael's Craft Stores, Joann's, and Home Depot.
TEMECULA PUBLIC LIBRARY – The Temecula Library offers so much more than just borrowing books for summer reading, they also have movie and trivia nights, fun kids classes, and they have computers too.
GOLF – Got golf clubs? Head to the Redhawk Golf Club driving range to hit a bucket of balls.
TEMECULA TROLLEY – Getting around Temecula has never been more fun than jumping on the Temecula Trolley which runs between Harveston and The Promenade.
PLAYGROUNDS – There are so many new parks popping up all over Temecula. Go explore a new one.
TEMEKU CINEMAS – Missed a movie when it was in theaters, or want to see an oldie that you haven't seen in a while, then Temeku Cinemas is the place to go. Check their website for the latest movies being shown. Ticket prices range between $3.95 and $6.75 depending on the time of day and whether it's a 3D movie.
EAGLE SOAR SPLASH PAD – The Eagle Soar Splash Pad and Playground is a wonderful space for children of all abilities so please, if you take your children here remember there will be children of different abilities using this space too, let's remind our kids to be patient and inclusive.
WINERIES – Temecula is known for its wineries and some of them are family friendly. Visit their websites to see when they are having family days, those that allow picnics, and when they are having special events.
GEARS 2 ROBOTS – Not only are there fantastic STEM workshops and classes at Gears 2 Robots, but they even offer free ones every Saturday, you just need to sign up.
$1 MOVIES – The annual Regal Cinemas Summer Movie Express is back at Edwards Temecula. Check the website for the dates, times, and movies playing.
BLUEBERRY PICKING – Picking blueberries at the Temecula Berry Company is one of our favorite summer activities. Don't forget they have animals, movie nights, and delicious treats like Muffin Monday's to enjoy too.
PAINTED ROCKS – Have you joined the Temecula ROX community on Facebook? This is a fun way to get creative and spend time outdoors with the kids searching for and hiding painted rocks.
TEMECULA VALLEY HISTORICAL SOCIETY – Visit the Red Barn (next to Kohl's) to learn more about the history of Temecula – Open Sunday 10am-5pm.
SUGAR PLUM FARM – Did you know we have our own little zoo right here in Temecula? Give Lani of Sugar Plum Farm a call so she knows you're coming out to visit the animals and don't forget to try the delicious chocolate too.
PAINT POTTERY – Get creative and paint some pottery at Painted Earth or Temecula Clay, it's so much fun.
KENNY'S STRAWBERRY FARM – Not only can you pick strawberries at Kenny's Strawberry Farm, but they also have some really fun events and workshops too.
TRAMPOLINE PARK – Get air at the Temecula Get Air Trampoline Park, they'll sleep well that night.
TEMECULA VALLEY MUSEUM – Learn about the history of Temecula at the Temecula Valley Museum.
FEED ALPACA – Take a tour of Alpaca Hacienda and feed the alpacas while you are there.
CHILD'S PLAY INDOOR PLAYGROUND – Need to cool off indoors? Head to Child's Play Indoor Playground during their open play times.
TEMECULA CREEK TRAIL PARK – Looking for trails with a spot to relax and have a picnic or BBQ after? Then try Temecula Creek Trail Park.
ESCAPE ROOMS – This is something on our summer list. There are several Escape Rooms to try in Temecula including Back Alley Escape, Brainy Actz Escape Room, Mindtrap Escape Room, and Get A Clue Escape Room.
HORSE RIDING – Kids will love heading out onto the trails with you to experience horse riding. You can book trail rides with kids through Susie Q Ranch or Green Acres Ranch.
VAIL LAKE KOA – Go camping at Vail Lake KOA, they have swimming pools, mini golf, and outdoor activities. If you just want to visit for the day you cannot access the lake yet, but you can hike the trails, just sign in at the ranger station.
PAINT & SIP – Their name might be Paint & Sip, but they also host family events too where you can paint with your kids.
BARNES & NOBLE SUMMER READING – Don't forget to keep them reading this summer with the Barnes & Noble Summer Reading Program. When your kids read 8 books, they get a book for free.
OLD TOWN TEMECULA COMMUNITY THEATER – Catch a show at the Old Town Temecula Community Theater.
TEMECULA DUCK POND – Take a wander around the duck pond and through the Japanese Friendship Garden. Don't forget to pack a picnic, but please no fishing or feeding the ducks.
LUV 2 PLAY – Looking for another indoor playground to try? Head to Luv 2 Play during their open play times.
SANDY CREEK RANCH -The animals at Sandy Creek Ranch would love to see you.
THE COVE AT PECHANGA – Dip your feet in the water, or enjoy the waterslides, spas, and splash pad at The Cove at Pechanga. It's open to the public for $40 per person for a day pass.
GET FIT – Kids will love getting fit with classes and camps at Evolve Youth Fitness (they also have an autism specialist).
HOT AIR BALLOON RIDES – Soar high above Temecula in a hot air balloon. There is no age limit, but there is a height requirement of 48″ to ride. You can book through A Grape Escape.
URBAN ADVENTURE QUEST – Ready to do a scavenger hunt around Temecula? Join Urban Adventure Quest and get started today.
DIY WORKSHOP – Visiting the AR Workshop has been on my bucket list for a while, and they host youth workshops.
GUNFIGHTER'S SHOW – The Old Town Temecula Gunfighter's will be performing a wild west stunt show on select dates.
BIKE RIDING – Grab your bikes and explore over 90 miles of trails in Temecula. If you don't have your own bikes rent them from Pedal to the Metal.
APPLE STORE – Did you know that the Apple store offer classes? They have everything from coding, to iphoneography, and art labs for kids.
Even more activities to do with kids this summer
Need even more great ideas? Check out the calendar of events on The Patch for local bazaars, festivals, carnivals, and more.
Also, check out our 100 things to do this summer list. The kids won't have time to tell you they're bored.
If I missed anything, please feel free to add it to the comments section, we love to support local businesses.
Please pin this post so others will find it too.