Entertaining last-minute guests is a breeze with these entertaining at home tips. You'll look like you've got it all together, even if you don't.
Disclosure: This post was sponsored by Blue Diamond® as part of an Influencer Activation and all opinions expressed in my post are my own.
It's summer break. That means more pop-ins than usual from neighbors, family, and friends who just happen to be in the area.
Keeping a few staples in your kitchen can get you through this. It will make it look like you've got it all together, even if you don't.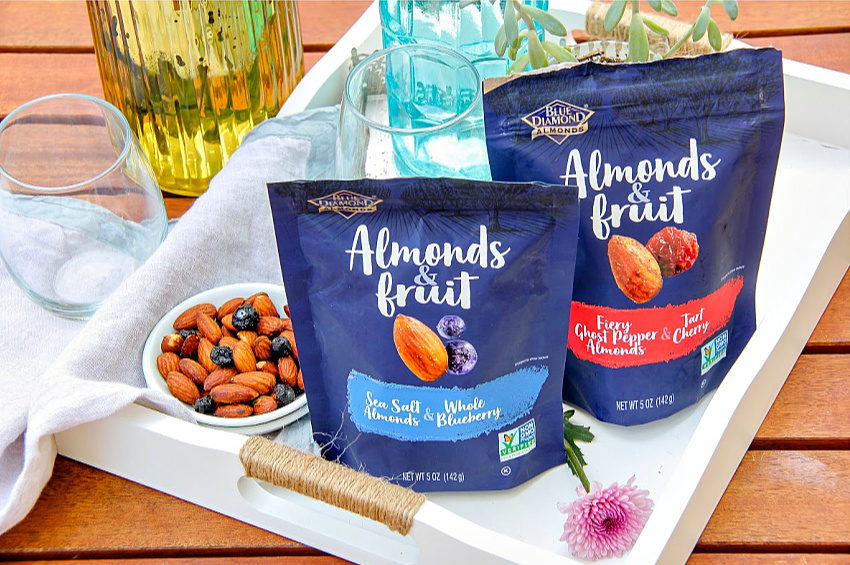 When I was growing up, my mum always seemed to be prepared. There was always a vase of fresh flowers in the middle of the table (even if we had to run outside quickly and pick some from the garden), and whenever people would pop in during the day, tea, coffee, and snacks were always set out. It all seemed to come together effortlessly too. Now that I'm grown though, and have my own family, I know that these things don't 'just happen', but you can at least make it appear that way.
Entertaining at home must-haves
Here are 5 things I always have on hand, and most of these only need to be purchased once, you are essentially only having to ensure you replenish snacks and fresh flowers.
Fresh flowers
Flowers will brighten your mood and your home, and leave a beautiful fragrant scent in the air. A vase can be quickly moved to wherever it is you are sitting whether outside or inside. Pick them out of your garden if you need to. My mum always had the kids run outside for fresh flowers from the garden when guests were coming over.
Snacks
Pre-packaged snacks are a pantry staple (not only for me to graze on) but also for those last-minute pop-ins where you feel obligated to set a little something out. These Blue Diamond Almonds & Fruit are the perfect thing to have on hand. I love the Almonds & Fruit Sea Salt & Whole Blueberry along with the Almonds & Fruit Fiery Ghost Pepper & Tart Cherry.
Serving tray
Everything just seems to look better when it's put on a tray. It also makes carrying everything so easy whether it's to the coffee table, the living room, or the back patio. Clean-up is a breeze too, just pop everything right back in, and away you go.
Napkins
Preferably pretty fabric napkins, but disposable absolutely work in a pinch (let's set those paper towels aside).
Water bottles
Whether you use a carafe or water bottles with the stoppers on them, these instantly kick your table up a notch, rather than just pouring water from the dispenser on the refrigerator straight into each glass. Plus, guests can refill their glasses as they need to without having to get up and go back into the kitchen.
Entertaining at home tips
Here are a few more ideas for entertaining unexpected guests at home: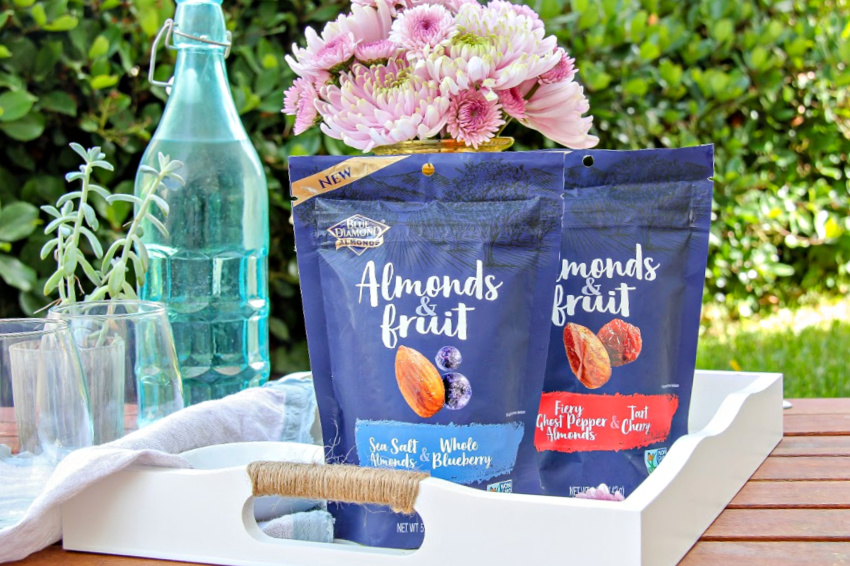 Packages of Blue Diamond Almonds & Fruit are the perfect way to add a touch of elegance for entertaining those guests who just pop in.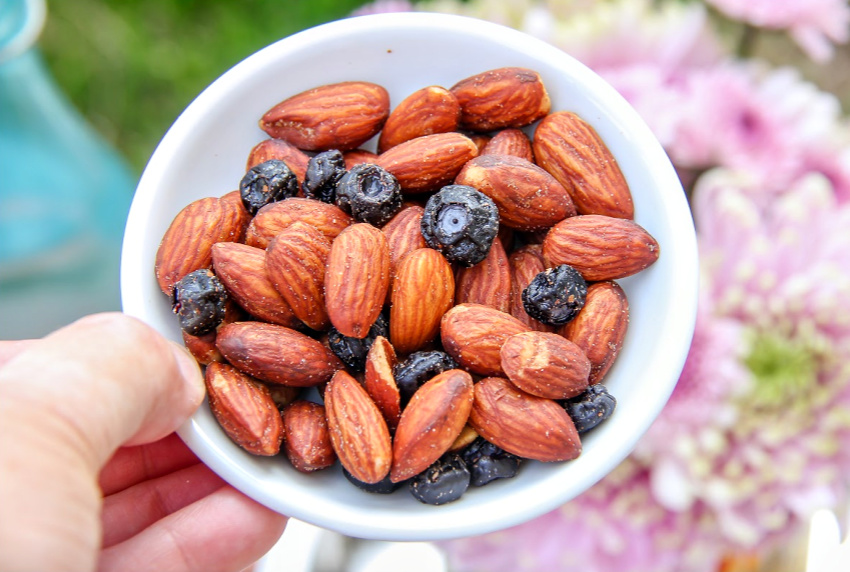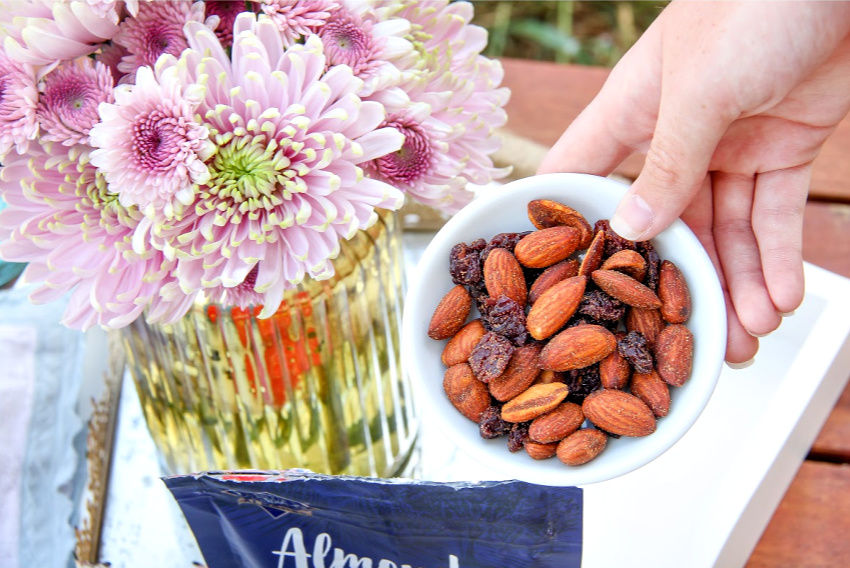 About Blue Diamond Almonds
Blue Diamond Almonds & Fruit use the finest California almonds and real fruit pieces and each serving is packed with an abundance of nutrients and robust flavor. You can find them in the nuts (snacking) aisle at Walmart. Grab this great ibotta offer too.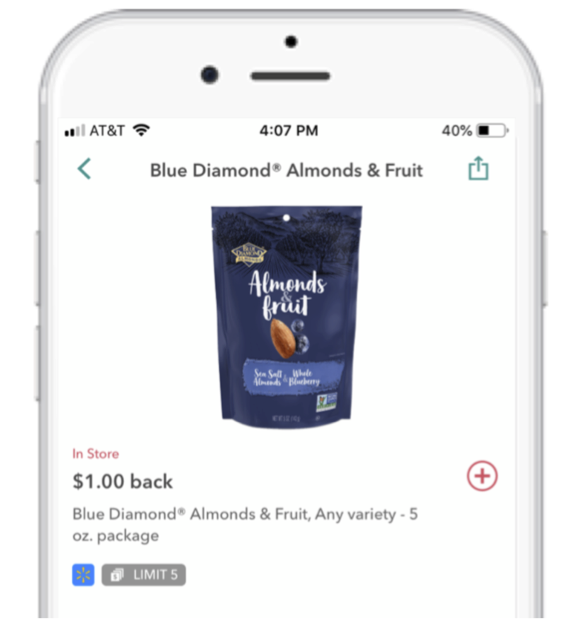 Please pin this post for later: