These teddy bear picnic birthday party ideas are perfect for a spring or summer party that kids will love.
The twins turned 4 on Saturday. 4!!!! I can hardly believe it.
We celebrated with a Teddy Bear Picnic themed birthday party.
The twins had a marvelous day and were on such a high for the remainder of the weekend.
THE INVITATIONS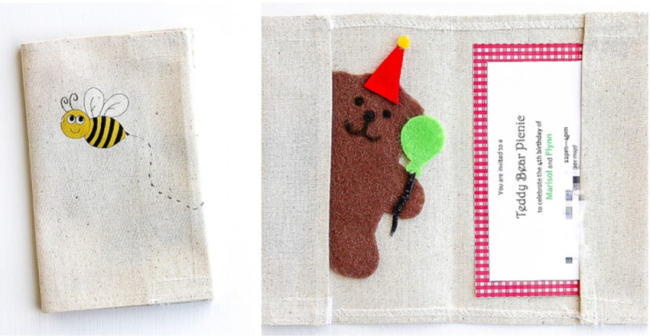 Instructions to make these invitations can be found here.
THE PARTY HATS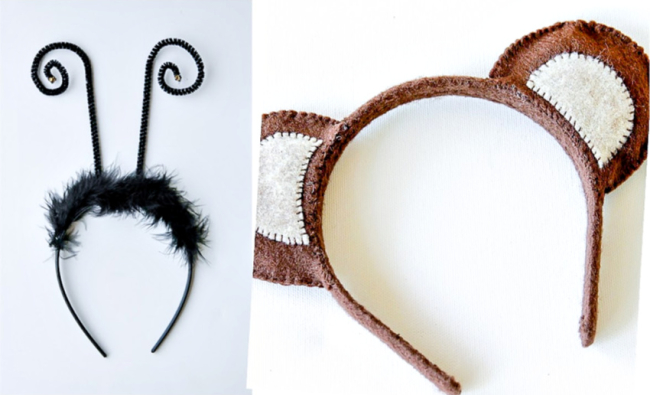 Instructions to make the Bumble Bee Headbands can be found here and the Teddy Bear Ear Headband can be found here.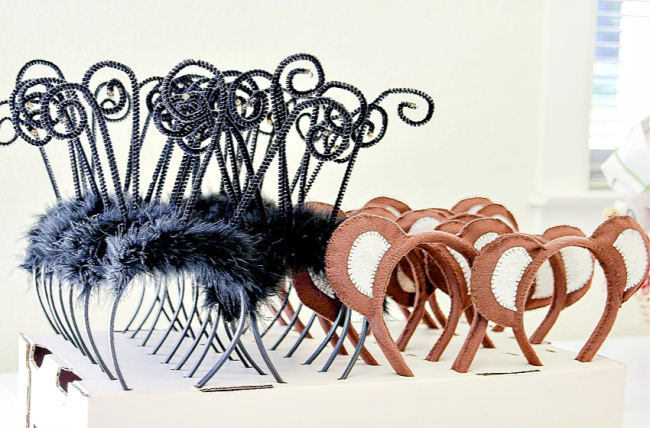 A produce box from the market turned upside down, painted and holes punched into it proved to be the perfect way to stand the headbands up.
THE CAKE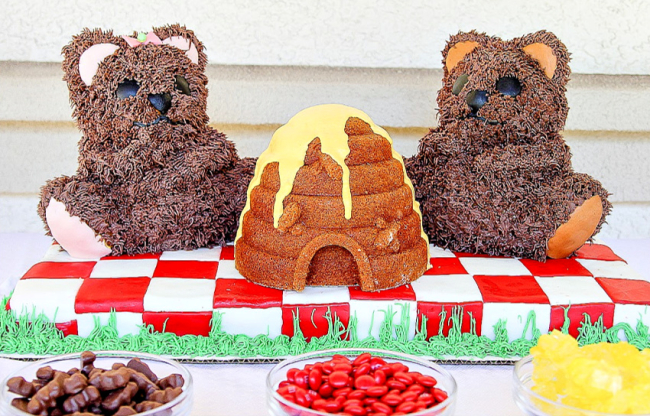 I loved how it turned out. I had my head stuck in the refrigerator for a day as I iced it because the house was so warm and I needed to keep it cool, but the kids loved it, and that is all that matters.
DECORATIONS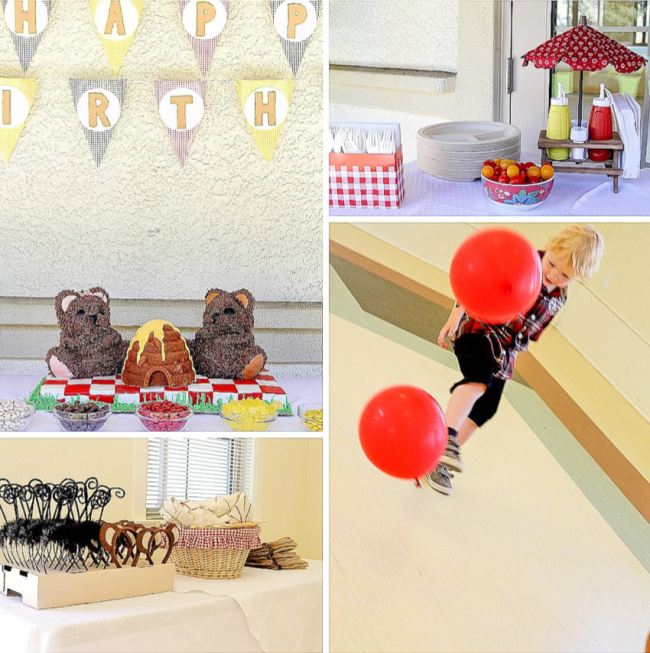 Decorations were kept fairly simple. There were lots of balloons, red and white check tablecloths on the ground with matching cushions, plain white tablecloths, a handmade banner above the cake table and picnic themed tableware.
THE FOOD
For the kids: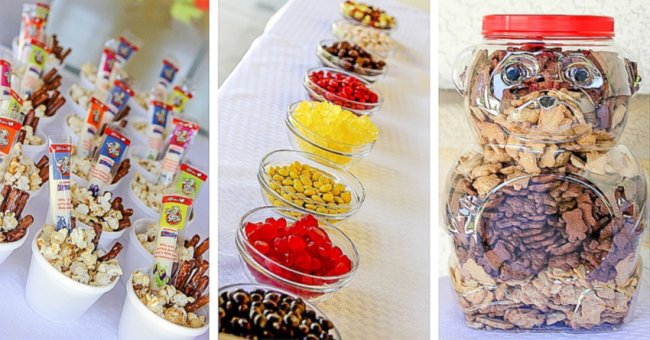 Snack cups: (pictured above) containing cheese sticks, popcorn, and pretzels.
Teddy bear sandwiches: assorted whole wheat and white bread cut into the shape of teddy bears. Half were filled with cheese, the other half with nutella.
Assorted snacks: Candy, Sun Chips and Teddy Grahams.
For adults:
Peach and Brie Quesadillas: Flour tortillas filled with peach and brie slices, with honey on the side for drizzling.
Sausage Rolls: A typical Australian party food – served with tomato sauce ketchup
Tea Sandwiches: Assorted whole wheat and white bread filled with roast beef and mango chutney
Salsa and Corn Chips: Homemade corn and black bean salsa with corn chips for scooping.
Produce: A bowl of fresh red and yellow cherry tomatoes and another with peaches.
Beverages:
Lemonade, Chocolate Milk, and bottles of water both large (for adults) and pop-top (for the kids).
To help reduce spills, we put out plastic cups with lids and straws.
ENTERTAINMENT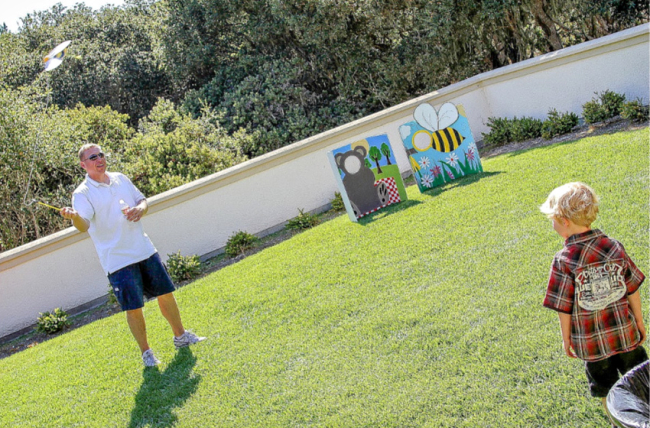 Teddy Bears: It was a Teddy Bear Picnic afterall, so each guest brought their favorite bear with them.
Balloons: we took 2 Balloon Time helium balloon kits with us so my husband was able to blow up balloons on request. We took extra balloons in the party colors and scattered them in a large empty room. The kids loved that.
Photo Boards: Here are the instructions for the Bumble Bee photo board. I sketched and then had my son paint a Teddy Bear one the morning of the party too.
Craft Table: Coloring pages and a couple of small craft projects.
Bee Movie: We lay red and white checked tablecloths and pillows on the grass and played the Bee movie while the kids ate their lunch. It was a big hit. And it was only $5 at Target.
Playground: There was a playground at the location we had hired. Thankfully there was also a large tree to provide shade on what turned out to be one of our hottest days.
Grass area: There was also a large grass area where the kids could run, where we lay out the sheets and pillows for the movie and also where we put out some extra large balls for the kids to kick around. We also had a couple of bumble bee flying toys.
Music: We played Marisol's favorite CD – the one she listens to (almost) daily in her bedroom while she hosts tea parties for her dolls, and that the kids listen to outside when they are splashing in their little pools.
TREAT BAGS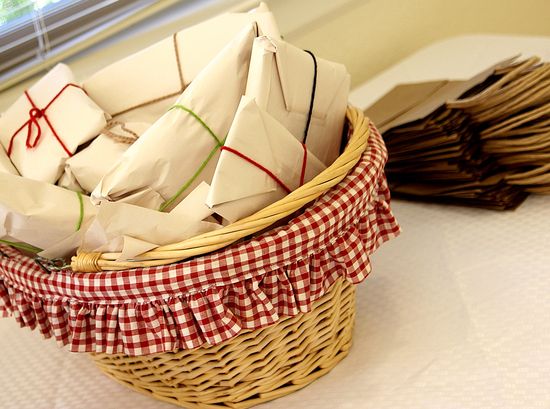 After scouring various stores for a couple of weeks, I came up with quite a collection of bee and bear themed gifts for the kids, ranging from stuffed toys, jigsaw puzzles, sticker sheets, craft activities, books, and bags of Teddy Grahams to name a few. Each gift was wrapped in paper and tied with yarn and placed in a large picnic basket. As the little guests left they were able to choose a gift from the 'lucky dip'. Bags were also provided to hold gifts, craft projects, and headbands and to tie balloons so it would be easier for the kids to take their goodies home.
Please pin this post for later: