Host the ultimate Cinco de Mayo party with margarita cupcakes, delicious food and drinks, and I have all the best tips thanks to Chef Marcela Valladolid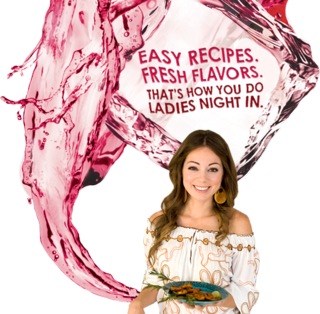 Last week I hosted Happy Hour at my house in conjunction with Ladies Night In (with Chef Marcela Valladolid of Food Network and Sauza Tequila) which was hosted by my friends Dawn Sandomeno and Elizabeth Mascali (Party Bluprints) and Beth Feldman (Role Mommy) on the east coast.
Chef Marcela was live at the east coast Ladies Night In where she whipped up some delicious recipes and answered questions from viewers during the live broadcast – which you can view here.
I set up a laptop on my bar so that we could watch the festivities on the east coast while we enjoyed some yummy food and sampled a few cocktails using Sauza Tequila (which was provided) here on the west coast.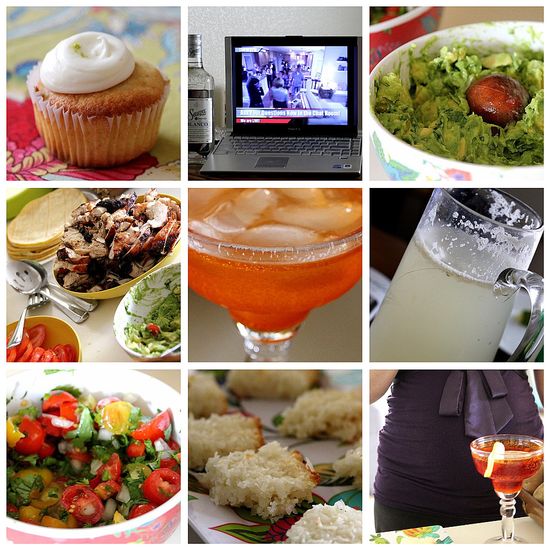 Now, let me share with you some of the recipes (and/or links to recipes) for the food and drinks served at my party.
APPETIZERS
Pico de Gallo (by: Chef Marcela) – as you can see from the above photo we used both yellow and red tomatoes.  This salsa was absolutely delicious.
Guacamole and Chips.  I'd leave you with a recipe, but my fabulous friend Michelle made it and I couldn't re-create it if I tried.   Here is Chef Marcela's recipe though if you'd like to try it.
ENTREE
Tequila Lime Chicken Tacos – recipe provided for the party
Ingredients: (serves 4)
4 boneless chicken breast halves
salt & pepper to taste
1/2 cup Sauza Gold Tequila
1/2 cup fresh lime juice
2 tbs orange zest
2 fresh lime wedges for serving
4-6 warm corn tortillas
1 avocado, cut into slices
Preparation:
Season chicken breasts with salt and pepper on all sides.  Combine chicken, tequila, lime juice and orange zest in small shallow dish.  Cover and marinate at least 30 minutes and up to 2 hours, turning occasionally.
Prepare barbecue (medium-high heat) or prehead broiler.  Drain chicken; reserve marinade.  Grill or broil until just cooked through, occasionally basting chicken with some reserved marinade, about 4-minutes per side.  Boil remaining marinade in small saucepan 1 minute.
Cut each chicken breast crosswise into thin slices.  Arrange slices on platter.  Garnish with lime wedges.  Serve chicken with tortillas, lime, avocado, and passing marinade separately as sauce.
Note: We also provided lettuce, tomato, guacamole, salsa and cheese to use as toppings for the tacos.
DESSERT
Coconut Bark (by: Chef Marcela)
Margarita Cupcakes (recipe courtesy of the Sauza Tequila Facebook page)
BEVERAGES
* Sauza-rita
Ingredients: (9 servings)
12 oz can of frozen limeade
12 oz of water
one bottle of light beer
12 oz Sauza Silver Tequila
Preparation:
Pour limeade can into pitcher.  Fill can with water and pour into pitcher.  Then add a bottle of light beer.  Fill limeade can with Sauza Silver Tequila and pour into pitcher.  Stir and serve over ice.
* Marcela Margarita
Ingredients: (4 servings)
6 oz Sauza Silver Tequila (enough to fill a half grapefruit)
32 oz Club Soda
4 tbs granulated sugar
4 grapefruits (juice only) or 12 oz grapefruit juice
Preparation:
Combine all ingredients in a pitcher.  Mix well and serve cold.
* Citrus Cooler
Ingredients: (serves 6)
4 oz white wine
8 oz limeade
8 oz lemon-lime soda
4 oz Sauza Silver Tequila
Preparation:
In a pitcher combine white wine, limeade, soda and tequila.  Serve over ice.
* Warm Winter Margarita
Ingredients: (serves 4)
28 oz apple juice
1 cinnamon stick
2 tbs granulated sugar
2 cups dried fruit of your choice (we used a bag of mixed dried fruit)
6 oz Sauza Silver Tequila
Preparation:
Combine apple juice and cinnamon in a heavy pot.  Bring to a boil, reduce heat, and simmer for 10 minutes.  Remove cinnamon stick carefully.  Add sugar, dried fruit, and tequila.  Mix well.  Serve warm.
* Non-alcoholic beverages – which were also offered at the party.
I want to send a big thank you to our friends Michelle and Tom – Michelle who helped me with the food preparations and Tom for helping my husband as bartender.
Disclosure: Ladies Night In was sponsored by Sauza Tequila
Save