Spring must be in the air because I'm organizing again.  I've been talking about it for a while, and I have finally finished it; Marisol's jewelry organizer.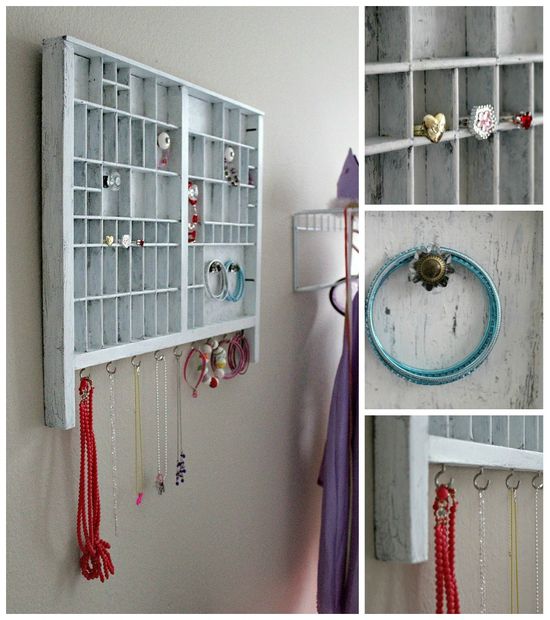 As you can see it is very similar to mine.  I had purchased this typeset tray at the same time as the last one for $15.  This one is a little smaller though and had a lot of smaller sections in it.  I wanted this jewelry organizer to be something she can grow with.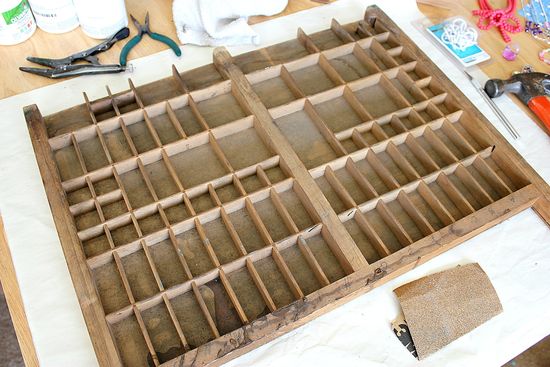 I removed some of the smaller sections in the tray to make a few larger compartments for bangles and then followed the same instructions as for my jewelry organizer.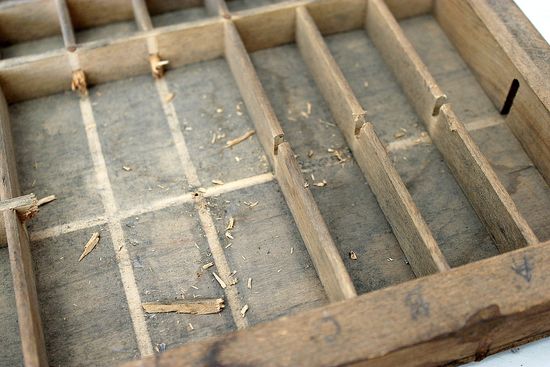 I decided to leave quite a few of the narrow sections for earings (for in the future).  I loved the tiny compartments in this one for her to place her little dress-up rings.  Eventually I will add tiny rods to those sections so that rings don't fall out, but for her little fingers now it is easier for her to be able to slide them in and out.  
Paint used: Olympic Paint – white and dover grey.  I had purchased a few colors unsure of what I would use.  I especially loved the color 'two to tango', but decided to go with something a little more neutral for now as her tastes may change later and I'm hoping that this will be a piece she uses for a long time and will be able to match her decor no matter what other colors are the flavor of the month.   I love too that the color of her jewelry really pops against this background, and white is so much easier to paint over later if she wants it in a more vibrant color.
Hardware: Instead of using small eye screws and decorative hangers on this one (because she doesn't have earings yet), I found some vintage inspired knobs that she could hang her bracelets and bangles on, and attached them using E-6000 glue . 
You can see more photographs of Marisol's bedroom here and her new curtains here.
********************
TWITTER PARTY
Spring for me is a time for decorating, organizing, and brightening things up.  Join us at 2pm EST today (Thursday March 15) for a twitter party with Olympic Paint and The Motherhood where we will be discussing hot spring colors and design tips.  RSVP here.

WHAT: A Twitter party with Olympic Paint (@OlympicFinishes) and The Motherhood (@theMotherhood)!  We will discuss hot spring color trends and design tips with the experts.  Bring your questions, advice, thoughts and ideas to share with the group!
WHEN: Thursday, March 15, at 2 p.m. ET (11 a.m. PT).  The party will last one hour.
WHERE: The party will take place on Twitter.  Follow the #SpringColor hashtag to watch the conversation unfold and make your own comments.
HASHTAG: #SpringColor
GIVEAWAYS: Five giveaways will be awarded throughout the hour of the Twitter party, based on correct responses to trivia questions.  (Correct answers will be collected, and a winner will be randomly chosen for each prize.)  Each winner will receive a free can of Olympic paint in the color of their choice.  Contest entrants must follow @InspiredColor and @theMotherhood to be eligible to win.
BONUS: Follow Olympic Paint & Stain on Facebook (https://www.facebook.com/olympicpaintandstain) and Pinterest (http://pinterest.com/inspiredcolor/) for more great design ideas!
PANELISTS:  Don't forget to follow all of the panelists – @freckleberrymom, @mamabmy, @CreativelyB, @debthompson,