This delicious black bean salsa recipe made with fresh ingredients is the perfect accompaniment to Taco Tuesday.
Yesterday was our weekly Mexican food night. It also happened to coincide (completely by accident of course) with National Margarita Day.
We go between tacos, quesadillas, and burritos on Mexican food night. Last night it was Chicken and Mushroom Quesadillas, the recipe I used is available at Family Circle.  We use whole wheat lavash bread when making quesadillas in the panini press, which is available at Trader Joe's. The kids love the taste and it fits in our panini press perfectly.
I threw together some homemade salsa to go with it that's full of fresh ingredients. I'd picked up some delicious mini heirloom tomatoes from Trader Joe's a few days ago which gave the salsa a beautiful mix of colors.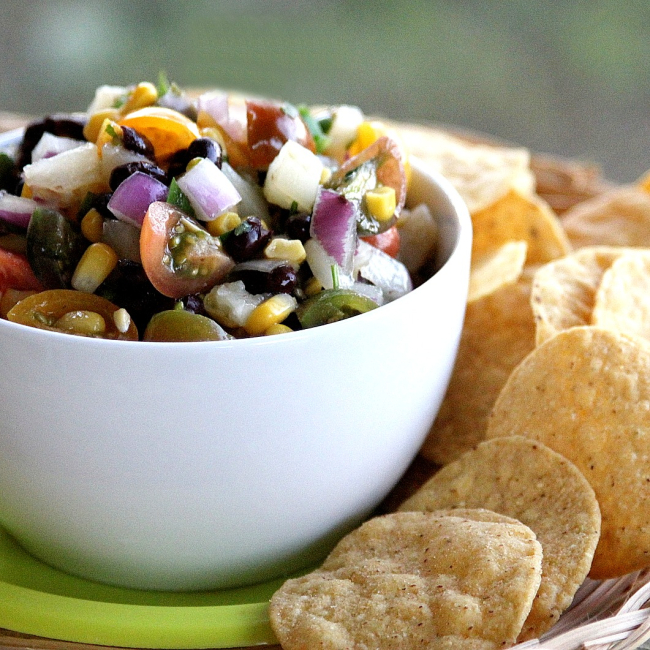 This chunky salsa is perfect on its own with corn chips but is also delicious served on tacos, or over grilled fish.
Ingredients:
1 tub mini heirloom tomatoes (quartered).
1/4 red onion (diced)
1/2 cup corn kernels
1 cup black beans (drained)
1 serrano chili (finely chopped)
2 canned pears (diced) – no, not two cans, just two pear halves
1/2 cup cilantro (roughly chopped)
Pinch of salt and pepper
Combine all ingredients in a bowl and serve immediately.
Note: To print this recipe, please click the 'printer' button underneath the social sharing buttons.
Please pin this post for later: